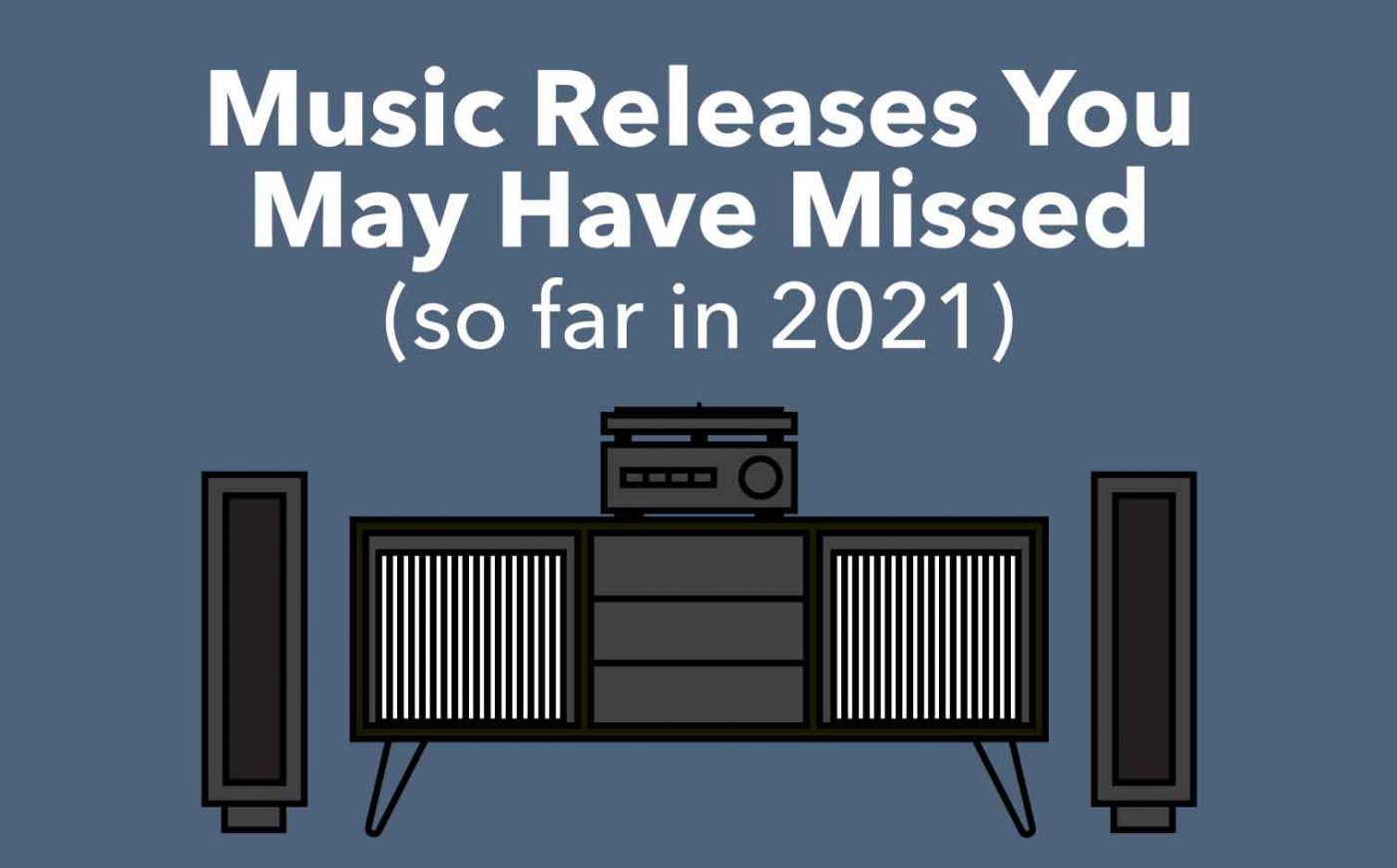 Hello everyone, I hope you enjoyed these last year because we are back with more things you possibly missed in this hectic three month period. That's right, we're changing it up. Last year I did first half and second half articles. Well since we're all still stuck and I found out I really enjoy doing this, I'm doing it quarterly this year. I got feedback from a bunch of friends and music folk who enjoyed these, finding some new tunes through those posts last year. I hope to continue that streak and help you find some gems.
I won't highlight any of the bigger or buzzier names you find on lists such as Julien Baker, Arlo Parks, Madlib & Four Tet, Nick Cave & Warren Ellis, Lake Street Dive, King Gizzard and the Lizard Wizard, Foo Fighters, Black Country, New Road and Nick Jonas (it's pure pop perfection) who all put out albums this year. You didn't miss those releases. If you did you dropped out of paying attention to music websites and blogs since these were literally everywhere you looked. They were pretty good too and deserved the attention.
I'm trying to find some diamonds in the rough and though you may know some of these already, I don't think you'll know all of them. Again these aren't really reviews or criticisms, but just a little context about these record. It could be how they made me feel, what I heard in them, what I think you might enjoy about them. Some are even just track by track breakdowns, it's a mixed bag folks. Presented in alphabetical order, enjoy the first installment of 2021 Music You May Have Missed.
Amor – Amor/Lemur – an EP that feels like a complete album not only in length but in it's ideas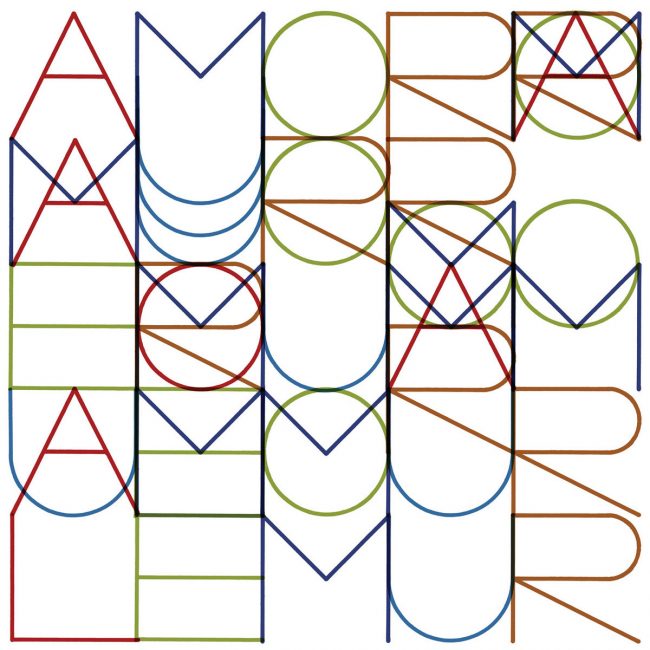 A collaboration from Amor, the Glasgow quartet, and Lemur, a Norwegian improvising ensemble, that mixes Talking Heads, Peter Gabriel, and Gorillaz together to create some magic. "Unravel" has such a relaxing groove, with that smooth bass line, and feels otherworldly with Byrne type lyric delivery. The electronic section is completely alien in nature. "Stars Burst" could have been on last Gorillaz album. The way it goes straight from a piano ballad to this full on dance disco track also lines right up with what that collective can do. "Fear" feels like a panic attack in real life that you are overcoming for 8 minutes. It's not a question of do you want to get over, it's you have to get over it to keep moving your life forward. The driving beat along with lyrics like "why would you throw everything away" will just push you there. "For You" takes it home with a mostly instrumental affair. Lots of studio trickery in here with panning of instruments and sounds that aren't the piano not just left and right but forward and backward. A meditative track to send you home. https://amor-glasgow.bandcamp.com/album/amor-lemur
Another Michael – New Music and Big Pop – Little life experiences put to dreamy indie rock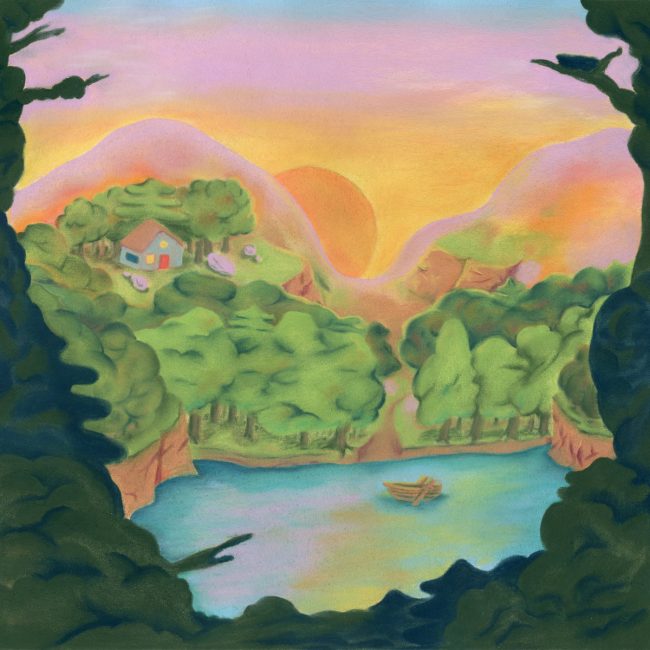 Another Michael's debut album got some buzz when it dropped in February, but I don't think enough. While you won't find sing-a-long choruses or big guitar chords, you will find smartly written short stories put to experimental indie rock. Michael Doherty does a great job of expressing experiences we all have and distilling them into great songs. "New Music" is literally about the art of finding a new song for the first time and what it can do to you. "Big Pop" continues that, talking about how music can communicate things to you in a way that nothing else can. "Hone" looks to fill the emptiness that can creep up on you and how hard that can be. All of these moments are small things in your everyday life, but they truly could wind up being the biggest things to ever happen in your life. The music that Michael along with bandmates Nick Sebastiano and Alenni Davis came up with for these songs truly make them the vignettes that they are. They truly explored the depths of their music to bring this album to life. It's a very dense album to digest, but it's truly one of the best of the year so far. https://anothermichael.bandcamp.com/album/new-music-and-big-pop
Drew Beck – Peace and Flowers – The debut EP from an excellent guitarist showing off he can craft some damn good tunes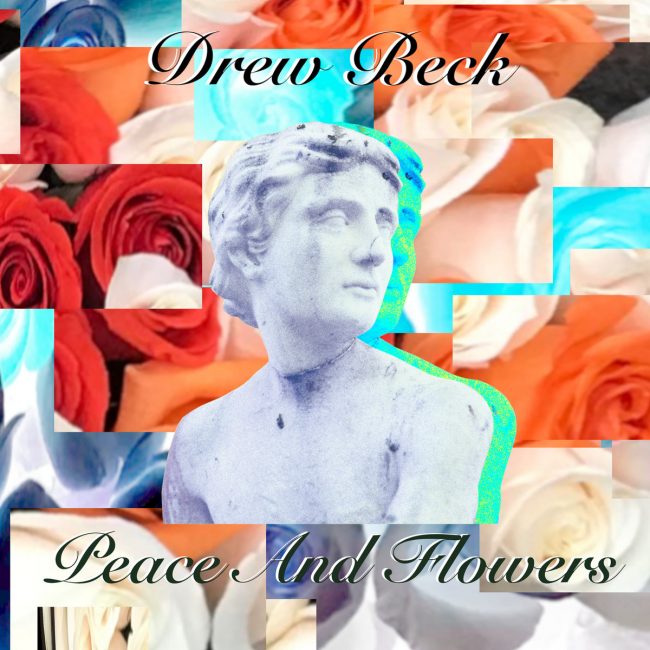 I know Drew's work from Mondo Cozmo and The Moth & The Flame and it's fantastic to hear four of his own songs come out for all of to enjoy. "Peace and Flowers" has a great slide guitar part that just lifts you up and makes you smile. "I Love Every Breath She Takes" is an easy going tune about finding someone and knowing you want to be with them forever. "I Need You" deals with the self-destructive nature we all have from time to time. The music really takes a hard right, with Drew's voice and the music turning into an almost evil computer before returning to the chorus to close the song out. This quick turn to evil and back makes it seem as the character in the song has saved themselves from their own destruction. "Hunting For A Miracle" closes us out with a slow beautiful lullaby-esque tune. With a full album supposedly being worked on currently, this is the perfect stepping stone to get in on the ground floor of what should be a great year for Drew. https://drewbeckmusic.bandcamp.com/album/peace-and-flowers
Bell Orchestre – House Music – An experiment in recording repays the universe in gold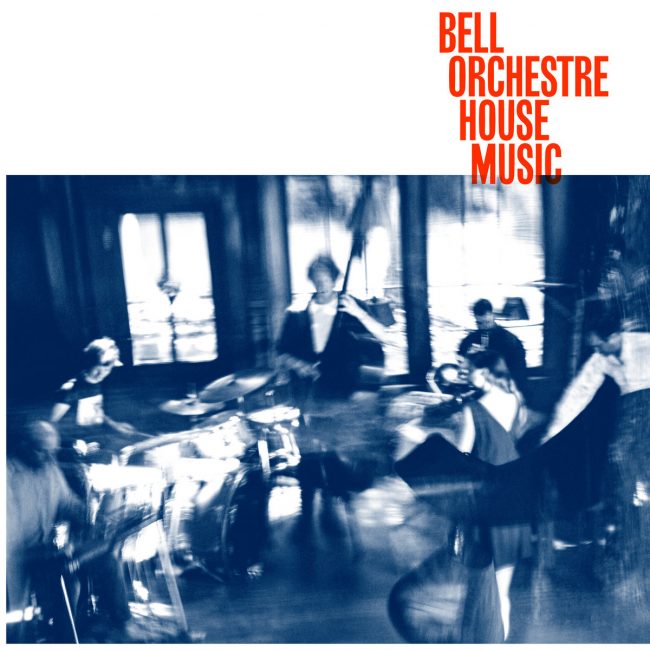 Talk about an album that smoothly moves from one end to the next. Their first released album in over a decade proves that Bell Orchestre haven't lost a single step. Formed around the same time as Arcade Fire, Bell Orchestre have always been the weirder little brother to the giant rock band. This album was recorded in Sarah Neufeld's house in Vermont, with every inch of the house used. The six members spread out over the three floors and went to work. If you were to see them recording it would have looked like a cut scene from a Wes Anderson film with each member fully engaged in their own activity. Though there are edits and trims within the ten songs present here, you wouldn't know it. It sounds like one long take that goes from movement to movement. The album was mostly improvised with just Richard Reed Parry bringing in a melodic loop to the recording. The band just was in tune with one another and experimented as they played and lived together for two weeks. What you hear on this album is 45 minutes of an hour and a half session. I would love to be able to get my hands on the full session one day. Hopefully it won't be another decade before we hear from them again. https://bellorchestre.bandcamp.com/album/house-music
Guy Blakeslee – Postcards From The Edge – A terrifying but beautiful view from the end of the world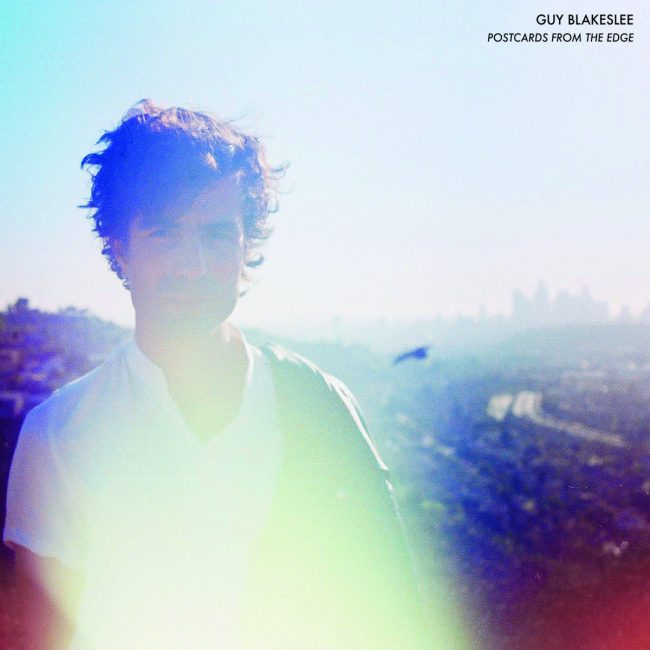 An absolutely haunting affair that makes you feel like you are wandering from dusk until dawn. "Sometimes" kicks us off with Guy's wavering voice as he wonders "What's the point in going where you know what you will find?". He recorded the album at the home studio of The Preservation Hall Band and I love the horn section in this first song as it just feels like a very slow waltz New Orleans kind of song. "Giving up the Ghost" literally sounds like it has come from beyond the grave. He described it as as a dispatch from the other side, from beyond the beyond; a journey into the unknown, and a well-trodden path back. You can get really lost in this album, and with still being in lockdown, it can really break you down to build you back up. The album is really hard to describe as it's angry and sad, yet also loving and hopeful. The outro jam in "Hungry Heart" has a meandering guitar solo over a kaleidoscope of instrumentation that will bring tears to your eyes, not because it's the best solo you've ever heard, but because it just takes you to that place that music can bring you to. A song like "What Love Can Do" is so needed on this album. It's a fun pop rock number that just lifts you up when you're feeling down. The album ends with the nearly 10 minute epic "Blue Butterfly", that winds up being a sound collage ala "Revolution 9" and really gets freaky before a rain storm and a piano take us to the album's end. At only seven songs it might seem like there isn't enough of an album, but those seven songs really pack quite the punch. https://entrancerecords.bandcamp.com/album/postcards-from-the-edge-2
John Carpenter – Lost Themese III: Alive After Death – The horror icon strike yet again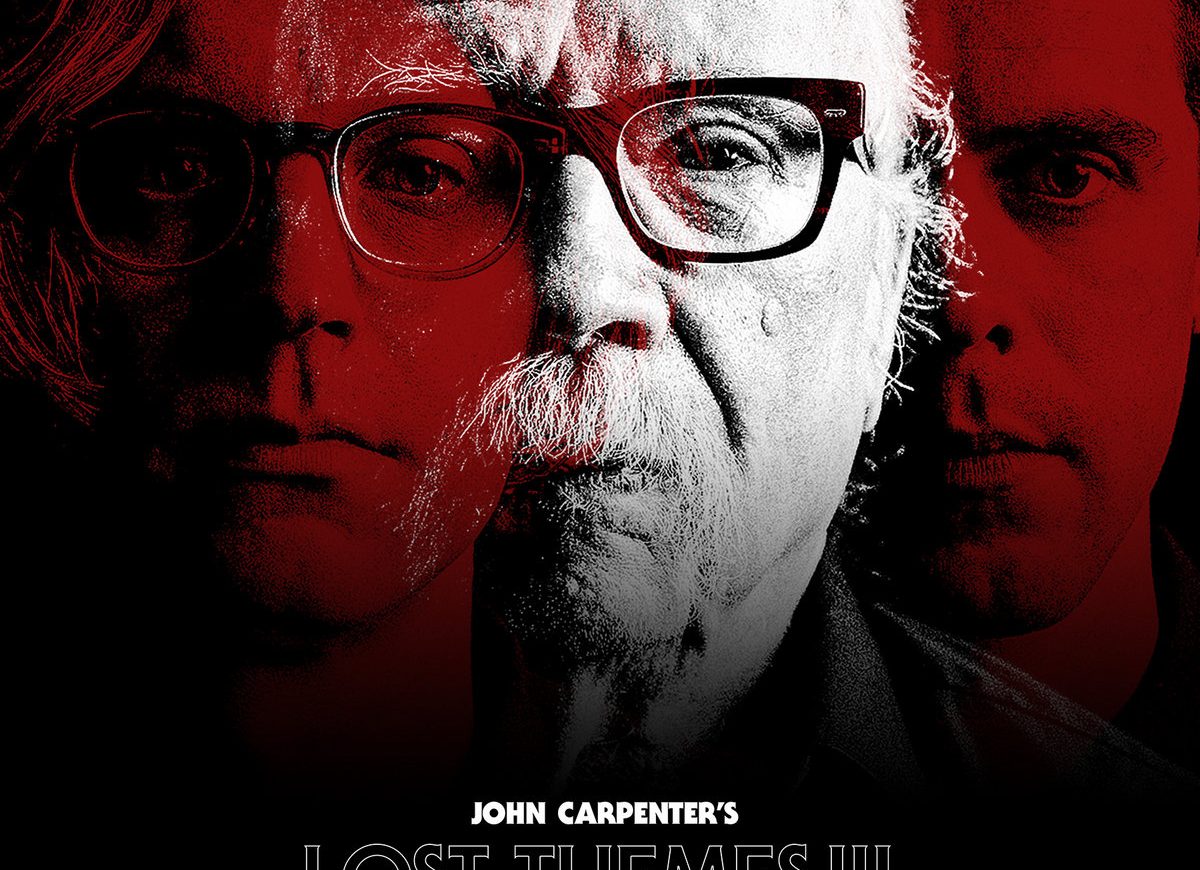 Look I'm just going to fanboy this one. I loved the first two volumes. They are perfect for late night drives and were sometimes the soundtrack to coming home from a show. It didn't matter what show, they were just good driving music. The music here is another addition to the late night tales that John weaves with his music. When you listen, whether blasting in a car, or on headphones, you're immediately transported into a film. There's no getting around it. It's a mood and I will always be here for it. When that guitar comes in on the title track, a rainbow of colors will appear ahead of you. Dripping Blood is a slow burn and all I picture is the aftermath of a kill scene but the blood is pooling ever so slowly. Vampire's Touch has a pulsating beat that will conjure up running away from the prince of darkness. The Dead Walk launches you right into the middle of your favorite zombie flick and makes you want to run away to safety. What I love about these albums is that it's not just the soundtrack to a movie in your mind, it's the soundtrack to a wild rave or tent late night at a festival where you can just let go and dance until sunrise. It's a great marriage he has made between his image as a horror icon and his music that he has and continues to make. https://johncarpentermusic.bandcamp.com/album/lost-themes-iii-alive-after-death
Pearl Charles – Magic Mirror – A self searching journey through 70's AM radio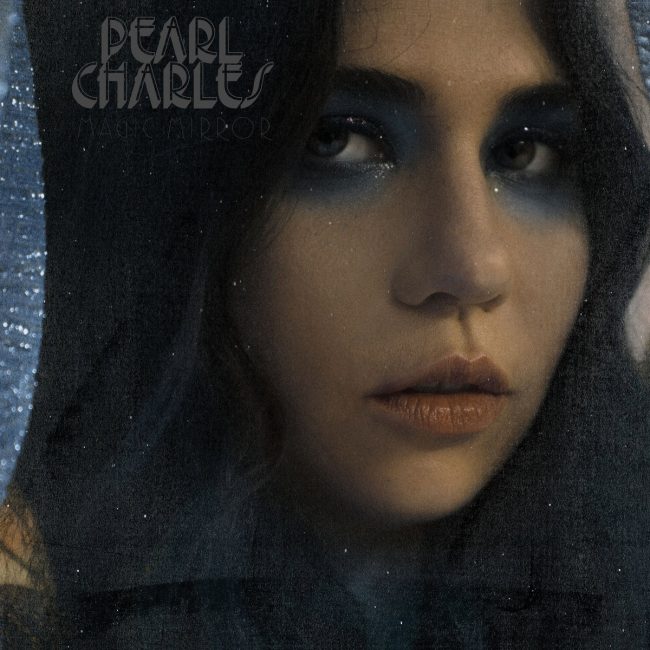 The second album by Pearl Charles moves through various 70's music motifs with ease. "Only For Tonight" puts us right into a discotheque in the middle of the night to get us up dancing. The horns and synths that drive "Imposter" a couple of songs later end that night as we're filled with confusion that we just spent the evening hoping to figure out who we are but ultimately feeling like we never belonged there. The album goes on to deliver singer-songwriter piano led ballads ("Magic Mirror"), Carol King-esque pop songs ("All The Way"), and cosmic country gold ("Take Your Time"). I loved the use of slide guitar on the album. It can sometimes be overused by an artist, but it just adds so much texture to these songs that I cannot imagine it not being in the mix. There's a lot of soul searching by Pearl Charles, who is looking to find some peace within. She is constantly looking for herself and sees the world isn't making sense and isn't sure where to go. By the album's end she is seeing that while she may not have a grip on all of that yet, if there's love there is hope. "As Long As You're Mine" is one of the most hopeful songs out today, just giving into love completely. https://pearlcharlesmusic.bandcamp.com/album/magic-mirror
Cheval Sombre – Time Waits for No One – Psychedelic folk meditation on slowing life down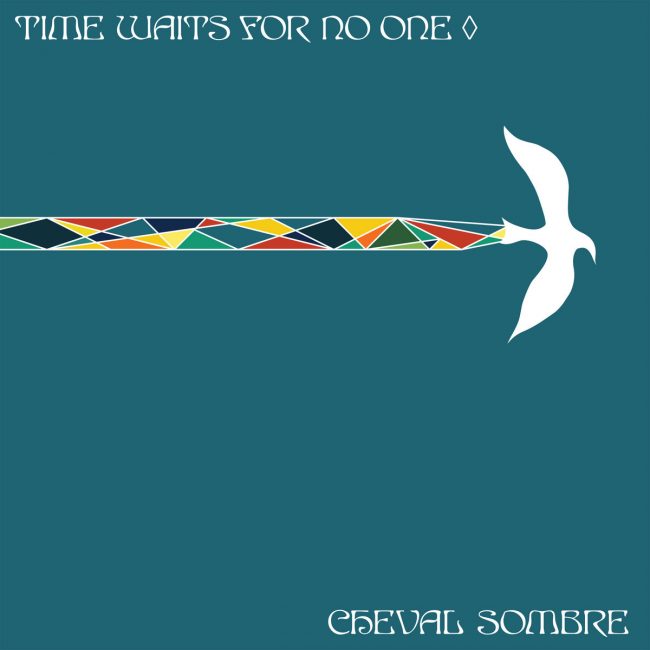 This is a slow album and that's a good thing. Even though life is slow for so many right now, taking in a piece of work like this might force you to actually slow down and breathe for a moment. These songs are powerful and you can truly get lost inside of them for an entire day. The title track alone is over nine minutes long, feeling like an epic journey completely on it's own without thinking of the the other tracks. I was literally left speechless afterwards. Cheval's vocals on the album are constantly just out of reach, always distorted, contributing to the feeling of time slowing down. The synths and random echoes in "California Lament" give the song a lucid dreaming feel. "Had Enough Blues" ends with a number of radio clips of various attacks and it's heartbreaking as Cheval's voice and the music dance around these transmissions. It feels like the weight of the world is just coming down on your shoulders. So yeah let yourself slow down for a bit and take this record in. Look out for his second album of the year in late May. https://chevalsombre.bandcamp.com/album/time-waits-for-no-one
Clever Girls – Constellations – A powerful album that might help you find yourself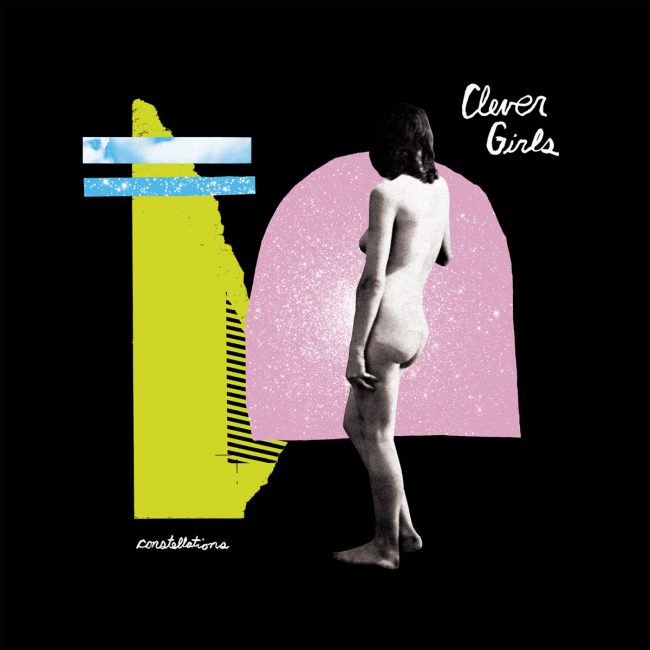 It took me a few listens, but once those soaring guitars in "Remember Pluto" hooked me, that was it. I couldn't stop spinning this album. Then there is "Womxn", Diane Jean's song about trying to figure who they are as a person, that ends in this utterly scorching guitar solo that feels like the world is ending. In a sense it was for Diane, who is nonbinary, and wrote this before coming out and was unsure of how to describe themselves. Looking back on it Diane has said that they see where the lyrics were coming from and is happy to now understand them. The whole album is definitely Diane coming to find who they are, at the moment at least some kind of peace. The title track is this dreamy sound collage of every song on the album. It's a tranquil beautiful minute plus that leads into "Spark", a powerful song that speaks of burning down the house and starting over. This back to back really is it's own piece on the album that sounds like nothing else on there. "Saturn" is pure indie rock glory, a bright and beautiful song with jangly guitar work and a sing a long chorus. "Fried" closes the album out and desperately wants to break out into a full on cathartic wild rock finale, but it never does and leaves you wanting more from the band. This isn't a bad thing and if this a possible hint at what's to come next we should all welcome it. https://clevergirlsmusic.bandcamp.com/album/constellations
Cool Ghouls – At George's Zoo – San Francisco rock and roll is alive and well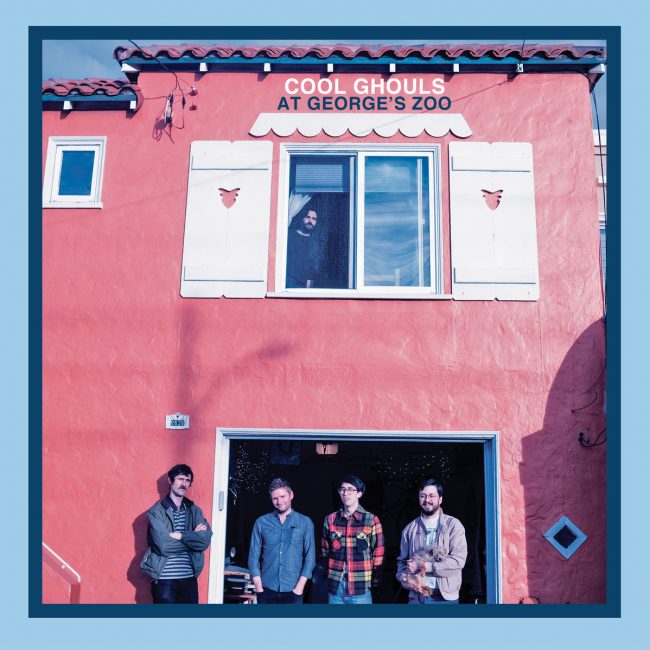 Crosby, Still, & Nash harmonies kick off the album on "It's Over" and nod to the movie BIG ("shimmy shimmy coco pop" anyone?). "To You I'm Bound" and "Smoke & Fire" is straight 60's San Francisco glory ala Quick Silver Messenger Service, New Riders of the Purple Sage, and Jefferson Airplane. I'm blown away these guys have been around for a decade and this year is the first time I'm hearing them. To just find out that this band has been churning out music like this for a decade where it originally emanated from all those years ago at the height of tune in turn on drop out is really exciting. There are also beautiful sweeping 70's soft rock songs like "Land Song" and "The Way I Made You Cry". The garage rock of "26th St. Blues" screams loudly as a fake out for an album closer. What follows is a four song suite of Cool Ghouls delivering a love letter to The Beach Boys entire career with beautiful harmonies, some great playing, those "I Get Around" oooo we oooo's, and Pet Sounds style production. It was fun to be headbanging and dancing along to so many songs on this album, and it isn't a short one with 15 songs for your listening pleasure. Now most people see 15 songs and they think this album must be ridiculously long, but with the 60's rule of 3 minutes or less, this clocks in at a little over 41 minutes. Album closer "Living Grateful" feels like a thank you to their fans for allowing them to do this for a decade and a hopefulness that we'll all meet again in person soon. https://coolghouls420.bandcamp.com/album/at-georges-zoo
Madeline Darby – Innovation – A perfect encapsulation of DIY attitude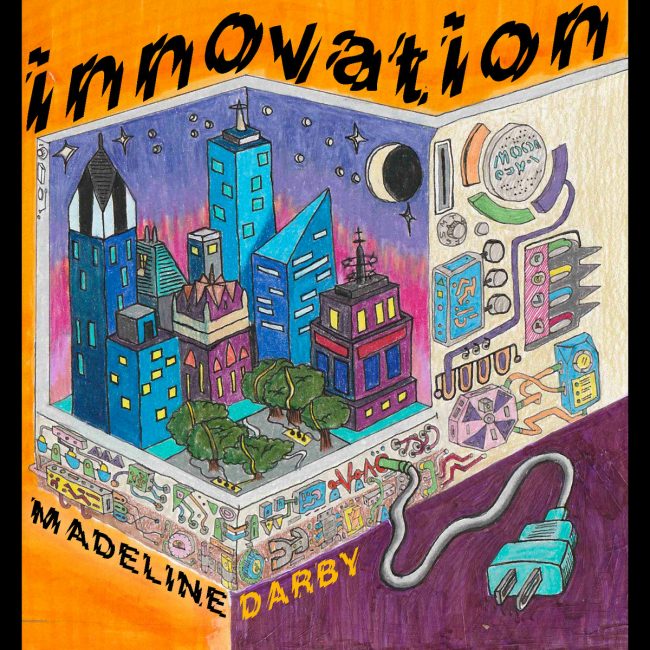 A wonderful collage of 80's synths and beats with echoey vocals that will get you up and moving. This is a late night club album, once those come back. It's industrial enough to headbang too, but I couldn't help but dance. "Innovation" is just a late night fever dream of a track. "Science of Horses" drops in from outer space and makes you want to return with it wherever it arrived from. "Paranoid Cafe" is a pure B Movie Horror soundtrack delights. "Mutable Aura" speaks of trying to let go of the narcissism one may have since it usually covers up someone's aura but it's hard to do that so you wind up in a black hole. I would like a long form video based on "1000 Wasps", with lyrics based on fears and worries about society, it could truly be fantastic. It's a lofi diy album, which makes it what it is. You can feel the love that went into this album. https://madelinedarby.bandcamp.com/album/innovation-2
Delvon Lamarr Organ Trio – I Told You So – One of the funkiest instrumental albums you will hear this year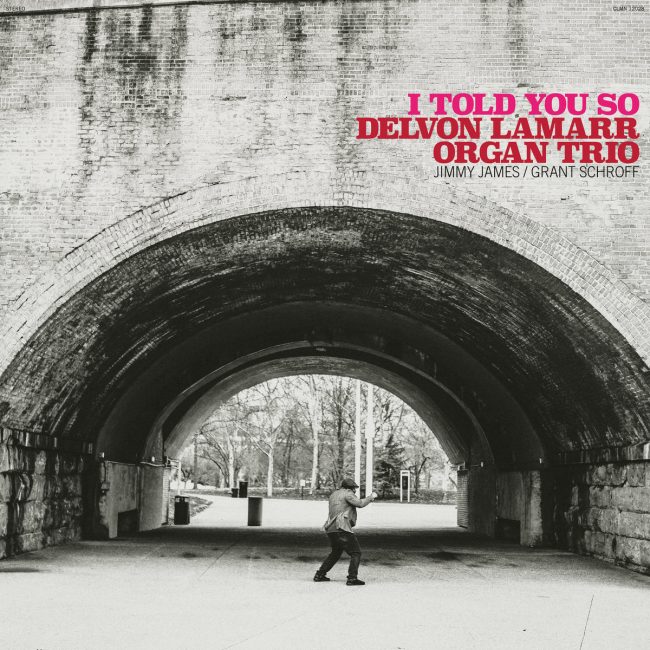 The grooves here are so damn funky. I mean if the first 30 seconds of "Hole In One" that kick the album off don't get you up dancing, I don't know what to tell you. The trio is comprised of Delvon Lamarr on the organ, Jimmy James on guitar, and Dan Weiss on drums. These guys are so in sync with one another it's scary. The weaving they do around one another feels like they are just showing off to the rest of us There is heavy influence from Booker T. & The M.G.'s, but what organ based instrumental band doesn't have that. What I also hear though is some 70s Stevie Wonder ("Girly Face"), Hendrix outer space vibes ("Fo Sho") and a great cover of Wham!'s "Careless Whisper". I Told You So is full of just good vibes and we really need that right now. What I'm truly interested in though is seeing these three play this music live and just smiling at one another as the crowd dances, screams, and begs for more. https://delvonlamarrorgantrio.bandcamp.com/album/i-told-you-so
Divide and Dissolve – Gas Lit – Doom metal to cleanse your soul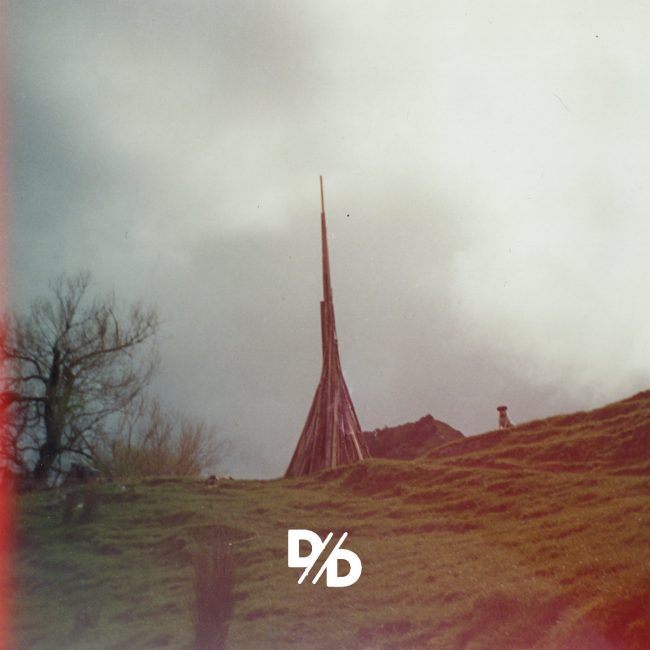 The duo Divide and Dissolve are Takiaya Reed (saxophone, guitar, live effects/ (Black & Tsalagi [Cherokee]) and Sylvie Nehill (drums, live effects/ (Māori). Their soundscape can best be described as loud brutal collages meant to wake you up from your slumber. They weave in and out of one another and grab hold of your ears and refuse to let up. There are classical components to their sound that then turn into an all out heavy metal affair. These songs are played with so much intensity. You can feel every hit on the cymbals and strum of the guitar creating feedback loops. "Did You Have Something To Do With It" is the only one track with vocals, by guest Minori Sanchiz-Fung, and is a powerful rebuke to the current state of affairs in the world. The whole album is protest to what is currently happening on the planet. These songs will seep all the way down to your bones and make you want to go out and help change the world for the better. https://divideanddissolve.bandcamp.com/album/gas-lit
Fruit Bats – Pet Parade – Celebrating 20 years in absolute style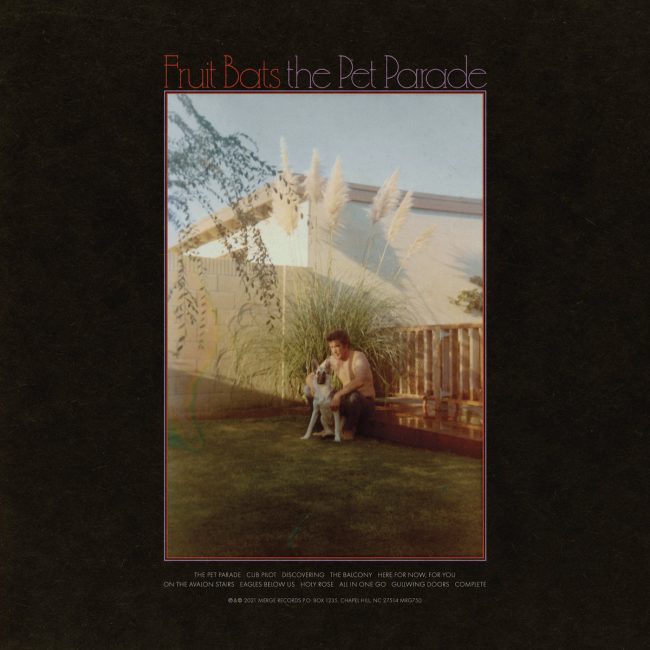 Eric D. Johnson, better known as Fruit Bats, celebrates two decade of music with an all timer. He put together a murderers row of musicians to complete this album: Josh Kaufman, Joe Russo, Matt Barrick, Johanna Samuels, Thomas Bartlett, and Jim Becker. Kaufman also pulled producing duties and should be hailed for the direction he moved this album to. The amount of musicians this crew has played with, not to mention other projects they've all done together already, were guaranteeing to be a home run from the get go. Eric writes with such amazing imagery that each song is like a little movie. The album moves by so swiftly, but songs like "Holy Rose" and "The Balcony" really stay with you long after you listen to the whole thing. You would never know it but all the parts for Pet Parade were created in isolation because of the pandemic. These songs feel like they were made in a room together with everyone throwing ideas back and forth. When these songs can be performed live I hope Eric can get this band together for a run of shows to perform it front to back, it'll be like attending a religious service. https://fruit-bats.bandcamp.com/album/the-pet-parade
Genesis Owusu – Smiling With No Teeth – An impressive debut that moves through genres like breathing air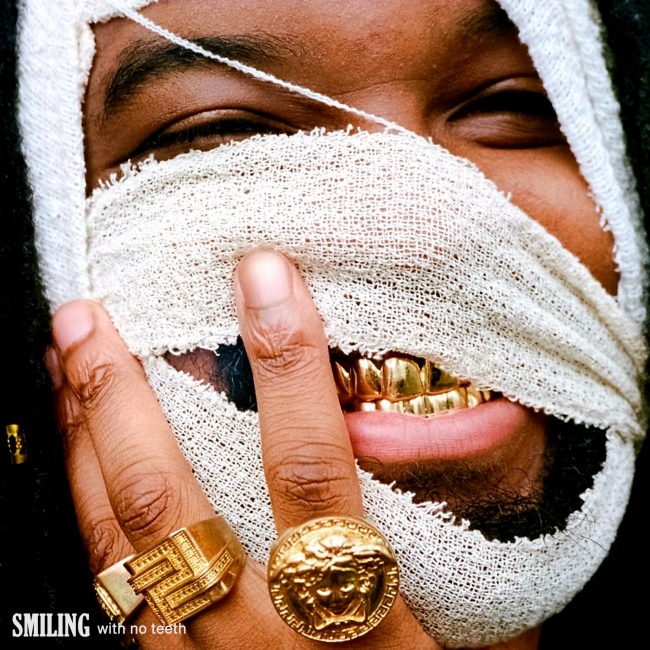 Genesis Owusu, the Ghanian-born Australian-based avant-garde artist, put out a debut album that never stops to breathe. You just need to strap in a go for the ride. He mixes and matches rap, r+b, rock, soul, and funk together at will, almost Prince-esque, like he's been doing it his whole life. There are even instances where he throws in jazz and old school big band vibes for the hell of it. If you can't find something on here that you like I'm not sure you can say you like all kinds of music. The driving breakneck punk rock of songs like "The Other Black Dog" and "Whip Cracker" gives you a perfect opportunity to shake yourself out of the cobwebs you might feel like you're in after the past year. The back to back of "Centrefold" and "Waitn On Ya" might be the sexiest back to back tracks put out on an album this year. His lyrics are heavy and deal with racism, depression, and inequality. The fact that you can leave this album feeling pretty upbeat because of the music despite the topics is a testament to Genesis and the way he crafted these songs. I think once people hear this record they are going to realize that we truly have a talent to watch grow, hopefully for years to come. https://open.spotify.com/album/7LI6T5cy6Et8RDZXCoCEtJ?si=Hl1Ox5UrS0qm5_A9DhMH7w
Griff – Everyday, a Little Something – Songs to dance in a field to before being beamed up by a spaceship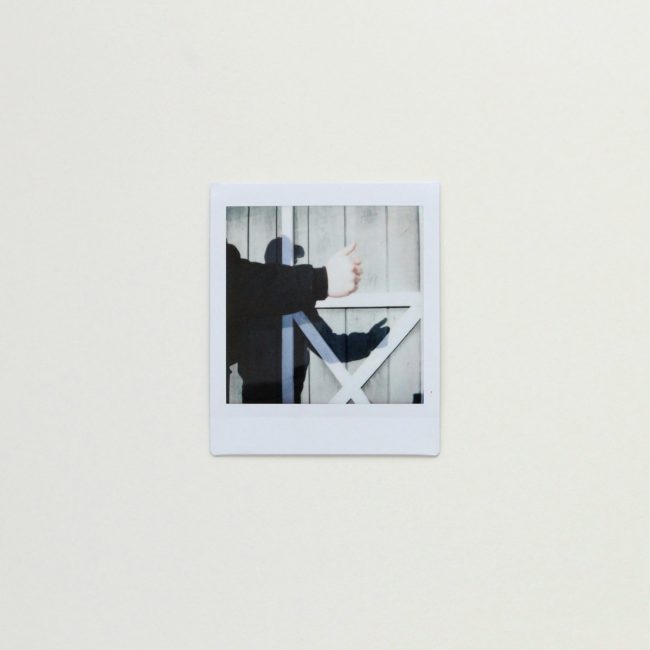 Matt Griffin is a member of Let's Be Leonard, among other bands, and had some material that didn't quite fit in. So he took them and crafted a great indie rock album with a healthy helping of some spacey vibes. The jam in "Make Believers" is one to just give your whole body to and let loose like some of the best Dead jams can. "All or Nothing" has this steady mood to it, yet builds to an incredible peak that just hits you in the face. "Foresight" is a quick little dream that passes you before you even know what happened. As the album goes on the songs grow a little tamer, a little sadder, look deeper, and it's during this slow down that you can see how much this band can do. "Pavlov's Dogs" is such a calm space infused western that is just out of reach yet still so grounded. "Most Days" continues this trend and ends on this ever slowing jam that feels like you're going to leave the atmosphere and the planet behind. https://griffbot.bandcamp.com/releases
Joshua Henry – Guarantee – A voice like an angel for your listening pleasure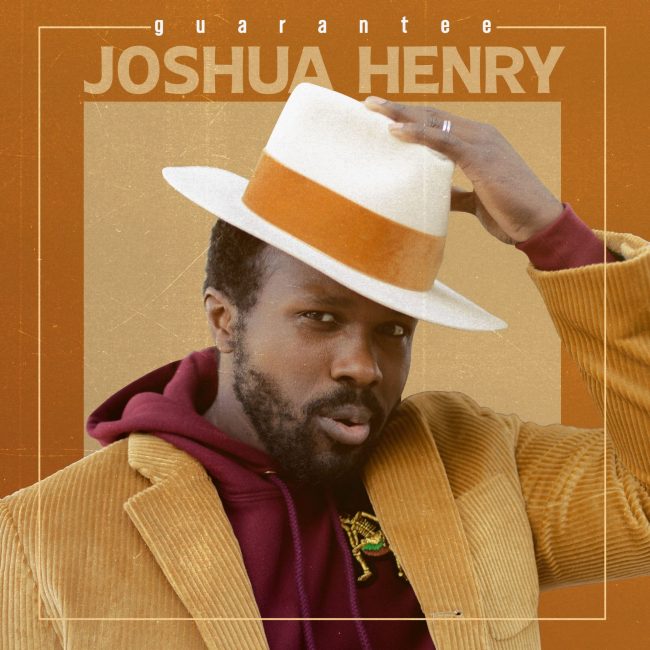 This EP by Joshua Henry is full of life. His voice soars over all four tracks and with it clocking in around 11 minutes, you can listen to this one a ton. Opener "Guarantee" could be mistaken for Gnarls Barkley. The instrumentation has that Danger Mouse pop, funk, rock mixture and Joshua's vocals are reminiscent of CeeLo Green. I was immediately transported back to that first Gnarls album when I heard this song. "Hold Me", which was previewed here recently, is the stand out single. That falsetto he uses on this song is gorgeous. It's an uplifting song about going after your dreams and it's a message we all need to hear. The lyrics in "Possible" are all about things that we could all do if we put our mind to it. The EP closes out with a great cover of The O'Jays "Stand Up". Henry's voice is layered upon itself to make a group of himself. The song's lyrics "Turn off the TV to avoid the news, Look up to heaven 'cause I'm so confused, Another child lost to the city, No place to hide, even the finest schools" connect to what is still going on today despite being written in the 70's. https://open.spotify.com/album/6YzFprMLzqgDnaKMLtUmlJ?si=DKzzoQ8yQcaPa2NEcb7MyQ
Here Lies Man – Ritual Divination – Zone out to killer riffs and forget about reality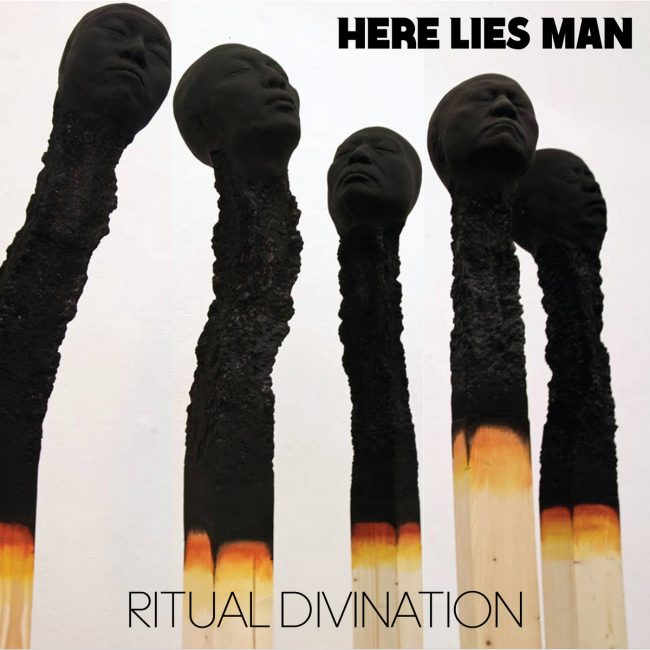 On their fourth album, Here Lies Man doesn't change their formula. They know what their great at and it's big bombastic drums, scorching guitar riffs, and a bass line that will connect deep within your soul. The Sabbath meets Afrobeat vibes are so strong. The old school metal vibes are just wonderful, but every song has these amazing grooves to it that make you want to not only headbang to every song, but also dance your heart out. The horn ending of "I Told You (You Shall Die)" is so unexpected and brought the biggest smile to my face. The album just never lets up and all 15 songs continuously punch you in the face, in a friendly loving way of course. Turn this one up load and just let loose. https://hereliesman.bandcamp.com/album/ritual-divination

Hotels on Mars – Grief Museum – A heart wrenching look back of the past year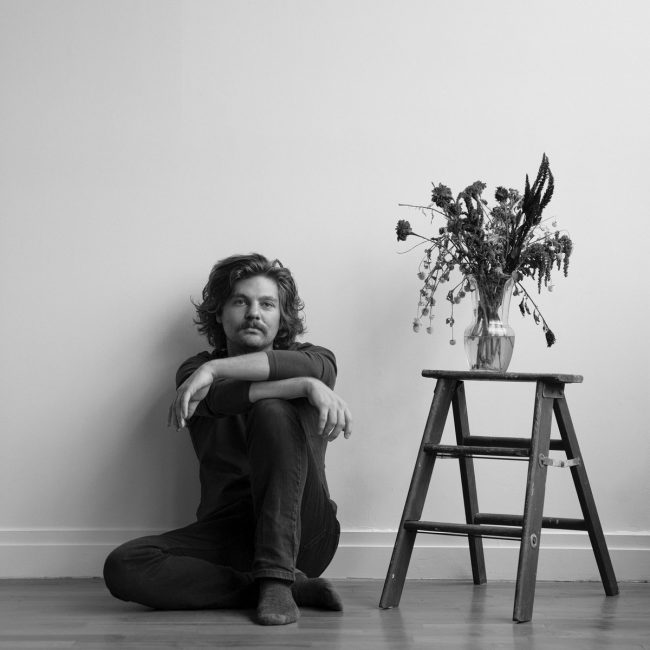 Released to coincide with the Lunar New Year, Mat Weitman's debut as Hotels on Mars ruminates on the year that was 2020. I'm assuming releasing it when he did was a way for him to turn the page to the next chapter in his life, as many of us want to. There was so much loss last year and it never seemed to slow down. For Mat it was a relationship, time, sanity from the pandemic and election, and a close friend. We get started with the anti-anthem of "The Worst Year on Record" lathered with harmonies and a great lead slide guitar part. Though we may not want to address the past year, we all need to face it at some point. Mat went for it head on and kudos to him. You might sway along to tracks like "Indiana" and "Grief Museum Rag", but then you're probably going to cry to "Chernobyl" and "Untitled No. 4". I've gotten lost inside of "13 Mimosas" on every listen. It's an instrumental folk song, but also their weird space age soundtrack. It's a stunning six minutes of music. This is a heavy album to digest and while it might make you anxious on first listen, the second time through it might wind up being pretty damn cathartic. https://hotelsonmars.bandcamp.com/album/grief-museum
Jane Inc. – Number One – A dreamscape come to life powered by a heavy dose of bass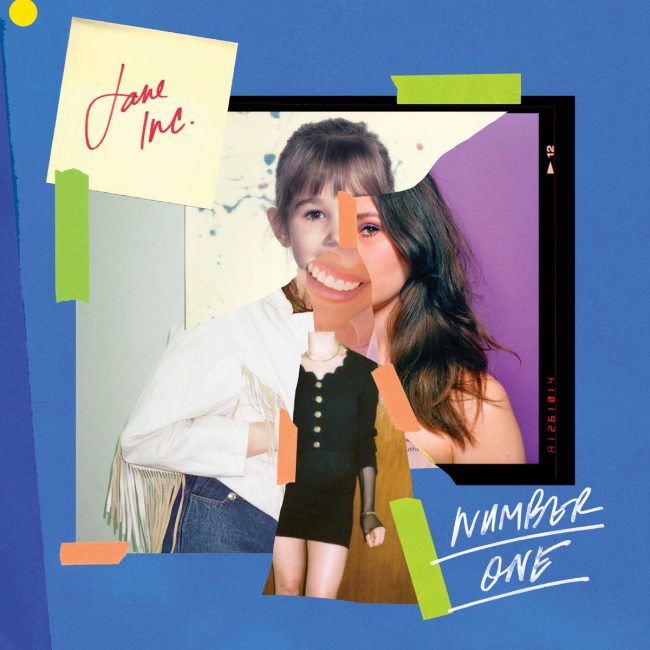 This album is a trip and is the perfect late night album to take you through the darkness and into the following day. Kicking off with the six plus minute "Gem" I was immediately blown away. Synths fly from ear to ear as the funky guitar lick and drums just make you want to dance. The bass is heavy, funky, turned way up in the mix, and never lets up through the eight songs. Then Carlyn Bezic's voice finally emerges almost like a choir and my jaw dropped. It's a hell of a way to announce yourself to the world. Yes she is known as a touring member of US Girls and half of Ice Cream, but this is pure Carlyn. If you had played this for me and ask when it came out I would have told you 1977 as it just has that groove to it. "Steel" gives very strong St. Vincent vibes, both the unabashed guitar playing and vocal delivery. Carlyn played almost every instrument on the album and I really love when an artist is talented enough to do that, has a vision, and just goes for it. "Bloom Becomes Me" is a hazy psychedelic jazz song that is barely being contained in your speakers. It truly wants to abandon this planet and search the cosmos. "Obliterated" takes us for one last dance before we have to return to this plane of existence. https://janeinc.bandcamp.com/album/number-one
Kiwi jr – Cooler Returns – No Sophomore slump for this quartet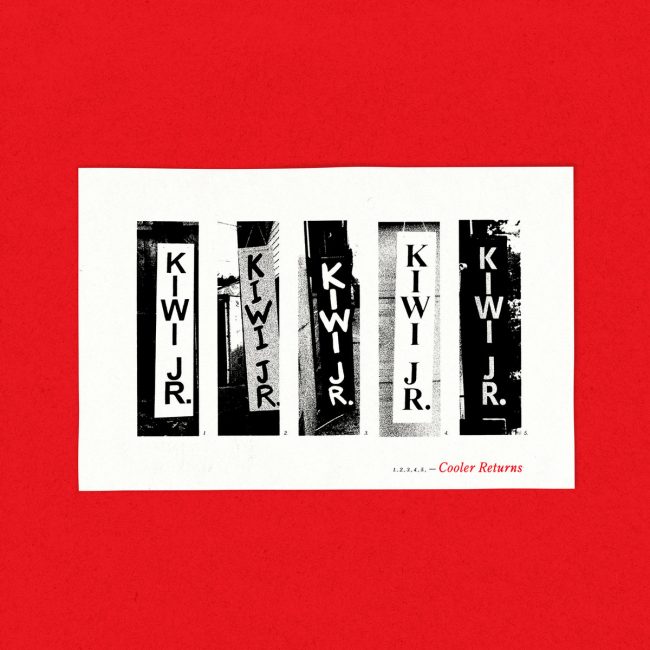 Moving through influences ranging from The Clash to Velvet Underground to Guided by Voice, the second album from the Canadian quartet is a fantastic journey. They weren't afraid to throw so much of rock history at the wall and see what sticks. Jangling guitar solos mixed with harmonica solos, tongue in cheek sarcastic lyrics making fantastic observations, and pummeling drumming move this album along at a breakneck pace. "Highlights of 100" feels like it's going faster than the speed of light and I truly need to see this drumming done live. While many lyrics are biting, they aren't bitter. Some great quips in "Undecided Voters" (While I take photos of your photos And they really move people I know online) and "Cooler Returns" (I am not American But I feel the beat sometimes When I run into the screen door) are just laugh out loud funny and aren't trying to really hurt anyone. "Guilty Party", clocking in at a sparse 2:17, is a beautiful early R.E.M. love letter. I feel like "Omaha" is an amalgam of X-Files episodes that may have been binged by the group during quarantine with so much conspiracy and undercover talk. These songs are really going to drive a crowd wild, much like the first album did, and hopefully sometime later this year we get to witness it in a venue. https://kiwijr.bandcamp.com/album/cooler-returns
Landlady – Landlady – A tour deforce of love and loss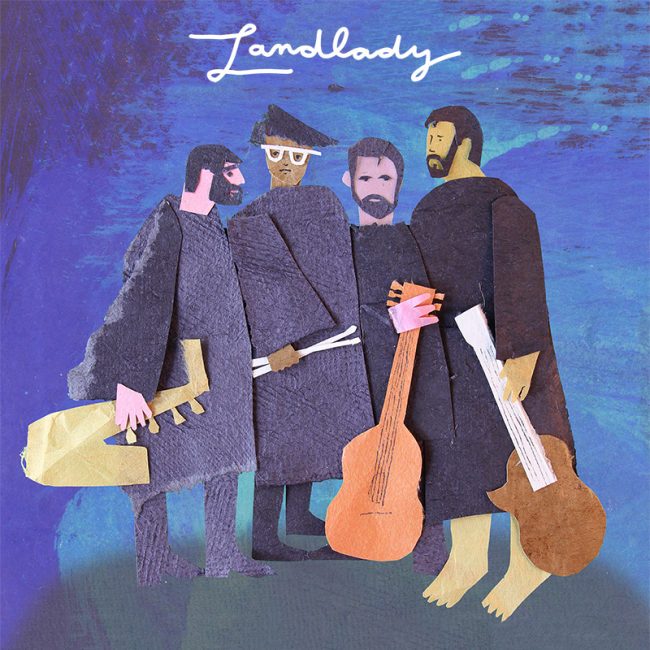 There is a lot going on inside this album. Before you listen, or as you listen, you should read this beautiful piece by Adam Schatz (http://landladyland.com/2021/03/17/merch-wind-and-fire/). There is so much grieving and pain in the world and when you lose someone, you think of all the memories you have of them. They may not be the ones you thought of, but in the end they are the ones that somehow mattered the most. This record is heavy and beautiful and sad and hopeful. Adam's voice emits so much emotion, you are sucked in immediately from the opening moments until the close of the album. The instrumental breakdown in the middle of "Molly Pitcher" is so unexpected and truly feels like a new song started. "AM Radio" is a very busy song and it's really hard to focus on just one thing, but in a good way. The layering is just beautiful and something that Landlady is so good at. "Western Divide" is such a weird literal minute of music. I love the harmonies being sung over the vibraphone playing. It sounds like nothing else on the album. "Bulldozer" closes us out with an upbeat rocker about being completely out of time and trying to just hang on to what you can. Isn't that how we're all feeling these days? https://landlady.bandcamp.com/album/landlady-2
Langhorne Slim – Strawberry Mansion – Little vignettes to help get you through the continuous lockdown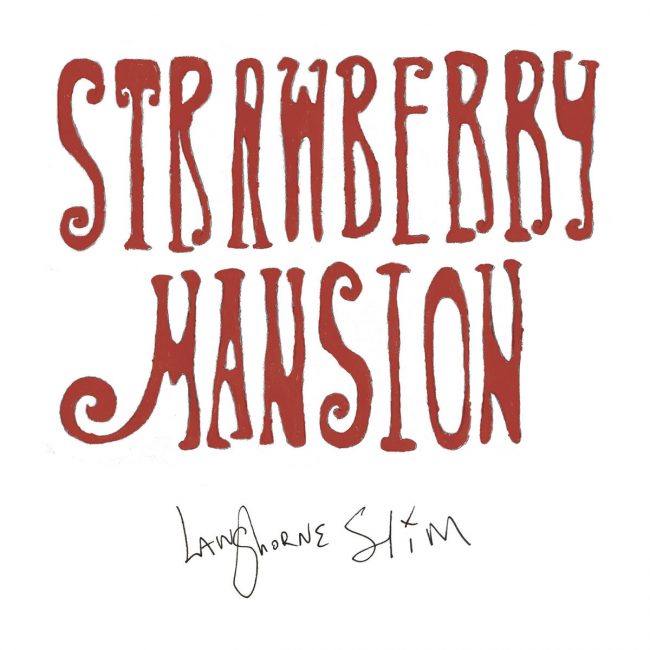 This album was released with a some fanfare, but then completely dropped off the radar. If you missed it you owe it to yourself to check it out. It's a record made from pain and suffering, but comes out in joy and triumph. Sean Scolnick, better known as Langhorne Slim, went through a difficult stretch of addiction before writing this record. As he was getting cleaned up Covid hit and then a tornado went through Nashville, missing his home by a street. With so much going on he was tasked, by a friend, to try and write a song a day, and we thankfully have this album that documents that. I love the Western waltz of "Lonesome Times", describing our current predicament. In a relatable moment for everyone right now, Langhorne was having a panic attack and listening to his therapist, he picked up a guitar and wrote "Panic Attack". It's a quick foot stomper in which you can actually feel the panic and anxiety overwhelm you. While he said he has wrote this for himself and this specific period, the entire feel of the album is so relatable. On a song like "High Class" he speaks about money and love and how without love what's the point. He writes in a universal language to and I'm glad we have 18 songs here to connect with Langhorne as we all navigate there choppy waters. https://langhorne-slim.bandcamp.com/album/strawberry-mansion
Leon III – Antlers in Velvet – Psychedelic country rock to the cosmos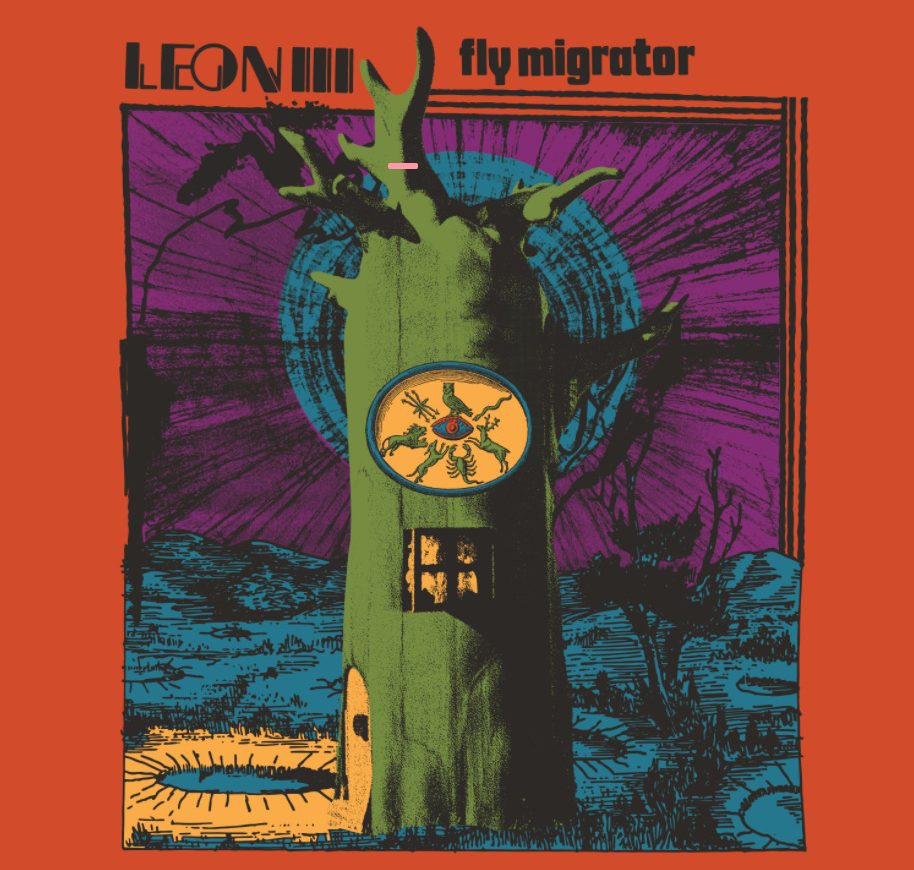 On their second album, Leon III have put together a collection of songs to seriously relax and dig in to. While we should still be in our homes and not traveling, you can turn to this and go off to the deepest parts of your mind. Opener "Fly Migrator" is ten minutes of slow and steady psychedelic rock. Its very much in the zone of being a long lost rocking Grateful Dead jam. What's great about this is while a lot of the album can be traced to this point, nothing else quite sounds like it. "Rumors of Water", which comes right out of "Diving Rods" in a great transition, is almost a straight country tune with just a little more attitude. The way "Skeletal Pines" evokes feelings of 70's Pink Floyd is just beautiful. The push and pull of country music and psychedelic rock all over the album is tremendous. "Tigris" is a straight up rocker before it moves directly to Leon III doing their send up to the Dead's "Birdsong". The title track closes us out and the way the banjo ends the album all on it's own is just a beautiful way to wrap it all up. https://open.spotify.com/album/6Sq8d0beLtxNQjgohXgGjz
The Muckers – Endeavor – Good old rock and roll for the soul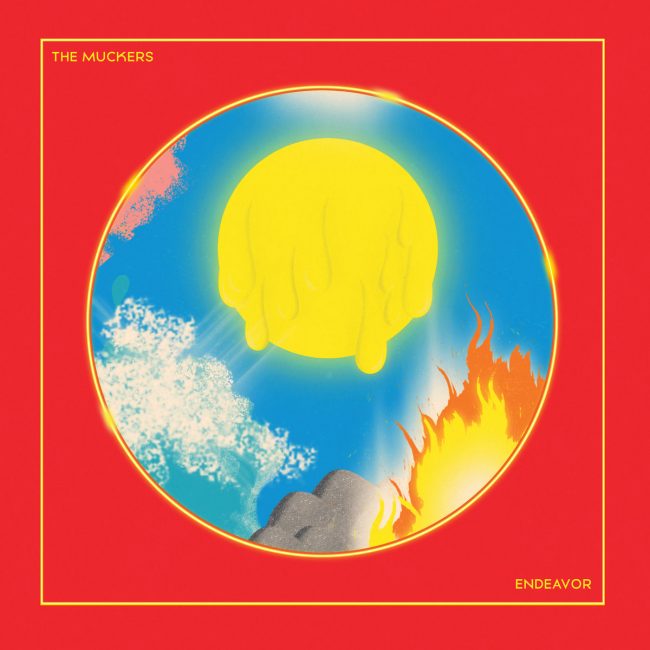 The 70's guitar ripping solo embedded in "Suspended" is just too damn good not to listen to. The whole album is a love letter to loud NYC rock and roll of a time long gone. It's really hard not to smile at the riffs of songs like "Roll The Dice" and the instrumental "Repetition". "Golden Summer" starts off with an Angus Young style riff before moving to glam rock and finally becoming an all out dance track, talk about showing range on a single song. "That's All I Want" begs you to headbang along to the psychedelic garage rock being conjured up. It's hard to not to laugh a little at an album coming out like this in 2021, where most people think this music doesn't exist or has an audience, but here we are and it most certainly does have an audience. I cannot wait to see these songs played live to a packed room of folks just losing their minds as the band just brings the building to the ground. https://themuckersband.bandcamp.com/album/endeavor
Nxnes – Everything Costs A Little Bit – You may collapse from exhaustion from the production level on this album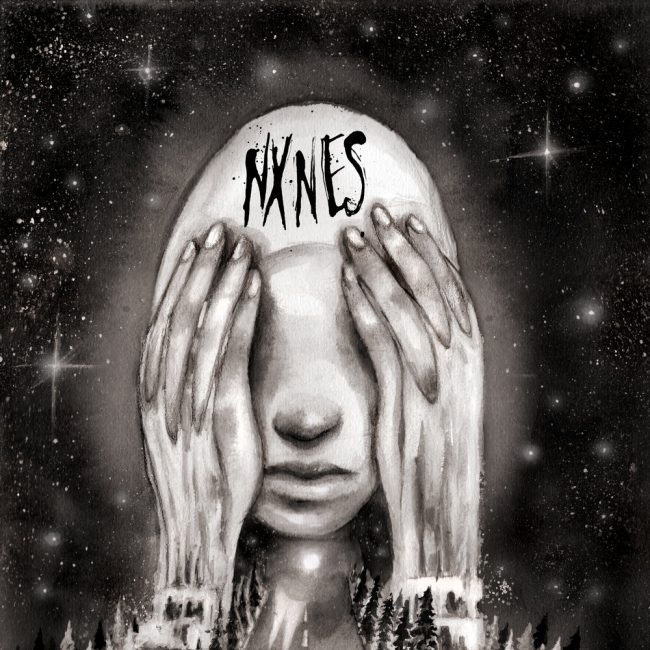 Nxnes has always been a unique artist. He packs so much into every song its astonishing. The use and mixing of soul, r+b, gospel, and rock bring his sound together that help make him stand out from everyone else. There are a number of "radio transmissions" that float in and out of the songs in such a smooth way it's mind-blowing. "Blxque" is a five minute slow jam where a swelling chorus envelops his voice as he sings "I'm ready to fight for you by your side". It's a cathartic track and the weight of the song is heavy. To have people on your side ready to fight what's right is so necessary in today's climate and Nxnes is going to be there for you. "Garden" has two distinct halves that are so funky in different ways but the landscape created as a whole is gorgeous. My favorite fact of this album is everything on this record he did alone. Every instrument, chorus, sample, you name it he did it. The man is a talent and is a force to be reckoned with. https://nxnes.com/nxstash/p/2b7wu7df71cy0jp1ufx24wt5bnmu2u
Pino Palladino & Blake Mills – Notes With Attachments – Two of the best sidemen in the industry around jamming on jazz, funk, and afrobeat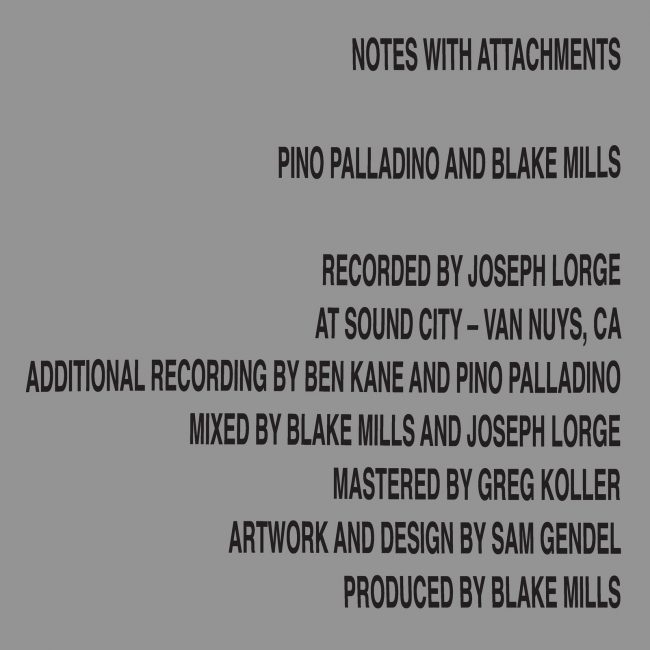 Pino Palladino has literally played with everyone. From D'Angelo to John Mayer to Paul Simon to taking over for John Entwistle in The Who, the man has done it all. Blake Mills has worked with Bob Dylan, Randy Newman, Fiona Apple, and Phoebe Bridgers. To say these two are experienced isn't saying enough. This was originally going to be Pino's first solo album ever, but once they got together they both felt the collaborative nature and just went for it. This album moves along so easily that when it's over you go wait there must be more. Every song just goes deep, whether it's more towards funk with an English folk back drop ("Djurkel"), a modern Afrobeat jam ("Ekuté"), or a slow moody jazz piece ("Just Wrong). It's truly a singular sounding work with nothing coming in close so far this year. Instrumental albums can be tough for some, but the playing here is just so superb it would be a crime to miss out. I cannot recommend headphones enough when listening to this album as there is a lot going on within these eight tracks. Also if these guys are ever involved in a project and you see their name listed, just go ahead and hit play on it. It's going to be great. https://open.spotify.com/album/5fsq4qeIWboRRPG7mGGfxr
Juliet Quick – Glass Years – A stunning EP that will instantly get stuck in your head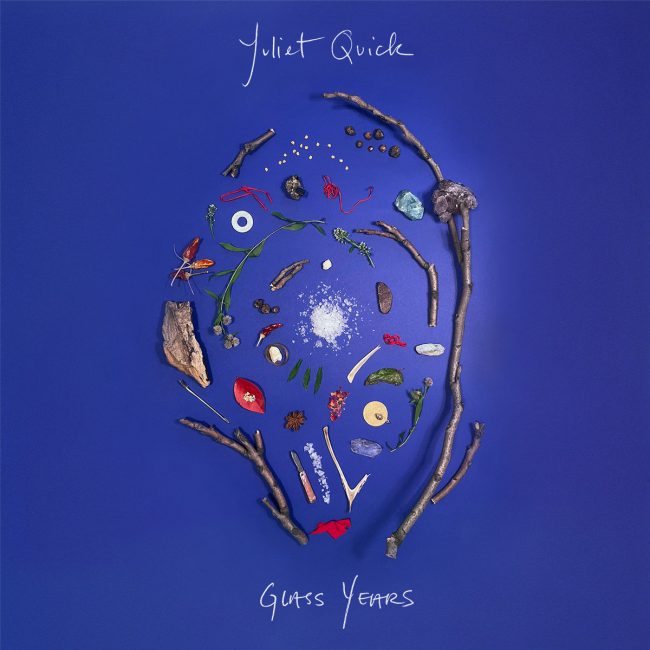 Music constantly swirls around Juliet's voice in the brief 20 minutes we are with it creating a stunning landscape that stays with you. "Circles" is about depression and how you can just wind up wallowing in it even if you want out. You might see a good future ahead of you, but "it's melting like the ice sheet" and you cannot stop it from disappearing. "No Future" deals with the climate crisis and how so many young people of the world see that we're on a collision course with the end of the world. On "Lose Me" and "The Tooth" Juliet speaks about abusive relationships, with the later one actually recounting an encounter with someone she thought was a close friend. We end the EP on a hopeful note with "Bright With Belief". We all want better days ahead that might be right within reach, you just have to keep believing. I mean if you don't have hope, what else is there. https://julietquick.bandcamp.com/album/glass-years
Daniel Romano – Kissing The Foe – One of the prettiest sounding albums of the year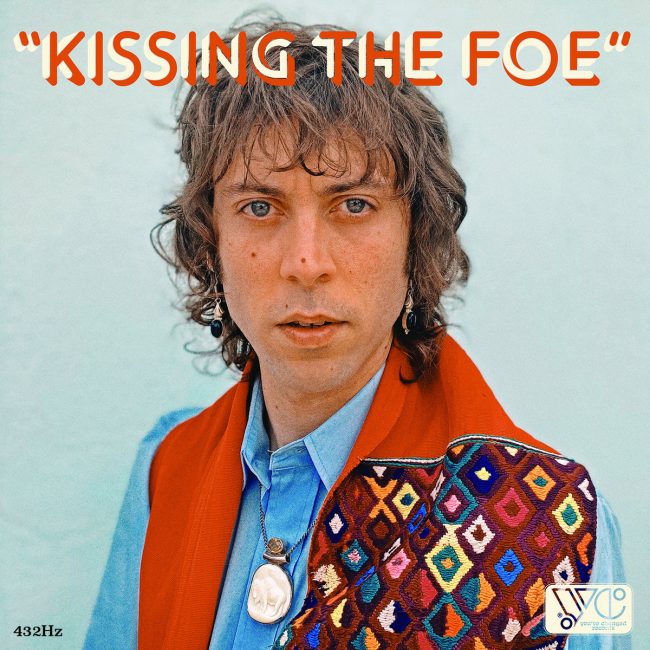 A surprise release getting in there before the first quarter ended. The title track kicks the album off in grand style with a beautiful seven minute epic of horns, harmonies and a rip roaring guitar solo. "Keepers Of The Polished World" feels like a Marc Bolan single. The harmonies on this album are just mind-blowing. I mean listen to "Who Pulls The Sunlight" and not smile and be in awe of how intertwined Daniel and Carson McHone are. "The Outward Conscience" finishes off the first half of the album with a song worthy of being included on a film score. The Kinks influence on Daniel can be seen on "I Don't Fit In". The album just constantly builds to new highs. "Singers in Season" hits you from every direction with so much color that you'll think you've literally entered a rainbow. Daniel does his best George Harrison on "The Divine Reveal". I'm not sure if it's a sitar solo in the middle of the song, but it sure as hell sounds like that's what Daniel was going for. It feels like Daniel always has something up his sleeve and I cannot wait for the next surprise. https://danielromano.bandcamp.com/
Russel The Leaf – Then You're Gunna Wanna – Excellent production elevates this album to a new high for Russel The Leaf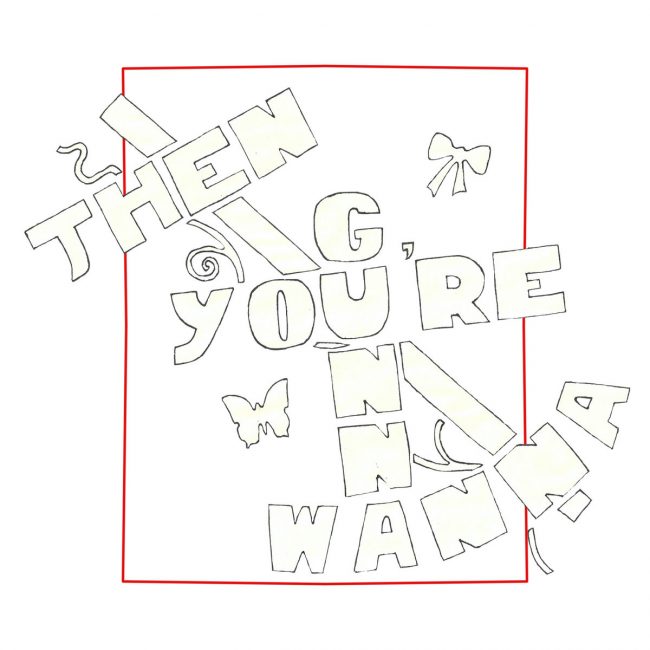 An eclectic mix of songs from the last four years that Evan Marré put together along with a murders row of musicians accompanying him. It's always a pleasure getting new music from Evan and these eight songs do not disappoint. The ballad "Sailin' Away" kicks us off and it's just gorgeous. There such much emotion coming from Evan here. "Skipping School" sounds like an 80's exercise video mixed with Brian Wilson's production to great success. Those super deep vocals make me giggle every time and I just cannot get enough of all the studio trickery here. "'Til I Hit the Ground" makes you feel like you're floating down a lazy river in the middle of summer with it's easy going vibes, before cascading you into some white water rafting during the ending jam. "California" is a gorgeous waltz that will have you dancing in your living room. The album closes with "Outside is the Best", a song about letting the world help you create, that ends with Evan singing "we're here because we're here" to the tune of "Auld Lang Syne". It feels fitting considering we're hoping for a better year this year and we're all still here. https://russel.bandcamp.com/
Sprints – Manifesto – Four songs that keep the heart of punk rock beating strong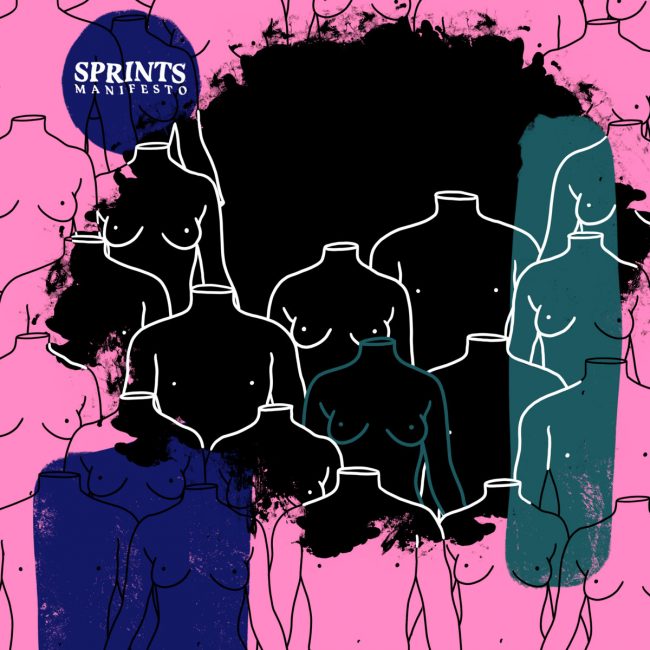 Nice Swan Records out of England has been putting out some real damn winners since their inception in 2016. Sprints are a Dublin based four piece and their debut EP leaves nothing on the table. It's a fast hard hitting affair that will not only make you headbang and dance around your house, but it's a topical affair too. "Drones" kicks us off dealing with imposter syndrome, "Manifesto" deals with body autonomy, "Swimming" deals with the lack of opportunities for people, and "Ashley" closes up the EP talking about the obsession some have for things they see onlnine and on television. These songs are big punk rock anthems waiting to be heard by the masses. On "Swimming" it literally sounds like a revolution is happening in your ears with how hard every member of the band is playing. The way that Karla Chubb's screaming vocals, Colm O'Reilly's guitar wizardry, Sam McCann's driving bass line, and Jack Callan's impossibly hard hitting drumming is mixed together is unreal. The four songs move by fast and I cannot imagine not going right back to the beginning as soon as it's done. Watch out for this crew once live shows open up again as their shows should be a rowdy affair. https://sprintsmusic.bandcamp.com/album/manifesto-ep
Still Corners – The Last Exit – Slide guitars and a crooning voice will take you to the Old West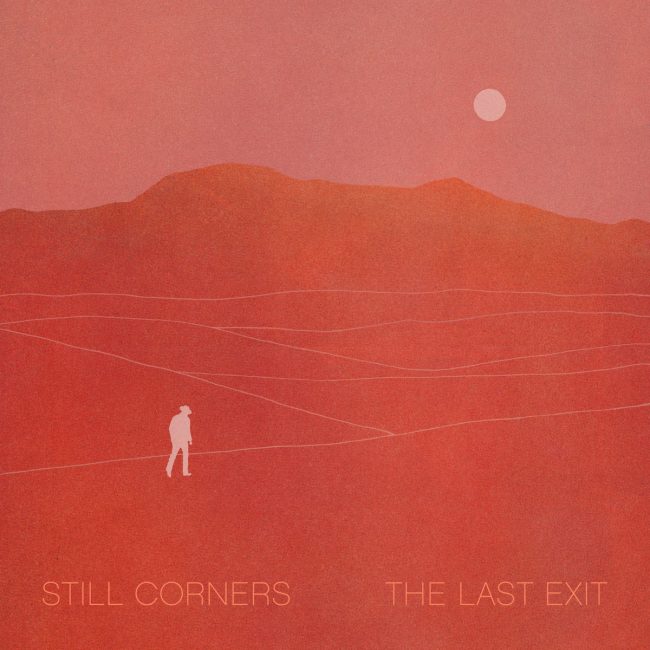 The album begins with the title track showing us that we are going to be on a long desert adventure into the unknown. The slide guitar and high pitch key combo in the track is to die for. The whole album feels like we're traversing the Old West (the long whistling in "Crying" and the resonator guitar intro and howling in "Bad Town"). The songs are filled with catchy hooks and a surrealness that make them feel like they are happening in a dream and are always just out of reach. All I pictured the entire time were a couple of outlaws riding through the night, under dark multi-colored skies, hoping the sun comes up for them before they are killed by the loneliness and horror that the desert can bring. I feel like if radio play were still important in today's music landscape, the upbeat rocker "White Sands" would have been a huge hit, but because so much comes out so often these days, it was just overlooked. The instrumental "Till We Meet Again" builds and builds to such a wild peak that you feel like you're going a million miles an hour. On "A Kiss Before Dying" the way Tessa Murray's voice is mixed, it feels like she is singing right in front of you while the music swirls around you is perfect. When you're able to safely, take a trip out to the desert and turn this up loud as you drive through the night and see if you can see some of the ghosts this album conjures. https://stillcorners.bandcamp.com/album/the-last-exit
Sunburned Hand of The Man – Pick A Day To Die – An almost indescribable affair that you won't stop playing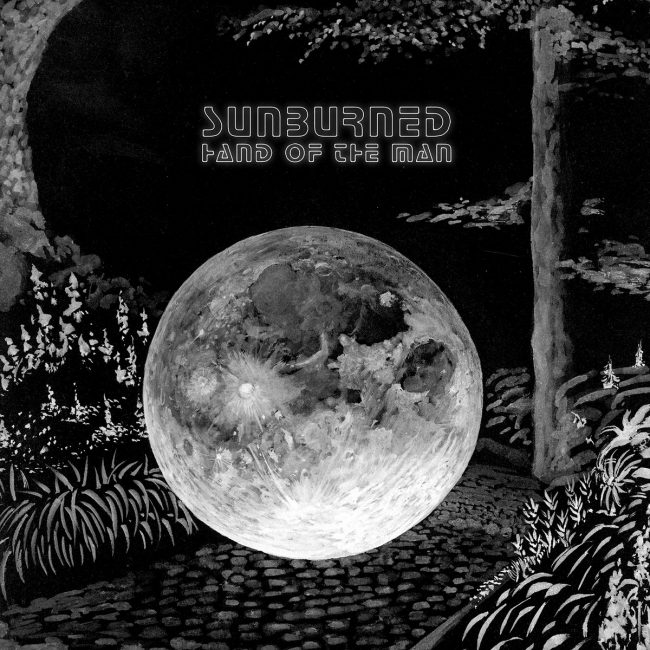 A collective of 10 musicians that created an album that moves so easily from idea to idea it's astounding. "Dropped A Rock" begins with beautiful acoustic guitar works but winds up off into the literal reaches of space with what sounds like transmissions being beamed from space. As it slowly fades out in the ether we're brought into "Pick A Day To Die" that brings the transmissions back before turning into a roll licking rock song with the weird not quite sung lyrics of Shannon Ketch. He barks at you these commands and while it doesn't really makes sense, we're already far out into the trip that this album becomes so you should just strap in and hold on. What follows is a song you could find on any dance floor in NYC in the 70s ("Flex"), a song that is perfect for a B-movie horror film ("Black Lights"), and Tom Waits inspired number ("Solved"). The nine minute "Initials" is the centerpiece of the album. It's filled with weird synth lines, howls, great guitar work, and vocals from every member weaving in and out of each other while becoming more computerized that make your head spin. We end on "Prix Fixe", a screaming metal anthem that seems like it's going to end in complete fuzz feedback before changing to a guitar solo ala David Gilmour and will make you question how did this album wind up here. My jaw dropped to the ground after it ended. It's a kitchen sink album and I just want more of it. https://threelobed.bandcamp.com/album/pick-a-day-to-die
Aaron Lee Tasjan – Tasjan! Tasjan! Tasjan! – An album celebrating being true to yourself and thriving in that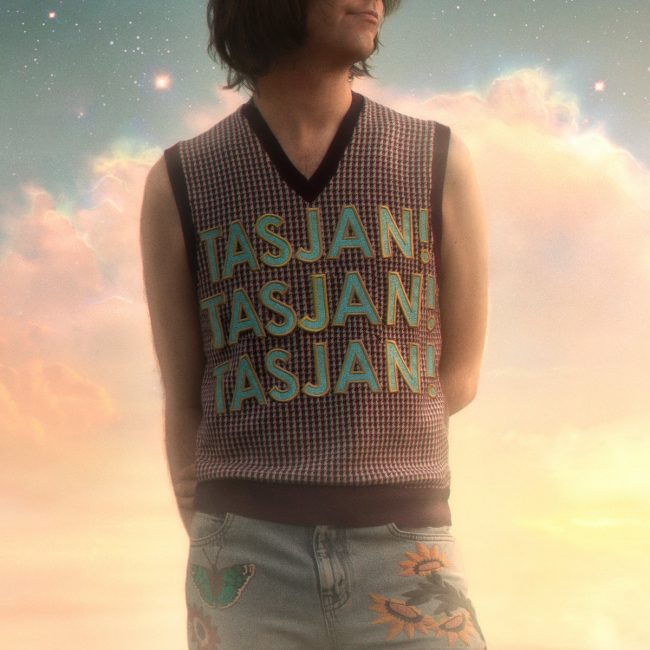 An album that Aaron has said made him finally feel like himself. We move between big guitars, great pop choruses, and psychedelic side journeys. "Sunday Women" kicks off the album with the mission statement to not be afraid to be yourself drenched behind a dreamy pop screen. "Computer of Love" is a great pop rock song that deals with the idea of being online too much and how it can affect you. We then get a beautiful send up to Tom Petty and Jeff Lynne style production on "Up All Night". It's such a great start to the record. Later on we get more ideas about being true to yourself ("Don't Overthink It"), the fall of the music industry ("Cartoon Music"), and a glorious celebration of queer love put to Beach Boys-esque music ("Dada Bois"). "Feminine Walk" has Aaron taking a hard look at all of his influences and who he is as a person. This is a powerful album for those who have been struggling in life, both before and during this pandemic, with being who they are and being comfortable in that. https://altobviously.bandcamp.com/album/tasjan-tasjan-tasjan
Jane Weaver – Flock – A perfect psychedelic pop album to welcome in Spring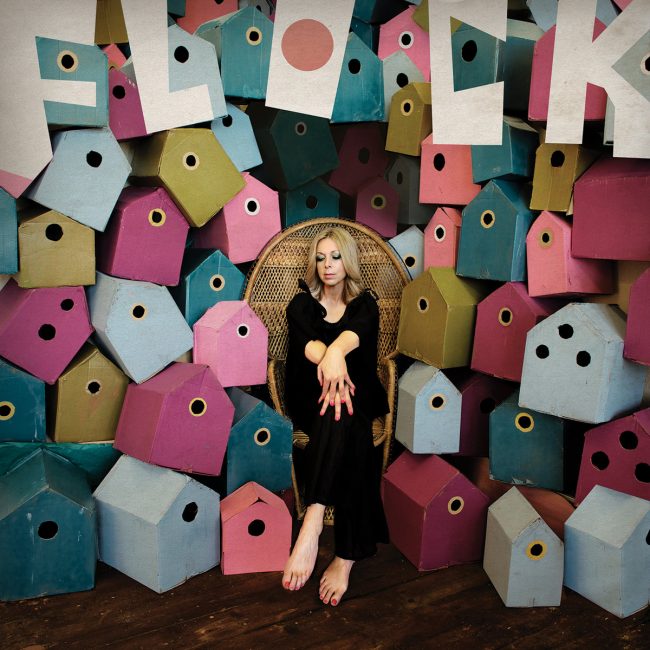 This is a silky smooth album drenched in funky time signatures, Prince-esque riffs, and dreamy vocals. If "The Revolution of Super Visions" doesn't make you immediately get up and groove in your living space I don't know if anything will. The album moves from pulsating rocker (Stages of Phases") to psuedo EDM ("Modern Reputation) to pop anthem ("Solarised") with such ease. The title track is a surreal jazz piece that starts and stops and lets Jane's voice dance about the music like a leaf in the wind. "All The Things You Do" may or may not have been beamed directly from outer space to where Jane was recording the album. The instrumentation just dances from speaker to speaker as Jane harmonizes with herself, it's a wild song. There's really nothing else like a Jane Weaver record. https://janeweaverfire.bandcamp.com/album/flock
Adrian Younge – The American Negro – An unapologetic multimedia experience that needs to be listened to and heard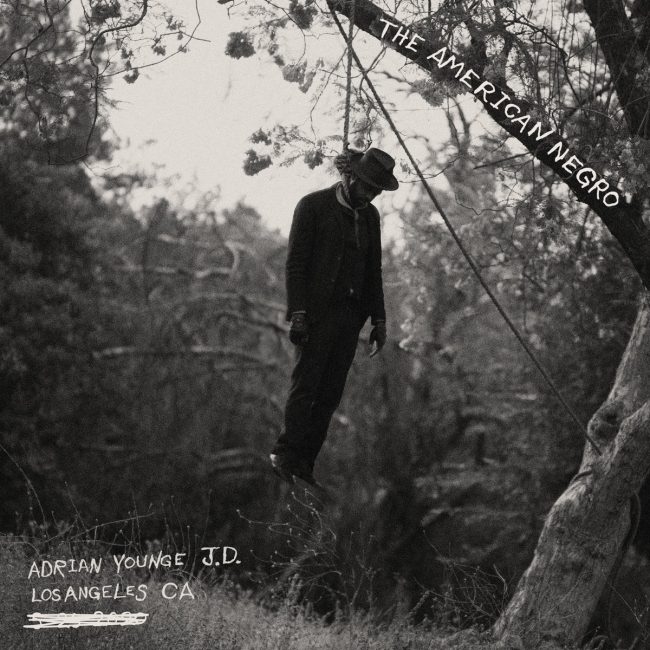 Adrian Younge is an all timer. I have enjoyed the Jazz Is Dead project he co-created last year and everything he touches seems to turn to gold. Here Adrian has turned his entire focus to give an all encompassing critique of the systemic and malevolent psychology that afflicts people of color. He plays every instrument on the album, composed all of the orchestra pieces, and wrote most of the lyrics. Adrian took not only his own experience, but the experiences of Black America, to bring this album to life. The songs range from funk and soul music to ones that feel they should be used as pieces for film scores. It's quite the journey to go on while also being given a history lesson. To accompany the album, he released a four part podcast, Invisible Blackness, and short film, T.A.N., to help better explain the project as a whole. This project is necessary to experience with the current movement for Black Lives Matter, especially if you're white. Come for the great music that will make you dance and smile, stay for the education of how to better the lives of so many BIPOC that deserve it in this country and the world. https://adrianyounge.bandcamp.com/album/the-american-negro
---
Join the conversation