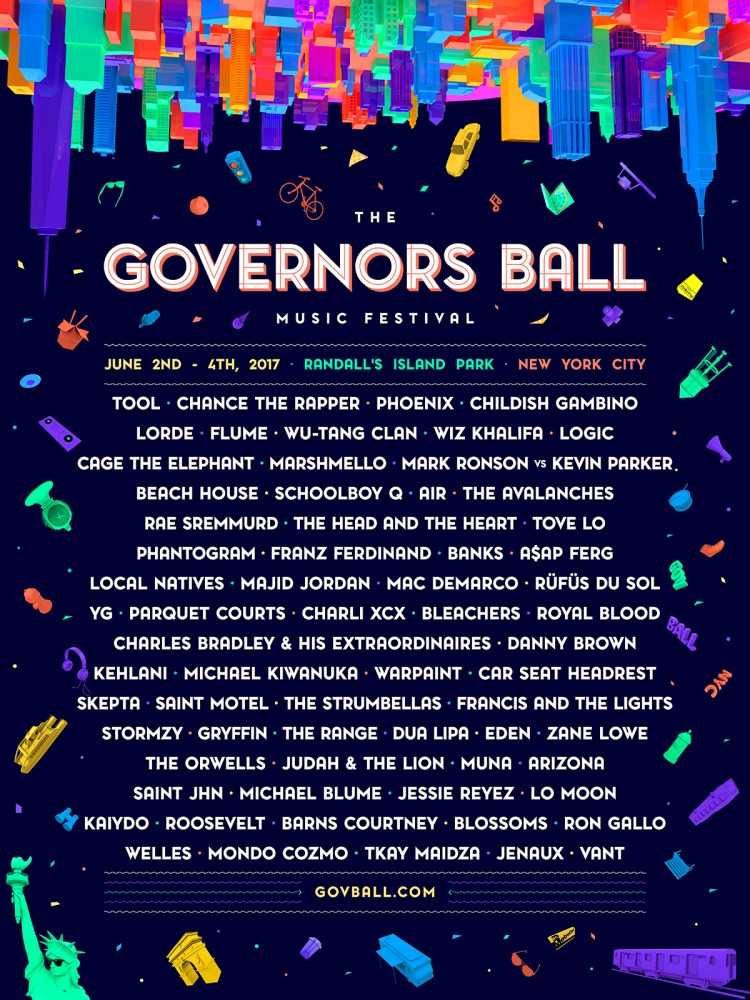 Believe it or not, the Governors Ball Music Festival is just around the corner, as in, one week away. While we are terribly excited and eager to get back onto the familiar stomping grounds of Randall's Island, there also comes some preparation about who to see, especially with the set times for the festival shared.
Sure there are some real tough conflicts (Phoenix vs. Childish Gambino being the most brutal of them) but on the whole, I have most of my schedule made up and am ready to stick to it. That's not to say that things can't change, as that's part of the fun of a festival, but for the most part I got a plan ready to go.
You don't need me to tell you which headliner to see, as I'm sure your mind has been long made up since you hit "purchase tickets." But the beauty of a music festival is the insane number of acts conveniently placed in one location. A lot of the best acts you'll see may be the ones who you never heard of playing early in the day. Don't be lazy and get there after a hard morning of pre-gaming. Instead, make the trip in early to catch some of these artists playing when the sun is still out and about.
I wanted to do my preview a little differently this year and take the time to highlight some artists playing earlier in the day that I think are worth the early trip in. Find the list posted below, along with a song from each artists embedded right after.

Friday:
Roosevelt – 12:45-1:30pm (Big Apple Stage):
Roosevelt the electronic project of German singer Marius Lauber. He makes chill dance jams that will be absolutely perfect for a festival audience and will most likely be a welcome surprise for those who arrive early enough to catch his set.
Blossoms – 1:30-2:15pm (Honda Stage)
Blossoms are a hot rising British band who are sure to pick up a few new fans during their set at Governors Ball. We saw them open for Two Door Cinema Club, and half of the front row was singing along with them during their set. I think that says it all.
Saturday:
Jessie Reyez – 12:15-12:45pm (Honda Stage)
Canadian singer Jessie Reyez has been getting some big buzz for her song "Figures" which marked the arrival of the artist, whose been on many to watch lists ever since. Use the chance to get there early and see if Reyez lives up to the buzz.
Lo Moon – 12:45pm-1:30pm (Bacardi Stage)
Lo Moon are a fairly new band from LA who are riding the wave of their impressive debut single "Loveless," which will appear on their debut album, which former Death Cab for Cutie member Chris Walla produced. Something tells me it will be worth your while to catch these guys before they're soon occupying much higher spots on festivals soon enough.
Car Seat Headrest – 2:15-3:00 (Big Apple Stage)
If you've been reading this blog at all over the past year, you know how high we are on Car Seat Headrest. Last year's Teens Of Denial was one of the best records of the entire year. You'd be silly if you skipped out on their set at Governors Ball. Don't do it. (Sorry, The Range)
Stormzy- 3:00-3:45pm (Honda Stage)
Hailing from the UK, Stormzy is proving that grime is still going strong. He's not in the U.S. much and only has a handful of select festival appearances here, so if it would be crime to miss Stormzy's set.
Sunday:
Jack Martini – 11:45am-12:05pm (Bacardi Stage)
Hailing from Italy, Jack Martini makes chilled out music that should be a good way to kick off the final day of the festival. He only has 20 minutes, which means he's sure to play all of his best. If you're able to summon the strength to get to the ground that early, be sure to check him out.
Ron Gallo – 12:15pm-12:45pm (Gov Ball NYC Stage)
Ron Gallo is a force of garage rock who is sure to wake all the hungover attendees of Gov Ball who are lucky enough to get over to the mainstage to watch him shred. He will use every bit of his 30 minutes of set times to melt some faces, and make the mainstage at Gov Ball still seem to small for him and his band.
For more on Governors Ball head to their site and if you're still in need of a 3-day pass, some tickets still remain.