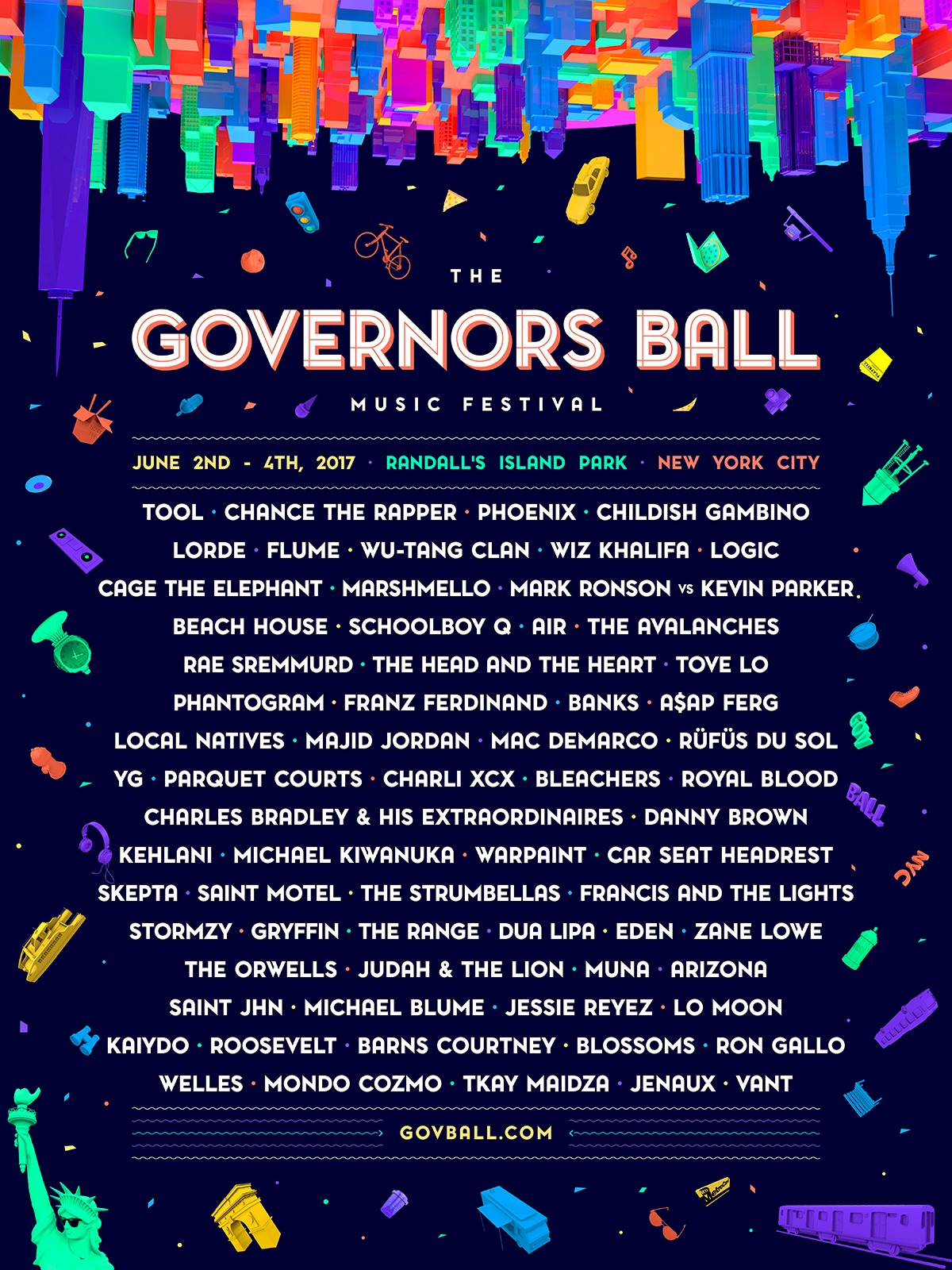 With Governors Ball just a mere two weeks away, the festival has finally revealed the set times for this year's edition of the festival. With so many artists that you want to see playing at the same place, there's naturally going to be some rather unfortunate conflicts.
Here are some conflicts (at least in my mind) that will force some people to make some tough choices:

Friday:
Chirli XCX vs. Charles Bradley & His Extraordinaires
Danny Brown vs. Michael Kiwanuka
Beach House vs. Lorde
Saturday:
Saint Motel vs. Stormzy
Rae Sremmurd vs YG
A$AP Ferg vs. The Head and The Heart
Banks vs. Mark Ronson v Kevin Parker
Childish Gambino v Phoenix
Sunday:
Mac DeMarco vs. Royal Blood
Franz Ferdinand vs. The Avalanches
Cage The Elephant vs. Phantogram
Not too bad at all. Gambino/Phoenix is definitely a tough one for fans, as well as Franz/Avalanches and Mac/Royal Blood.
Check out the full schedule posted below and if you haven't already, go grab your tickets. There are still 3-day passes for sale, as well as single day tickets for Sat/Sun (Friday is sold out).
Friday:
Jenaux – Honda – 12:15-12:45 pm
Tkay Maidza – Gov Ball NYC – 12:15-12:45 pm
Michael Blume – Bacardi – 12:45-1:30 pm
Roosevelt – Big Apple – 12:45-1:30 pm
Blossoms – Honda – 1:30-2:15 pm
MUNA – Gov Ball NYC – 1:30-2:15 pm
Francis and the Lights – Bacardi – 2:15-3:00 pm
Judah & the Lion – Big Apple – 2:15-3:00 pm
Kehlani – Gov Ball NYC – 3:00-3:45 pm
The Strumbellas – Gov Ball NYC – 3:00-3:45 pm
Charles Bradley & His Extraordinaries – Bacardi – 3:45-4:45pm
Charli XCX – Big Apple – 3:45-4:45 pm
Bleachers – Gov Ball NYC – 4:45-5:45 pm
Tove Lo – Honda – 4:45-5:45 pm
Danny Brown – Bacardi – 5:45-6:45 pm
Michael Kiwanuka – Big Apple – 5:45-6:45 pm
ScHoolboy Q – Honda – 6:45-7:45 pm
Lorde – Gov Ball NYC – 7:30-8:45 pm
Beach House – 7:45-8:45 pm
Flume – Honda – 8:45-10:00 pm
Majid Jordan – Bacardi – 8:45-9:45 pm
Chance the Rapper – Gov Ball NYC – 9:45-11:00 pm
Saturday:
Jessie Reyez – Honda – 12:15-12:45 pm
VANT – Gov Ball NYC – 12:15-12:45 pm
Lo Moon – Bacardi – 12:45-1:30 pm
Welles – Big Apple – 12:45-1:30 pm
A R I Z O N A – Honda – 1:30-2:15 pm
Dua Lipa – Gov Ball NYC – 1:30-2:15 pm
Car Seat Headrest – Big Apple – 2:15-3:00 pm
The Range – Bacardi – 2:15-3:00 pm
Saint Motel – Gov Ball NYC – 3:00-3:45 pm
Stormzy – Honda – 3:00-3:45 pm
Rae Sremmurd – Bacardi – 3:45-4:45 pm
YG – Big Apple – 3:45-4:45 pm
A$AP Ferg – Honda – 4:45-5:45 pm
The Head and The Heart – Gov Ball NYC – 4:45-5:45 pm
Local Natives – Big Apple – 5:45-6:45 pm
RUFUS DU SOL – Bacardi – 5:45-6:45 pm
Marshmello – Honda – 6:45-8:00 pm
Wu-Tang Clan – 6:45-8:00 pm
BANKS – Bacardi – 8:00-9:15 pm
Mark Ronson vs Kevin Parker – Big Apple – 8:00-9:15 pm
Childish Gambino – Honda – 9:15-11:00 pm
Phoenix – Gov Ball NYC – 9:15-11:00 pm
Sunday:
Jack Martini – Bacardi – 11:45 am-12:05 pm
Barns Courtney – Honda – 12:15-12:45 pm
Ron Gallo – Gov Ball NYC – 12:15-12:45 pm
Kaiydo – Bacardi – 12:45-1:30 pm
Mondo Cozmo – Big Apple – 12:45-1:30 pm
SAINt JHN – Honda – 1:30-2:15 pm
The Orwells – Gov Ball NYC – 1:30-2:15 pm
EDEN – Bacardi – 2:15-3:00 pm
Zane Lowe – Big Apple – 2:15-3:00 pm
GRYFFIN – Honda – 3:00-3:45 pm
Parquet Courts – Gov Ball NYC – 3:00-3:45 pm
Skepta – Bacardi – 3:45-4:45 pm
Warpaint – Big Apple – 3:45-4:45 pm
Mac DeMarco – Honda – 4:45-5:45 pm
Royal Blood – Gov Ball NYC – 4:45-5:45 pm
Franz Ferdinand – Big Apple – 5:45-6:45 pm
The Avalanches – Bacardi – 5:45-6:45 pm
Cage The Elephant – Gov Ball NYC – 6:45-8:00 pm
Phantogram – Honda – 6:45-8:00 pm
AIR – Bacardi – 8:00-9:45 pm
Logic – Gov Ball NYC – 8:00-9:15 pm
Tool – Gov Ball NYC – 9:15-11:00 pm
Wiz Khalifa – Honda – 9:15-11:00pm