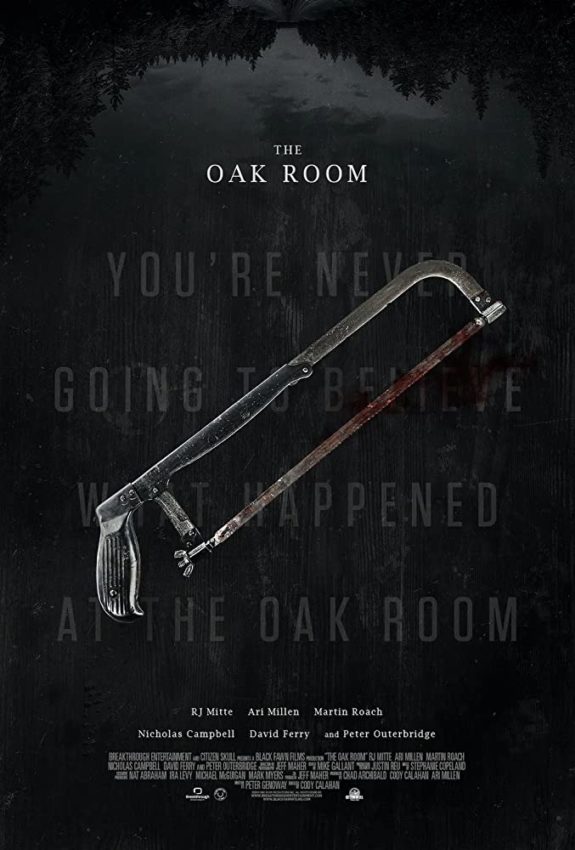 The Oak Room | Cody Calahan | Fantasia Festival 2020
Stories are the foundation of The Oak Room, the new film from director Cody Calahan. The way they're told, the inflections on certain details, or even the order can change your entire perception and alter the shape of its lesson or intended meaning.

It's late at night during a blistering raging Canadian snowstorm, and a drifter walks into a bar just as its owner, Paul (Peter Outerbridge), is trying to close up and get home. Only the drifter is a familiar face, Steve (RJ Mitte), the son of an old friend and loyal presence at the bar.

Paul isn't pleased to see Steve, as he left on a severely bad note and owes a lot of pissed off people money, including him. Steve offers to try and settle up on all his debts with a story, and just how he does that, is part of the fun of screenwriter Peter Genoway's story, based on his play of the same name and brought to life in a stylish manner by Calahan.
As Steve tells the story, we split into the narrative that takes place on a similarly snowy winter night at another bar, with interactions between some shady characters played by Ari Millen and Martin Roach. There's a dark tension lingering in the air in this story, one that carries over back to the conversation between Steve and Paul. Genoway's script juggles the story-within-a-story aspect in a clever manner, one that Calahan juggles to the best of his ability, although the flow and pace of the film do take a noticeable shift here and there as a result.
Personally, I love a good contained bit of storytelling that places two characters in one room for the duration of a film and lets the screenplay run wild. Considering this is Genoway's debut screenplay for a feature, it's an impressive display seeing how much he does just with the act of oral storytelling. The dialogue has lingering tension and violence that recalls some of Tarantino's earlier work here, not just felt on the page but also from Calahan's direction and the grim cinematography from Jeff Maher. It does suffer from being too reliant on exposition at times, where you can see where it would work better on the stage. But the performances and sharp editing bring some balance in that regard.

While it's easy to spot the influences (a bit of Coen Brothers here and there), The Oak Room does emerge with a feel and voice of its own, that relies on the performers to bring these words to life and completely own them. Mitte proves that he is an actor well worth recognition outside of Breaking Bad, going toe to toe with Outerbridge, both of whom hold down the fort. But it's the performance from David Ferry in a flashback sequence as Steve's father that is the revelation here. It's a brief moment but the actor becomes utterly consumed by the role and it's honestly an awards performance hidden in this genre film.
With stylish direction, a bunch of great performances, and clever use of using storytelling as a device to keep both its own characters and audience on their collective toes, The Oak Room is a gritty little piece of indie filmmaking that should put Calahan on the map as a director to watch. It may not be a completely original display, but it takes the familiar and gives it a thrilling spin of its own that had my attention for the full duration of its 90-minute runtime while flashing hints of a potential cult favorite in the making.
Rating: 7.5/10
The Oak Room is screening as part of the virtual 2020 Fantasia Film Festival and doesn't currently have US distribution.
---
Join the conversation