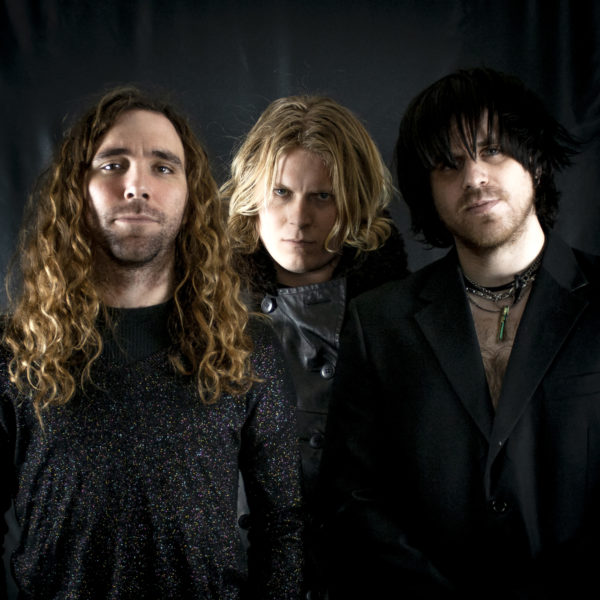 Photo by Denée Segall
FUZZ, the trio of Ty Segall (drums, vocals), Charles Moothart (guitar, vocals), and Chad Ubovich (bass, vocals), have announced their first album in five years, III, which will be released on October 23rd via In The Red Recordings.
III was recorded and mixed at United Recording and produced by the legendary Steve Albini. He kept the focus on the live sounds of the trip, with the use of overdubs and studio tricks were kept to a minimum

The announcement comes with the thrashing new single "Returning" which hits hard in all the ways that you've come to expect. It's also the album's opener as is described as follows:
Album opener "Returning" serves as a sort of mission statement for the album. It's an auditory meditation on the power of one and the different perspectives of one, whether it is the singular person looking inward, or a group of people coming together as a single unit. Not only is it an echo of the return of FUZZ, but also a broader return to form – raw and empowered through vulnerability.
Enjoy a listen to "Returning" below, along with the tracklist (the album art is the photo above).
1. Returning
2. Nothing People
3. Spit
4. Time Collapse
5. Mirror
6. Close Your Eyes
7. Blind to Vines
8. End Returning
The band has also shared some upcoming tour dates which even include shows L.A. shows in December, which seems optimistic. Find those dates below:
Thu. Dec. 3 – Los Angeles, CA @ Teragram Ballroom
Fri. Dec. 4 – Los Angeles, CA @ Teragram Ballroom
Sat. Dec. 5 – Los Angeles, CA @ Teragram Ballroom
Fri. Jan. 22 – Sat. Jan. 23 – San Francisco, CA @ Great American Music Hall
Mon. Jan. 25 – Portland, OR @ Crystal Ballroom
Tue. Jan. 26 – Vancouver, BC @ Rickshaw Theatre
Wed. Jan. 27 – Seattle, WA @ Neptune Theatre
Fri. Jan. 29 – Sacramento, CA @ Harlow's
Sat. Jan. 30 – Felton, CA @ Felton Music Hall
Thu. Feb. 4 – Chicago, IL @ Thalia Hall
Fri. Feb. 5 – Cleveland, OH @ Beachland Ballroom
Sat. Feb. 6 – Toronto, ON @ Danforth Music Hall
Sun. Feb. 7 – Montreal, QC @ La Tulipe
Mon. Feb. 8 – Cambridge, MA @ The Sinclair
Wed. Feb. 10 – New York, NY @ Music Hall of Williamsburg
Thu. Feb. 11 – New York, NY @ Bowery Ballroom
Fri. Feb. 12 – Baltimore, MD @ OttoBar
Sat. Feb. 13 – Philadelphia, PA @ Underground Arts
Sun. Feb. 14 – Pittsburgh, PA @ Mr. Smalls Theatre
Sat. March 13 – Istanbul, TR @ Zorlu Art Center
Tue. March 16 – Nimes, FR @ Paloma
Wed. March 17 – Barcelona, ES @ Upload
Thu. March 18 – Madrid, ES @ BUT
Sat. March 20 – Bilbao, ES @ Santana 27
Mon. March 22 – Biarritz, FR @ Atabal
Wed. March 24 – Paris, FR @ Trabendo
Thu. March 25 – Lille, FR @ Aeronef
Fri. March 26 – Köln, DE @ Gebaude 9
Sat. March 27 – Berlin, DE @ Columbian Theater
Tue. March 30 – Manchester, UK @ Gorilla
Wed. March 31 – London, UK @ Electric Ballroom