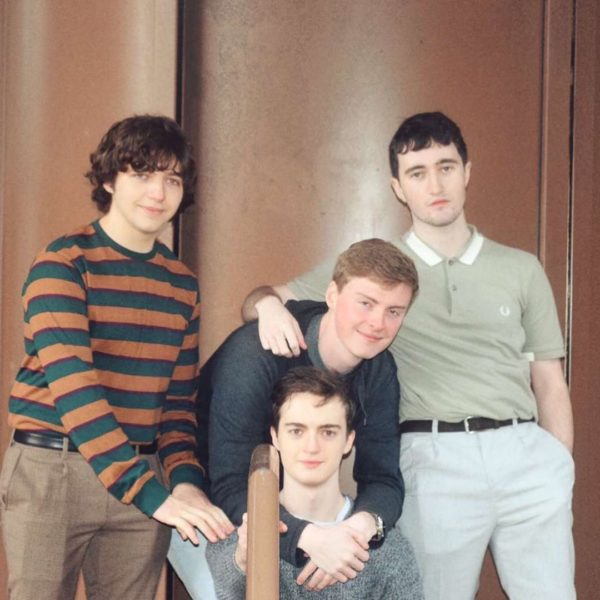 Courting are an exciting rock and roll band out of Liverpool, who caught our attention in a big way in May with the release of their stunning new single "David Byrne's Badside," which has remained one of our favorite songs of the year ever since.
We had the chance to speak to frontman and lead singer Sean Murphy-O'Neill about the track, how they're handling life under quarantine, if David Byrne himself has heard the song and what the future holds for them during such an uncertain time.

Will: Hey Sean, thanks for taking the time to do this. How have you been holding up in quarantine and how are things in Liverpool?
Sean: Things are lovely – we're holding up well. Just excited to see the other side of all this.
W: Have you guys been able to see each other much during all this? Has making new music been discussed?
S: Yep, we've been writing the whole time over zoom and we had a lot of stuff written before this all started. We've been planning well ahead.
W: You guys just released your great new single with "David Byrne's Badside." The title instantly grabs me and is certainly memorable. Did you record this prior to the virus and was it strange to release one of your new songs during this time period when you can't tour and support it like you probably originally envisioned.
S: Yeah we had this recorded in the same sessions as we recorded "Football." I'm glad you find the title memorable, I think there is certainly a group of bands making songs with their titles being references to famous people for example "Kutcher" by Sports Team or "Lebron James" by Do Nothing. Yeah, it was strange but to us an obvious choice. We didn't see the point in waiting ages, especially when loads of bigger bands are being forced to wait for new music we thought we'd give our fans something to listen to, obviously though it's a massive shame we can't be out playing shows right now but safety first.
W: Do you know if the song has made its way to him?
S: Sadly doubt it. When we recorded the song I sent his team and email along the lines of "Hey Dave, writing a song about you and we promise it's nice. Do you fancy coming and being a part of it?" No reply sadly. Guessing it went straight to spam. I hope he likes it if he hears it and recognizes that he's the protagonist of the track.
W: Was the music video always the idea you had planned or did the circumstances of COVID-19 force you to change gears?
S: Completely spontaneous to be honest, was having a lot of fun messing with changing my setting on Zoom and thought it would be a pretty funny idea for a video. We are clueless about directing videos so I'm almost glad we exist in a time we can get away with something quite low quality.
W: You guys sold out the 7" of the single in literally 3 minutes. Did that surprise you?
S: I was hopeful for an hour but that did really shock us. We were really happy at first but then I had people messaging us on Facebook saying they'd took time off work to grab one and had missed out and I suddenly felt very bad about it.
W: How has Liverpool help shaped your identity as a band and your sound?
S: Not all too much if I'm honest. We're very proud to call yourself a scouse band but I think Liverpool mainly assists bands in being a melting pot of cultures and ideas rather than something that shapes your artistry. There's a lot to see and be inspired by.
W: With that said, can you talk about how you guys all met and launched the band?
S: I've mentioned before but sadly we lack a cool band backstory – we simply met in college and went from there and it's been high throttle since the first few gigs.
W: Following your accounts on social media, I noticed you guys getting a lot of airplay on various local / national radio stations and it seems they are held to a high standard. Which is so different from here in the U.S. where "indie rock" or even "rock" barely gets any airplay outside of niche college stations. Can you talk about the culture over there and what getting picked up by them means to you?
S: We've been getting played a lot on 6 Music which is definitely held to a high standard here – A lot of new and interesting artists are played to millions of people on there and they often champion experimental and interesting stuff so we feel proud to be put in with some bands that we love. It's especially great to be played by Steve Lamacq.
W: Your sound has channeled a lot of the British punk/garage rock scene of late, reminding some of Parquet Courts or Shame. Are these acts influential to you guys? Who else would you say helped influence your sound?
S: I love LCD Soundsystem – I think that's what inspired a lot of the cowbell. Also love Blur, Pavement. We try not to be inspired by bands but more by moods or the atmosphere a song can give off.
W: Do you guys have any current plans for recording an EP or album?
S: Yes. No further comment
W: When the world gets back to normal, do you have any plans to come over here to the states to play for us?
S We would love to! Just got to get the timing right and make sure there's enough people who want to see us. But when the time is right we'll be there!
W: And finally, what media have you guys been diving into to keep you sane during quarantine?
S: I've been watching a lot of Taskmaster. I read a book called Blood & Guts in High School. We've been listening to a LOT of 100Gecs.
Today Bandcamp are waiving their fees for all music purchased, so 100% of the profits go to the artists. Support the band directly by buying some of their music.
---
Join the conversation