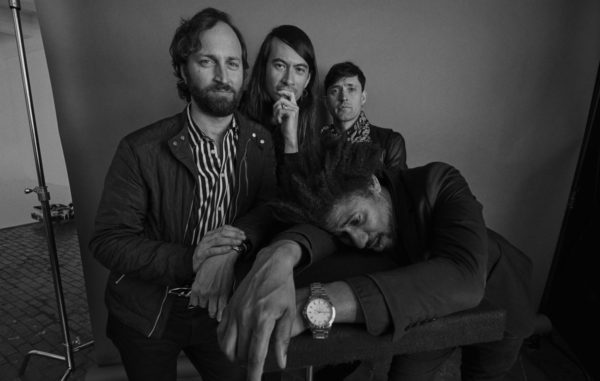 Photo by Christian Högstedt
Algiers will return with their 3rd album There Is No Year this Friday, January 17 via Matador Records.
They've returned with the moody and atmospheric "We Can't Be Found," which builds and builds to an emotionally welling climax, all led by the powerhouse vocals of singer Franklin James Fisher.

You can find the music video for the track posted below, along with their upcoming tour dates.
Algiers Tour Dates:
Friday, January 17 Criminal Records, Atlanta GA
Saturday, January 18 Schoolkids Records, Raliegh NC
Monday, January 20 The Sound Garden, Baltimore MD
Tuesday, January 21 Repo Records, Philadelphia PA
Wednesday, January 22 Rough Trade NYC, Brooklyn NY
Monday, February 3 The Haunt, Brighton UK
Wednesday, February 5 Village Underground, London UK
Thursday, February 6 YES, Manchester UK
Friday, February 7 Stereo, Glasgow UK
Saturday, February 8 Whelans, Dublin IE
Monday, February 10 Brudenell, Leeds UK
Wednesday, February 12 Botanique Rotonde, Brussels BE
Thursday, February 13 Paradiso Upstairs, Amsterdam NE
Friday, February 14 Club Volta, Cologne DE
Saturday, February 15 Manufaktur, Schorndorf DE
Monday, February 17 Zoom, Frankfurt DE
Tuesday, February 18 Beatpol, Dresden DE
Thursday, February 20 Hybrydy, Warsaw PO
Friday, February 21 Lucerna Music Bar, Prague CZ
Saturday, February 22 Flex, Vienna AU
Monday, February 24 Strom, Munich DE
Wednesday, February 26 Monk, Rome IT
Thursday, February 27 Ohibo, Milan IT
Saturday, February 29 La 3 Razzmatazz, Barcelona ES
Sunday, March 1 Cafe Berlin, Madrid ES
Tuesday, March 3 Rock School Barbey, Bordeaux FR
Wednesday, March 4 Stereolux, Nantes FR
Thursday, March 5 La Maroquinerie, Paris FR
Wednesday, March 11 Johnny Brenda's, Philadelphia PA
Thursday, March 12 Black Cat, Washington DC
Friday, March 13 Mothlight, Asheville NC
Saturday, March 14 529, Atlanta GA
Friday, March 20 Club Congress, Tucson AZ
Saturday, March 21 Casbah, San Diego CA
Tuesday, March 24 The Echo, Los Angeles CA
Wednesday, March 25 Slim's, San Francisco CA
Saturday, March 28 Polaris Hall, Portland OR
Sunday, March 29 The Crocodile, Seattle WA
Wednesday, April 1 Turf Club, St. Paul MN
Thursday, April 2 Cactus Club, Milwaukee WI
Friday, April 3 Empty Bottle, Chicago IL
Saturday, April 4 Rumba Club, Columbus OH
Sunday, April 5 Deluxx Fluxx, Detroit MI
Monday, April 6 The Baby G, Toronto ON
Tuesday, April 7 Bar Le Ritz, Montreal QC
Thursday, April 9 Saint Vitus, Brooklyn NY
Tuesday, April 21 Knust, Hamburg DE
Friday, April 24 Nalen Klubb, Stockholm SE
Saturday, April 25 Mejeriet, Lund SE
Monday, April 27 Lido, Berlin DE
Wednesday, April 29 Morze, St. Petersberg RU
Thursday, April 30 Aglomerat, Moscow RU
Sunday, May 3rd ISC, Bern CH
Monday, May 4th Bogen F, Zurich CH