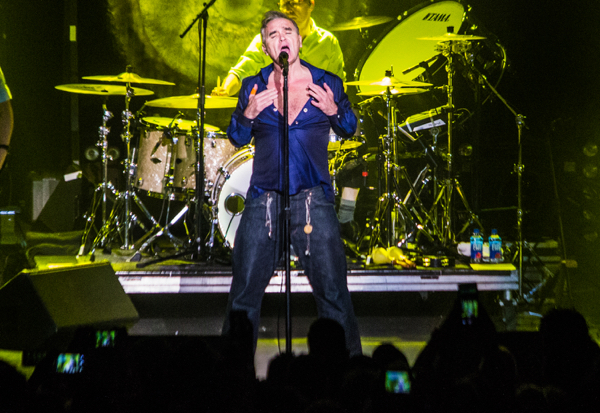 This Saturday, September 25, the legendary Morrissey returned to us in New York for a sold out performance at Kings Theatre in Brooklyn, a much more intimate performance that his show at Madison Square Garden last summer.
It's been two year since the release of his last album, World Peace Is None of Your Business, but Morrissey's setlist at Kings was still heavily loyal to the album, along with the usual favorites from his solo career ("Everyday Is Like Sunday," "Irish Blood, English Heart"). Being a smaller show, you had plenty of Morrissey die-hards quite literally rushing the stage trying to deliver a huge or a personal gift to Morrissey, only to be taken down by his well-placed and quick-moving personal security guards that stand to his side on both direction.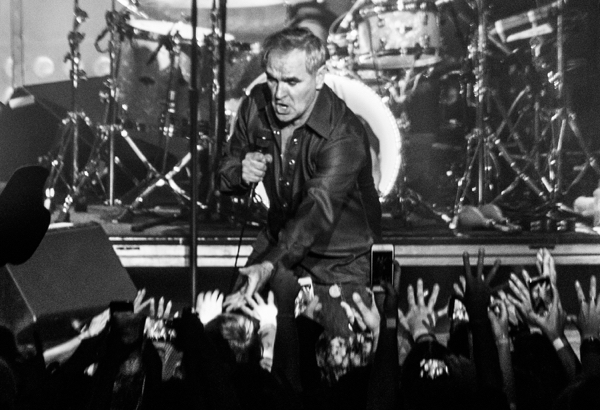 The 22-song set featured an encore performance in dedication to New York, with a rather surprising but welcome cover of The Ramones' classic "Judy Is A Punk." After his dramatic show-concluding performance of "Irish Blood, English Heart," Morrissey tossed his shirt into the crowd as he always does. I just happened to end up near where the eventual tug-of-war for the shirt spread to. About half a dozen of fans each laid claim to a part of his shirt, and tried to rip it out of the others hand, or use a key to try and quite literally rip it into shreds so they could share. There are many big-time artists out there, but not many that have people quite literally fighting off one another for a piece of fabric.
There's truly only one Morrissey.
Find some shots from his performance posted below, along with his setlist and a fan-recorded video of his Ramones cover.
Morrissey Setlist:
1. Suedehead
2. You Have Killed Me
3. Alma Matters
4. Ouija Board, Ouija Board
5. The Bullfighter Dies
6. I'm Throwing My Arms Around Paris
7. World Peace Is None of Your Business
8. Ganglord
9. Speedway
10. Kiss Me a Lot
11. How Can Anybody Possibly Know How I Feel?
12. All the Lazy Dykes
13. Meat Is Murder (The Smiths)
14. Everyday Is Like Sunday
15. The World Is Full of Crashing Bores
16. All You Need Is Me
17. You're the One for Me, Fatty
18. How Soon Is Now? (The Smiths)
19. Jack the Ripper
20. What She Said (The Smiths)
Encore:
21. Judy Is a Punk (The Ramones Cover)
22. Irish Blood, English Heart
Morrissey – "Judy Is A Punk" (The Ramones Cover):