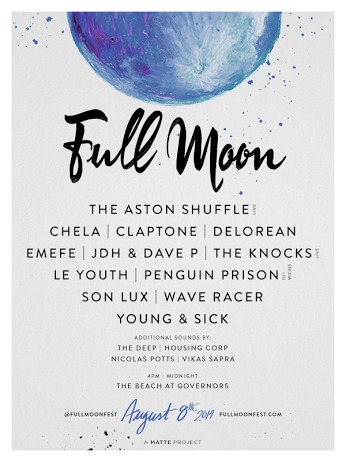 The Full Moon Fest returns to Governor's Island on August 8 for the fourth installation of the dance beach-themed mini-festival, which takes its inspiration from the full moon parties of Thailand, set beneath an August full moon.
This year the festival sports a lineup that includes Delorean, The Knocks, Son Lux, Le Youth, The Aston Shuffle, Penguin Prison, Wave Racer, Young & Sick, Chela, Emefe, and JDH & Dave P.
Tickets are still available for the fest, and at a limited bargain price of $50. Not bad at all, considering how many acts you would get to see. Don't wait too long, as the next pricing is set at $125 (but it's VIP).
Below check out two mixes from the festival, cleverly titled "The Waxing Moon" and "The Crescent Moon":
The Waxing Moon (A Mix By MATTE x Poncho):
The Crescent Moon: A Mix by Claptone for Full Moon Fest:
---
Join the conversation