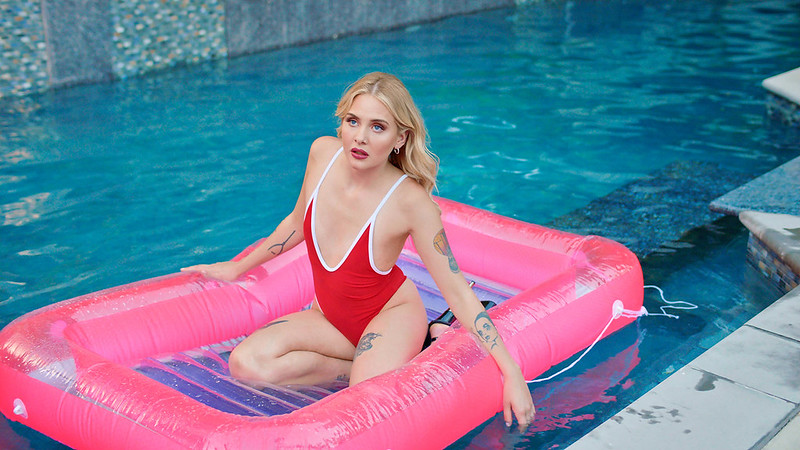 When 20-year-old Bella (Sofia Kappel) arrives at Los Angeles from Sweden, she hopes to achieve her dreams of being a film star. Just not the one your probably thinking of. She wants to be the next big porn star and is willing to go to whatever lengths that will be needed to thrust her into the top of the industry. Only she has no idea just how much this will take a toll on her not just physically but more so mentally.
This is Pleasure, the feature film debut from Swedish director Ninja Thyberg, expanding from her 2013 short of the same name. We see Bella make friendships with her housemates like Joy (Revika Anne Reustle) who are also hoping to find their big break in the industry, hungry to someday reach the same success as rising star Ava Rhoades (Evelyn Claire) and join the rank of the top agency run by Spiegler (Mark Spiegler, playing a version of himself).
Bella thinks she is cut out for the world and is confident enough that the success will just find her as long as she shows up on set willing to work. Being young and pretty isn't enough to make it, as Spiegler notes, you need something different to really stand out and make an impression. What he is really saying is you need to put your body in full control of the producers and directors and subject yourself to some pretty kinky and quite horrible things. A simple hardcore scene doesn't cut it, you need to find top fetish websites and more that will test you even more so mentally than anything else.
This is a brave directorial debut that is like Boogie Nights for millennials, evaluating the way that social media, the internet, and modern times as a whole have altered both how porn is made and how we consume it – as well as the demeaning demands put on the young stars who put their bodies on the line in order for a chance for big bucks and fame.
Equally brave is the lead performance from Sofia Kappel, which is even more astounding considering it's her debut. She is able to convey the hopeful nativity that the role calls for early on with a sense of innocence that soon deteriorates away during her quest to become a star in the industry. What is most impressive about the performance isn't the realistic porn-like shots but the way she is able to go back and forth from a character wanting to put it all on the line to make it, but also someone who mentally is tired of being treated like an object. It's a fine line and Kappel does an incredible job, especially for a newcomer.
Unlike Boogie Nights, Pleasure doesn't glamorize porn or really make it alluring at all, in fact, just the opposite. There are many scenes that are borderline hard to watch here, and it's a credit to the dedication from Thyberg, Kappel, and the rest of the cast – including many real-life porn stars. Maybe there is a bit of repetition and stretch that feels like the story is repeating itself but it is for the obvious effect to put us into her headspace.
While shot in the candy-coated modern way that almost feels like a hyper-stylized Sofia Coppola film, this is a tough and unflinching look at an industry that we don't really talk about in society at large and even in mainstream cinema. Thyberg brings it to life in a way that is smart and entertaining while providing genuine insight into the industry and a story that is engaging, memorable, and provocative.
---
Join the conversation