The timing couldn't be much better for The Trial of the Chicago 7 to arrive on Netflix, and quite literally, "the whole world is watching." Our political climate and sense of justice are as warped as ever, and our trust in our institutions, such as government and law enforcement, is less than favorable. It's quite an indictment considering that it's been nearly 50 years since the events in the film really took place and yet, it seems we still have a lot of work to do.

On the night of the 1968 Democratic National Convention is held in Chicago, anti-war groups and political activists from across the country converge to the Windy City to protest the Vietnam war, as well as brewing anger over the assignations of Martin Luther King Jr. and Robert F. Kennedy during the months prior. As a result of the violent standoff between police and the protestors, the government wants to make a statement for political reasons, and they want their pound of flesh.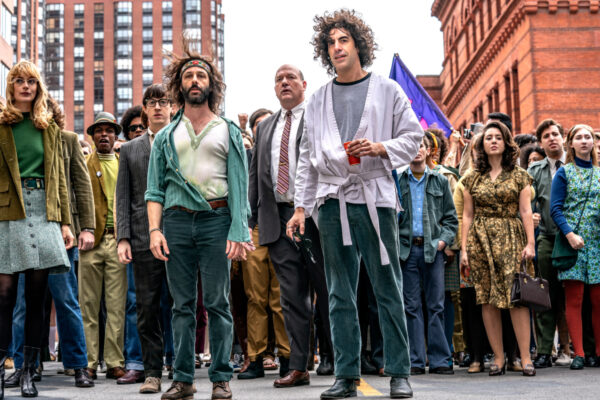 It comes in the charging some of the well-known leaders of the protestors, Abbie Hoffman (Sacha Baron Cohen), Tom Hayden (Eddie Redmayne), Jerry Rubin (Jeremy Strong), as well as Black Panthers member Bobby Seale (Yahya Abdul-Mateen II), who had not even met the others prior to being brought to court. They are defended by the good-natured William Kunstler (Mark Rylance) against the oppressing Judge Hoffman (Frank Langella), and prosecutor Richard Schultz (Joseph Gordon-Levitt), who is one of the few on the other side that see it for what it is: a political witchhunt.
The Trial of the Chicago 7 doesn't offer much by the way of surprises – it is history after all. But if you've seen prestige films or courtroom dramas about oppressed groups of people taking on the man, you get a sense of where Sorkin is leading us, beat by beat. Yet, he is such a skilled master screenwriter that he is able to compel you anyway, despite still finding his footing as a visual storyteller (no disrespect to cinematographer Phedon Papamichael who does a good job emulating prestige courtroom drama of the 90s).
Of course, this is thanks to the standout performances from the sort of stacked cast that results when it comes to getting a chance to work with a name like Sorkin. The talk of the town is the awards prospects of Sacha Baron Cohen, who is every bit as good as advertised here, in a role that allows the actor to showcase not only his sly comedic wit, but more impressively his dramatic chops, and the way he is meticulously able to juggle them both. Equally winning is the performance of Rylance, who commands the screen at every given moment, able to pull you in with his compassion. Equal praise to Yahya Abdul-Mateen II, Frank Langella, and Michael Keaton, who all found ways to stand out amongst a cast full of commanding performances (we'll let Eddie Redmayne's distracting accent slide).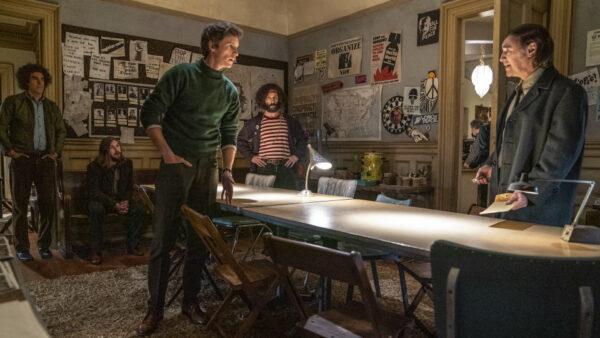 It may be about 10-15 minutes too long and can't help to feel a bit too forced in its sentiment with some sappy rousing moments of inspiration. Sorkin is at his best when he lets you read in-between the lines of the dialogue so expertly shared between his performers, that it's a shame when he gets lost in the showings of sentimentality that feel a bit too awards-baity and formulaic.
Yet it's never enough to take away from the film's powerful message, which of course is just as urgent than essential now than it was half a century ago. Despite some of its shortcomings, the film still sends a powerful message and getting to see this monster cast bring it to life is a joy within itself.
Rating: 7.5/10
---
Join the conversation