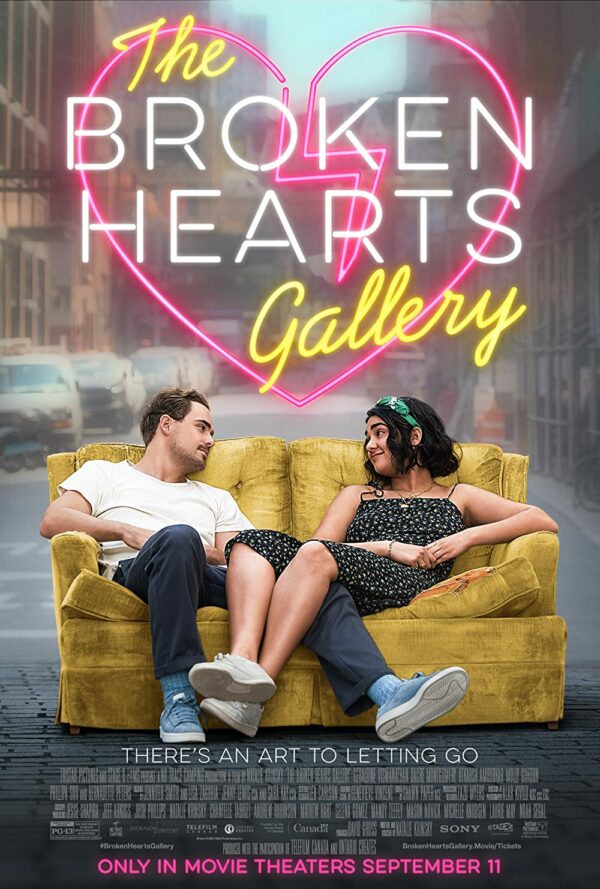 The Broken Hearts Gallery | Natalie Krinsky | September 11, 2020
[Before we dive into Will's thoughts on The Broken Hearts Gallery, a quick note from Will: The other night I drove to the Warwick Drive-In Theater in Warwick, New York to catch a screening of The Broken Hearts Gallery from the safety of my car. We just want to urge people to please only attend a drive-in screening if you are able to safely do so, as movie theaters are not fully reopened nationwide (nor would we recommend stepping foot in a movie theater of any capacity for several hours in the midst of a global airborne pandemic). No movie is worth risking your health and safety. Be safe and well everyone!]
Life is pretty heavy these days, so it seems like pretty good timing for The Broken Hearts Gallery, the new light romantic comedy from Natalie Krinsky in her feature film directorial debut.
Lucy (Geraldine Viswanathan) is the sort of person who can't bring herself to get rid of any of the little mementos that remind her of her ex's, she has a hard time letting go. This makes her current break-up with her older boyfriend (Utkarsh Ambudkar) that much harder, especially as it comes after an embarrassing night at a work event that ends up with her tough art gallery boss Eva Woolf (Bernadette Peters) giving her the boot and putting her art gallery career prospects in shambles.
Her bad night brings her to the car of Nick (Dacre Montgomery), who she mistakingly thinks is her Uber driver. He feels bad for her so he ends up driving her home anyway. This chance encounter brings the two back together as Nick is trying to build a boutique hotel but is struggling to pay the bills to do so. Lucy, carrying the pain of her newly broken heart, leaves an item she kept from her ex in order to try and heal and names it the broken hearts gallery. The next morning, Nick comes to her with news that someone found the said make-shift gallery and left an item of their own. A lightbulb goes off in Lucy's head and she sees it as an opportunity for her to launch a gallery of her own while also bringing in some cash to help Nick get his hotel.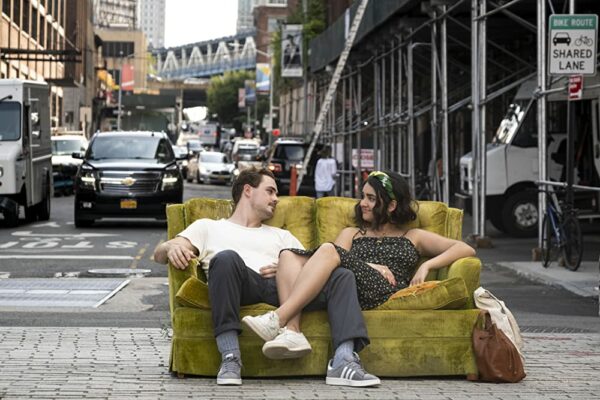 As the gallery takes off thanks to the power of social media and the connectivity of shared heartbreak, Lucy and Nick spend all their time together and if you've ever seen a rom-com, or a movie, you can see where this is headed. While there isn't much new or surprising to be found within the genre, Krinsky still finds a way to make the whole journey fun and simple delight that succeeds in part thanks to the two leads and its colorful supporting cast of characters. We see both characters grow as people as they figure out the blurred lines between their business partnership and the budding romantic one that everyone but themselves sees.
Over the past few years, Viswanathan has been a quiet scene-stealer in supporting roles in Blockers and Bad Eductation but it's here that she shines the brightest in the sort of star-making role we may look back to in years to come. She has legit chemistry with Montgomery who is plenty likable and charming himself. There are also amusing supporting work from Molly Gordon and Phillipa Soo as Lucy's whacky roommates and Arturo Castro as Nick's best friend, Marcos.
The Broken Hearts Gallery that takes all elements of your favorite rom coms and distills it for a modern audience, for better and worse (though the soundtrack is killer). While it never quite paves enough of a unique path to take things to that next level, it's still a light and enjoyable experience with characters you actually care for and want to root for. It has enough heart to balance out the cheesy element and comedic elements that can misfire as often as they land. But what you have here is a launching pad for the career of Viswanathan who is a star in the making.
Rating: 6.5/10