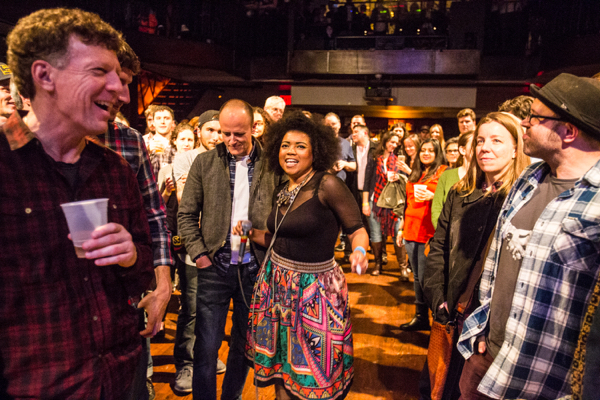 It's been a big year for Shreveport Louisiana soul rockers Seratones, who released their great debut album, Get Gone, via Fat Possum. They've been touring non-stop all year, and return to us here in New York for a show tomorrow night at Mercury Lounge.
Back in May, after catching their more than memorable opening performance for The Dandy Warhols at Bowery Ballroom, we spoke over e-mail with frontwoman AJ Haynes, about the bands success so far, the history of the band, and some of their influences. We are proud to share our chat with AJ with you, find the entire conversation posted below:

W: Congrats on being named one of the "10 New Artists You Need To Know" by Rolling Stone! How does that feel? Where were you when you got the news?
AJ: I don't remember where we were when it was published, but I do remember where we were during the interview. We were on our way to Albuquerque, making our way across the Texas border. We stopped in at a very quaint diner (that had the BEST fried jalapeño caps I've ever had) right around dusk. It was one of my favorite interviews. It feels great to be recognized by such an important music magazine. Rolling Stone was one of the first publications to make the intersection of music and politics sexy. They gave Hunter S. Thompson a platform for his Gonzo journalism. It truly is an honor to be that close to so much history.
W: For those who are new to the world of Seratones, can you talk about its formation and the journey so far?
AJ: Short version: We joined forces back in 2014, signed a record deal with Fat Possum at the end of 2014, and have been at it since.
Long version: We've all known each other for at least a decade. Connor, Jesse, and Adam are like my brothers. We used to put on DIY punk and multi-media experimental shows in our hometown to keep ourselves entertained. After many different bands between the four of us (Sunday Mass Murder, Thrashasaurus Wrecks, Don't Forget Your Dinosaur, Ghostfoot, A.J. Haynes and the Monkey Business, and The Noids to name a few) we decided to focus on Seratones. When we won some recording time at a Blade Studios, our sound really came together. Fat Possum heard about us by complete chance and signing with them made perfect sense.
W: You just released your debut album Get Gone. It's a really balanced and well sounding record, fully mixing in elements of rock, garage, and even soul and r&b. Can you talk about how all those sounds came into your arsenal and maybe some influences? What were you guys listening to during the recording sessions?
AJ: Like any arsenal, you have to use the right weapon for the right battle. You wouldn't bring throwing knives to a gunfight? Or would you? How can different tools be used for more than their original intent? I think that's the best way to frame how we use our influences. A song that starts with a swing beat can totally end with a Bad Brains-influenced breakdown. We were listening to lots of Os Mutantes, Jorge Ben, ZZ Top's Tejas, Wand, Black Sabbath (Adam is always listening to Black Sabbath), and there's always Wu-Tang's 36 Chambers to get up and our minds right.
W: How does your hometown of Shreveport, Louisiana and its live music scene shaped and influenced you as a songwriter?
AJ: We're left to our own devices in Shreveport. It's exhilarating and also incredibly frustrating at times, a double-edged sword.
W: I'm sure by now you guys have heard the comparisons of you and The Alabama Shakes. Is that something a band finds flattering, or something you get tired of hearing?
AJ: I have the utmost respect for The Alabama Shakes. They're one of the most loved and successful bands out right now. And of course I love to see fellow Southerner Brittany Howard slay. She's so cool! I think it's unfortunate when writers don't work to improve their craft and lean on superficial comparisons. It's easy (and lazy) to do—given we're both Brown women fronting Rock & Roll bands—but I don't think we have many sonic similarities. Good writers employ sensory language that makes you want to listen to a band's music—not the band they're being compared to. Then again, I understand you have to give people a reference point. Alabama Shakes is a damn fine reference point to me!
W: You're day job is as a teacher right? They're obviously very different professions and lifestyles, how do you find a balance between teaching and the rock star life?
I was a full-time teacher for a year and a half; I left my position in May 2015. However, I don't think one ever stops being an educator. Teaching is a lot like being in a touring band. You're around large groups of people you have to entertain, you spend most of your time in a weird-smelling confined space (van//classroom), you get very little sleep, and you're always treading water. I wouldn't say that they're too terribly different. The "rock star life" fallacy (all the drugs and parties and booze and blah blah blah) isn't really appealing to me. Not to say that I don't love partying…there's just a time and place for everything. Also, teachers party harder than ANY musician I've ever met. True story.
W: I read that your mom was in a band in Japan, and that you came up singing in a church. Was music always a part of your future plans? Can you talk about that and how it prepared you for where you are now with your own music?
AJ: I've always loved performing, so the fact that I get to do what I love for a living is stellar. Music and the performing arts will always be part of my life.
W: So many great artists have started out with Fat Possum, and so many have landed there today, such as yourselves. Can you talk about what it's like being on the label, and what drew you to them as opposed to one of the other many labels that must have reached out?
I've been a huge fan of Fat Possum for years. I love the artists they draw to them. Birds of a feather flock together, so to speak.
W: I saw you guys play a few times now, sometimes to rooms not so full and other times a packed room. What amazed me is you brought the same level of intensity, and came out to the crowd to rock out every time. How do you maintain that night in and night out while out on the road as long as you've been?
I get amped listening to Wu-Tang before most shows—one must always bring the muthafuckin' ruckus. I also take my vitamins and have a love of kombucha and yerba mate. And coffee…lots of coffee.
W: How has it been touring with The Dandy Warhols? It's an interesting mix style wise between the two of you, an awesome, but not instantly obvious combination (I was at night 1 at The Bowery Ballroom show in April). How did that come about?
AJ: We have an amazing booking agent who jumped on the opportunity when the stars aligned.
W: What does the rest of 2016 have in store for Seratones? Can we expect you back in NYC anytime soon?
AJ: Lots of touring! Including our first EU/UK tour! I'm sure we'll be in NYC before the end of the year. Nothing I can announce, but I have a good feeling about it.
---
Join the conversation