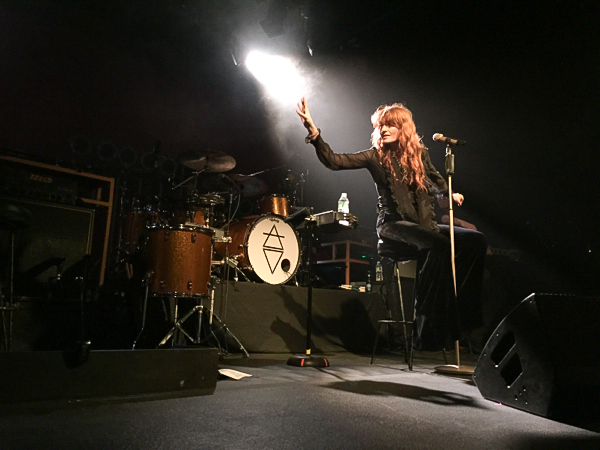 With new album How Big, How Blue, How Beautiful set for release later this month (May 29 via Island Records), Florence and the Machine is scheduled to appear as the musical guest for the season finale episode of Saturday Night Live this week. So while in town she announced that she would be playing a surprise show at Music Hall of Williamsburg, in a show co-sponsored by Governors Ball (which she'll be playing next month) and Bowery Presents. Fans were understandably very excited by this announcement, as it's not everyday you get a chance to see a major star like Florence and The Machine in a 550-person venue such as MHOW. Tickets were hard to come by, but for those lucky enough to get in, they were treated to a once in a lifetime show from the British pop-star.

The show was opened by Empress Of, who just finished up a recent residency of Baby's All Right's "baby" venue Elvis Guesthouse. She's set to release her debut album later this year via Terrible Records/XL Recordings. She played new tracks such as new single "Water Water" and will support Florence on a select set of East Coast dates later this summer.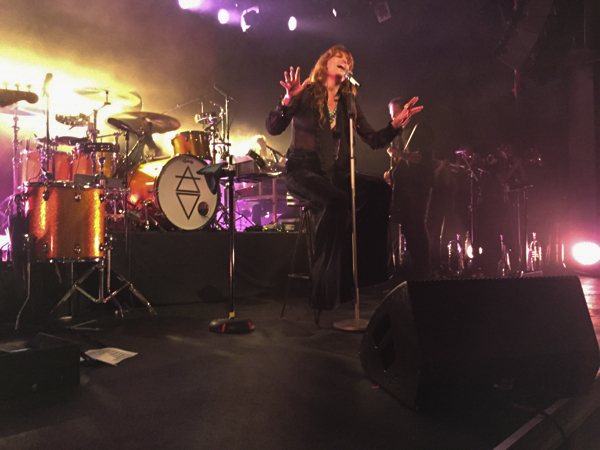 I haven't seen Florence and the Machine live since they played a packed tent at Bonnaroo in 2011. Even that seemed to small for the big sounds of Welch, so you can only imagine what it felt like to have her at Music Hall of Williamsburg. Although it's a small venue, it was operated with the mindset of an arena-level artist for the night. The entire right lower balcony was cut off and turned into space for an additional soundboard and holding for her band's guitar tech and management. The stage was extended a couple of feet all the way past where the balconies begin on the side, and two security guards stood in between the crowd and stage. If you've ever been to Music Hall of Williamsburg, you'll understand how unusual and jarring this was.
But then again, it all made sense when Florence took the stage along with her band which stretched to 11-members that I could see, including a harpist, two designated backup singers, three-singers who also played brass instruments, along with a keyboardist, guitarist, bassist, and drummer. This was a big production, but she still found ways to keep things intimate. She was carried out to her spot onstage by a bandmember due to her broken foot, a recent result of a stage jump gone wrong at Coachella. She apologized to the audience for having to sit down in place while performing, but everyone was just overcome by joy that we were standing mere feet away from the almighty Florence Welch.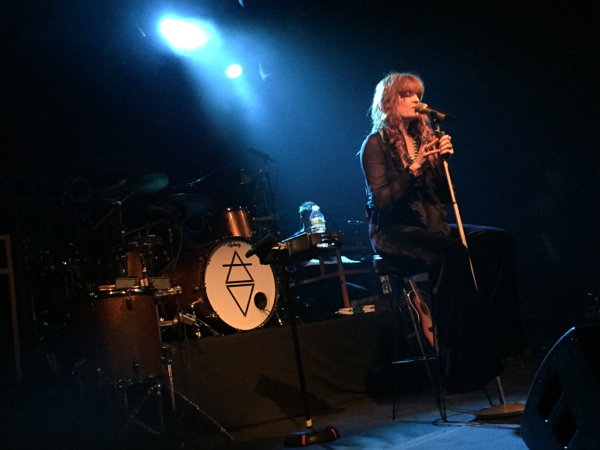 She kicked things off gently with a stripped down version of "Cosmic Love," with just the gentle calling of the harp and an acoustic guitar. She followed that up with two more Ceremonials offerings: "All This and Heaven Too" & "Breaking Down." Up on the VIP area you could see a not so hidden Lorde singing along to nearly every song, really putting it into perspective of how special this performance was. I was not expecting to hear her cover of Cold War Kids' "Hospital Beds," which her powerful voice carried to a different place entirely. It wasn't the only cover of the night, she also worked in a rather lovely rendition of Neil Young's "Only Love Can Break Your Heart" into the set, which was sung along by all those old enough to even recognize it.
She made many connections to her broken foot and the new songs off her album, which she described as a mending of her heart in some ways. Single "Ship To Wreck" sounded like the instant hit that it is, while title track "How Big, How Blue, How Beautiful" made full use of the brass instruments, sounding rich and full, sweeping us all well off our feet. Although Florence was relegated to a stool on stage, it didn't prevent her from moving around like the free spirit that she is. Her energy was still palpable, and she was still able to orchestrate the entirety of the room to jump all and down to the still anthemic climix of "Dog Days Are Over," just as I remember her doing at Bonnaroo, now so many years ago.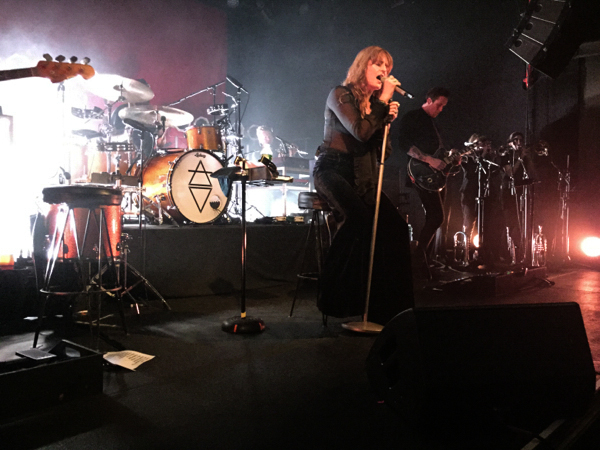 She finished the performance with a rousing performance of "What Kind Of Man," a stunning conclusion that she admitted would serve as the "encore" as she couldn't leave the stage and come back again with her foot. No one was complaining, as she gave us an unforgettable performance that we may never get to see from her in the same way again. I will treasure it when I see her captivate the masses at Governors Ball next month, hopefully with somewhat of a healed foot.
Find the setlist and some photos from her performance posted below.
Florence and the Machine Setlist:
1. Cosmic Love
2. All This and Heaven Too
3. Breaking Down
4. Ship to Wreck
5. Hospital Beds (Cold War Kids Cover)
6. Shake It Out
7. How Big, How Blue, How Beautiful
8. Sweet Nothing (Calvin Harris Cover)
9. Heartlines
10. St Jude
11. Only Love Can Break Your Heart (Neil Young Cover)
12. Only If for a Night
13. Dog Days Are Over
14. What Kind of Man
Empress Of: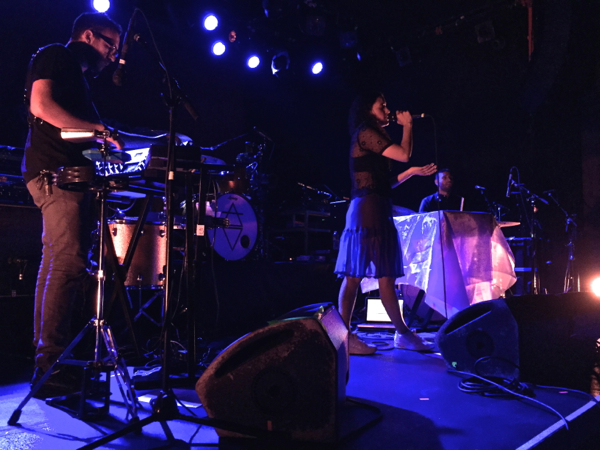 Florence and the Machine: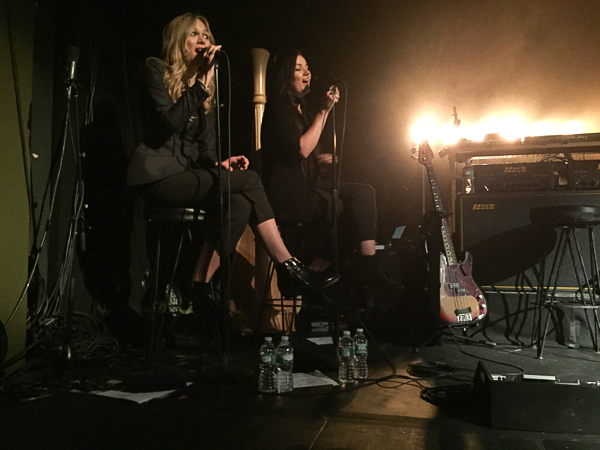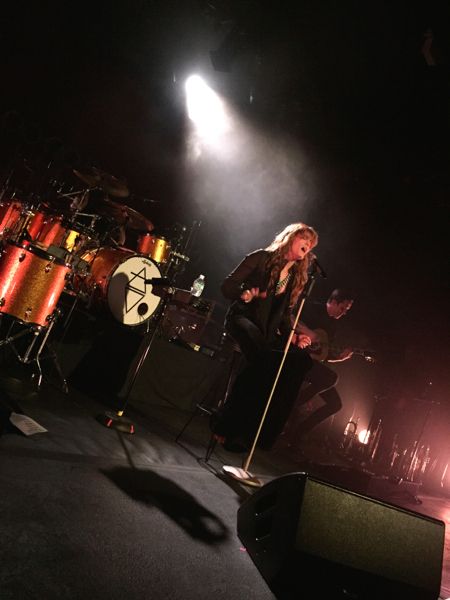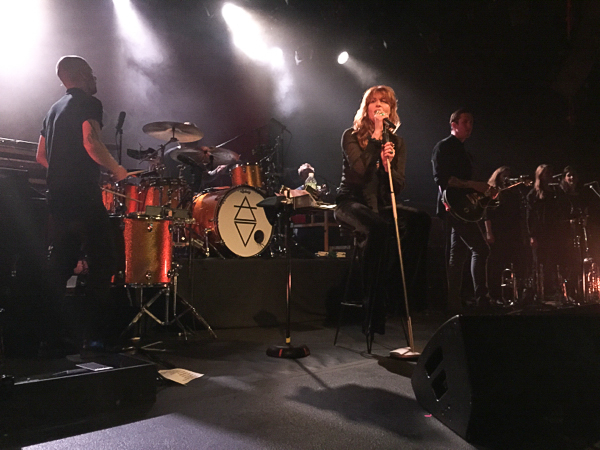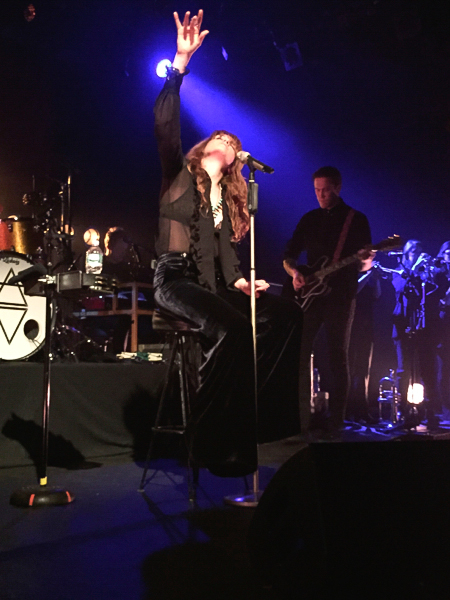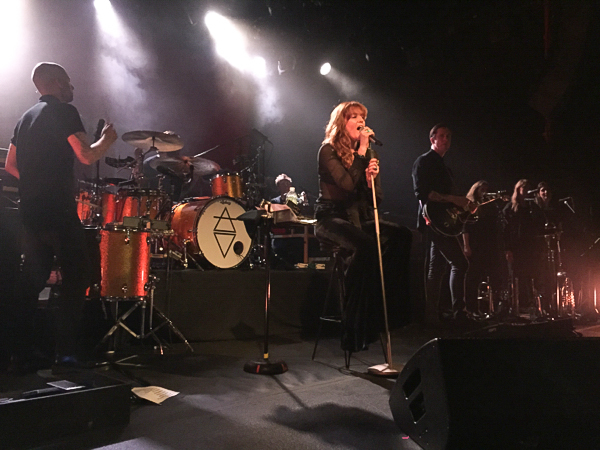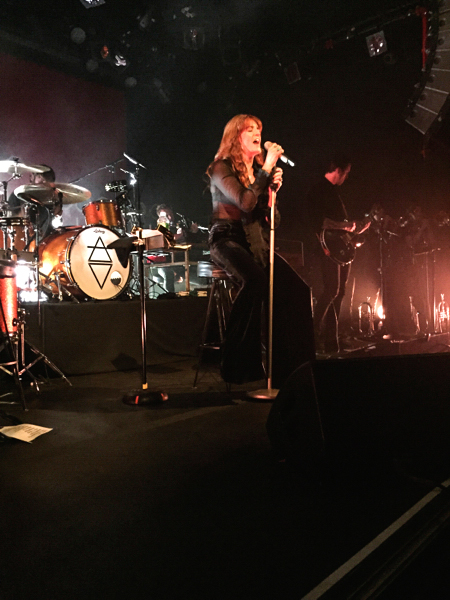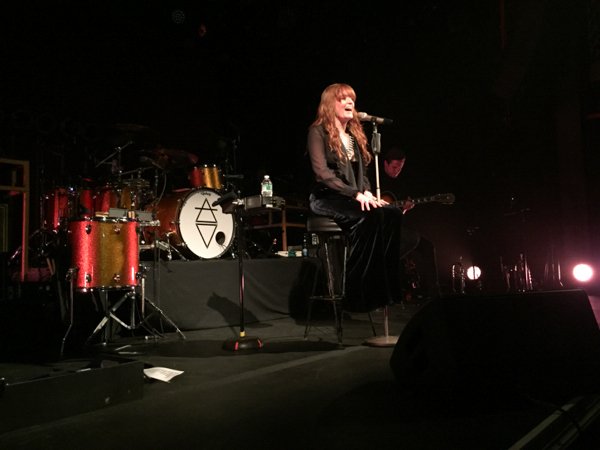 ---
Join the conversation