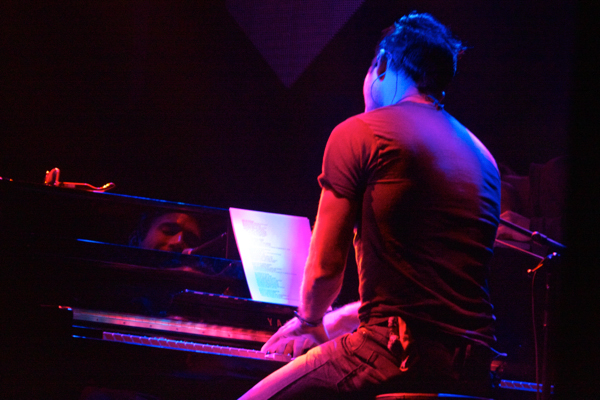 It's not too often I'm drawn to see shows at big, old fashioned theaters such as the historic Beacon Theatre. Although the spaces are undoubtedly beautiful, some artists just aren't meant to be seen at large spaces. Based upon the quiet and intimate nature of Sufjan Stevens' pitch perfect new album Carrie & Lowell, you wouldn't be wrong for being somewhat wary about seeing him at The Beacon. Yet, this is Sufjan Stevens, one of the best songwriters of our generation, playing what is likely to end up as one of the – if not the – best albums of the year. It was in fact, a match made in heaven.

While the night was a surmon to the personal tales of Carrie & Lowell, Sufjan opened his wings with "Redford (For Yia-Yia & Pappou)," the beautiful instrumental from Stevens' 2003 album Michigan. It segwayed harmoniously into Carrie & Lowell's haunting opener "Death With Dignity," which led right into "Should Have Known Better," one of the best tracks off the album. Sufjan was backed by a harmonious backdrop that displayed vivid imagery that perfectly captured the essence of the aesthetic of the album.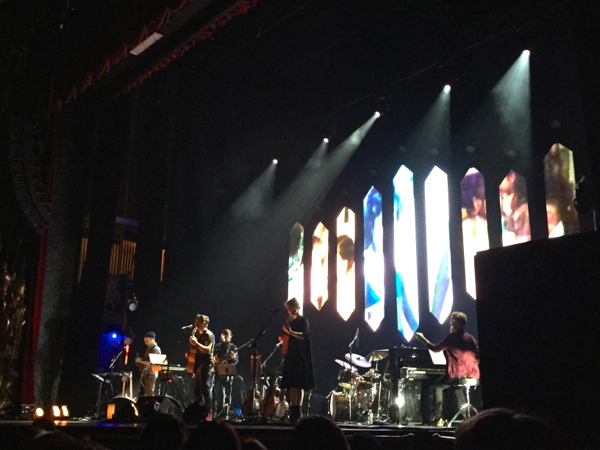 Going to shows quite regularly in New York City, I'm accustomed to dealing with rude, entitled audiences that have no problems talking during shows, and playing on their phones instead of being attentive to the artist that they payed to see. Sadly, it's almost expected. But Sufjan demands a different kind of respect, and thankfully the crowd at The Beacon Theatre remained locked in awe, as quiet as any crowd that I can remember. It made each song even more poignant and delightful.
Aside from the opening of "Redford," Sufjan played 10 of the 11 tracks off of the new album in a row (not in order), with the delicate "Drawn To The Blood" standing out as a particular heartbreaking affair. There were plenty of audience members wiping away tears or looking emotionally effected by the performance that they were witnessing in front of them, including Sufjan who seemed to be emotional wiped at times while playing this songs. Can you blame him?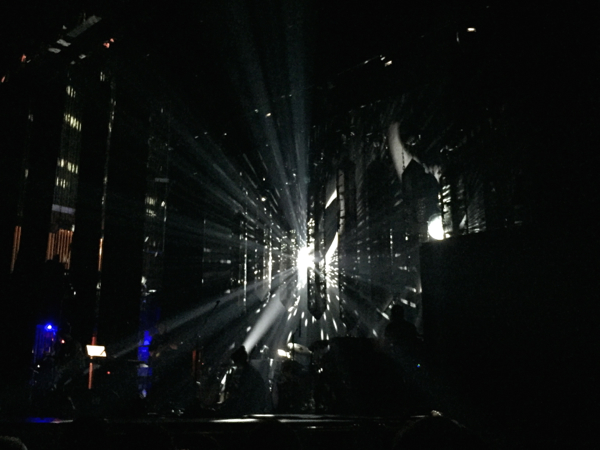 Aside from the new album, Stevens worked in a fair share of songs from Seven Swans ("The Dress Looks Nice On You," "To Be Alone With You," and "He Woke Me Up Again") an appropriate companion to the sounds of the current release, as well as "The Owl and the Tanager" from All Delighted People and Michigan's "For the Widows in Paradise, For the Fatherless in Ypsilanti." But none of them could prepare me for the epic regular set finale of "Blue Bucket Of Gold" the C&L album closer which was flashed out to a cathartic schizophrenic freak out that stretched the 5-minute track to 12-minutes. It was a release of everything that came before it, a monstrous end to the regular set that was simply awe inspiring.
It was hard to It was a tough act to follow, but then again returning with a three-song encore consisting of Illinois era Sufjan tracks "Concerning the UFO Sighting Near Highland, Illinois," "John Wayne Gacy, Jr." and "Chicago" was all too perfect.
This was the third time that I've caught the magician that is Sufjan Stevens, and this may have been his finest act yet. It was so good, I'm already planning out a trip to one of his upcoming Kings Theatre shows on May 1 & 2. If you're a fan of Sufjan, you best find a way there.
Sufjan Stevens Setlist:
1. Redford (For Yia-Yia & Pappou)
2. Death With Dignity
3. Should Have Known Better
4. Drawn to the Blood
5. All of Me Wants All of You
6. Eugene
7. John My Beloved
8. The Only Thing
9. Fourth of July
10. No Shade in the Shadow of the Cross
11. Carrie & Lowell
12. The Owl and the Tanager
13. For the Widows in Paradise, For the Fatherless in Ypsilanti
14. He Woke Me Up Again
15. The Dress Looks Nice on You
16. To Be Alone With You
17. Blue Bucket of Gold
Encore:
18. Concerning the UFO Sighting Near Highland, Illinois
19. John Wayne Gacy, Jr.
20. Chicago