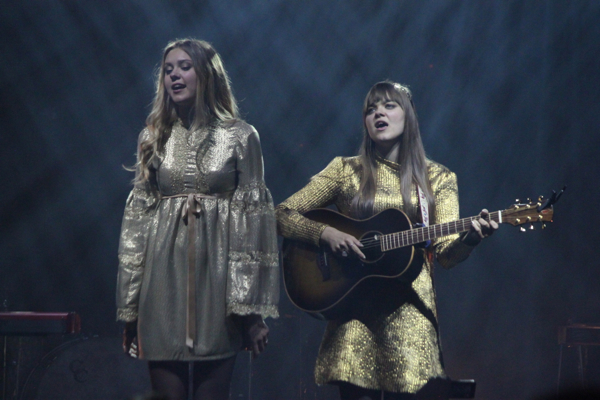 Like many, my introduction to Swedish sisters Johanna and Klara Söderberg came when I stumbled across their magical cover of Fleet Foxes "Tiger Mountain Peasant Song" on youtube. I was hit hard with surprise when I learned that it was those same two girls who went on to become First Aid Kit, now well on their way as a successful folk duo.

Last week I saw the girls play to a sold out crowd at Webster Hall. This wasn't a cheap sell out to, the room was packed tightly, all the way to the very back. This isn't an easy feat, but it was not surprising as the girls are well on the way up. Their rise has carried over to the release of their new album Stay Gold, which is a record I have been spinning a lot of late. Lead single "My Silver Lining" is one of my favorite songs of the year, and has helped the girls gain even more fans than ever before.
The duo's band included two additional players, giving them a full, rich sound live. But make no mistake, this was their show. They combine to form a closely-linked pair, relying on each other just as much as themselves. There's a shared connectivity between the two that is a large reason as to why their blend of 60s-minded folk works so well. They captivated the audience as they ran through tracks both new ("Cedar Lane" & "Waitress Song" being highlights) and old ("Emmylou" & "The Lion's Roar). They also played a rather lovely cover of Simon and Garfunkel's "America."
First Aid Kit have come a long way, taking great strides forward, showing that the promise shown in that youtube video has come to fruition, bringing it all full circle.