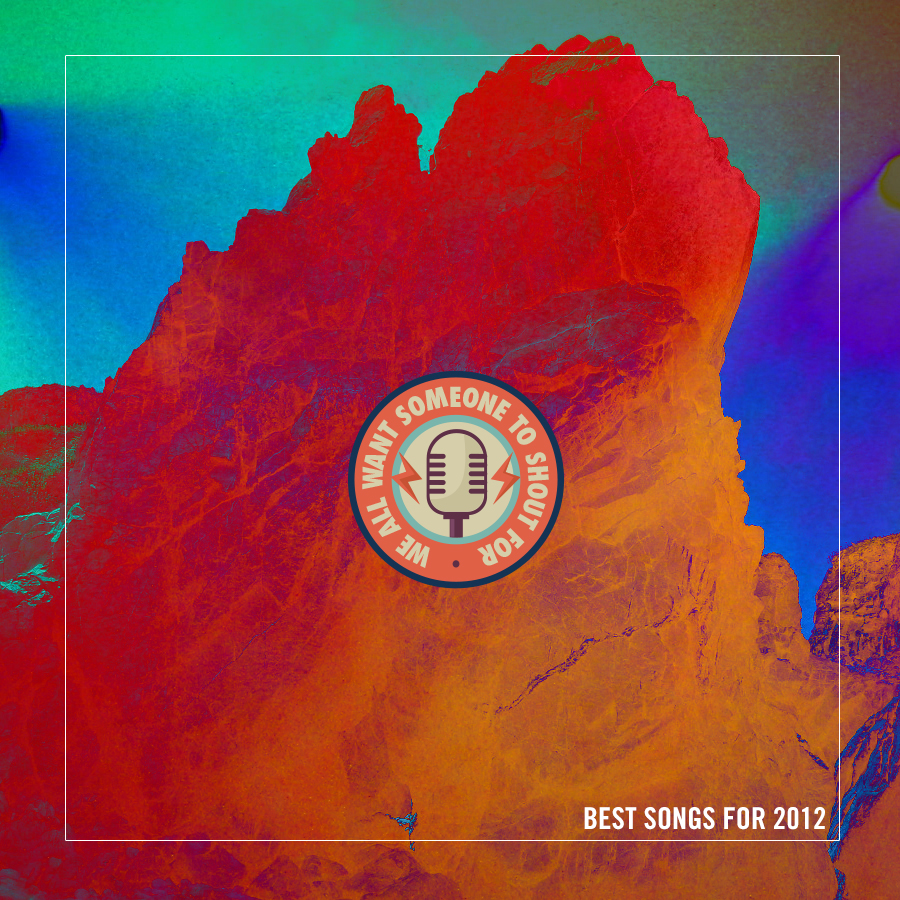 Yesterday I blessed you with my favorite albums from 2012, and now, here are my favorite songs from 2012. It's always tough to narrow songs down to a list, even if the list is 100 songs long. A lot of great new music comes out at a rapid-fire basis these days, from the biggest artists, to the smallest.
When it came down to it, these were the songs that kept the best company of the last 12 months.
As always thanks to Camilo for the artwork. You can stream the songs themselves, or listen to one giant spotify stream right here.
I present to you:
We All Want Someone To Shout For's Best Songs Of 2012:

100. Del Water Gap – Lamplight
99. Frankie Rose – Night Swim
98. 14th – Take Me There
97. The Tins – Whiteout
96. GEMS – Void Moon
95. Indian Rebound – Bowery Brats
94. Woods – Cali In A Cup
93. Sigur Rós – Varú
92. King Krule – Rock Bottom
91. Harriet – I Slept With All Your Mothers
90. Purity Ring – Obedear
89. Lemonade – Ice Water
88. The Little Ones – Argonauts
87. Two Door Cinema Club – Sleep Alone
86. Tanlines – Brothers
85. Foxygen – Shuggie
84. Doldrums – Egypt
83. Django Django – Hail Bop
82. Diamond Rugs – Gimme a Beer
81. MVSCLES – Sweet n Sour
80. Cruiser – Moving To Neptune
79. Cheers Elephant – Peoples
78. Deep Time – Clouds
77. Ariel Pink's Haunted Graffiti – Only In My Dreams
76. Allah Las – Tell Me (What's On Your Mind)
75. Dinosaur Jr. – Watch the Corners
74. Fast Romantics – Funeral Song
73. Danny Brown – Grown Up
72. POP ETC – Yoyo
71. Eternal Summers – Millions
70. Cemeteries – Brighter Colors
69. Chairlift – I Belong In Your Arms
68. Free Energy – Dance All Night
67. The Vestals – Perfect Pain
66. Tennis – It All Feels The Same
65. Army Navy – World's End
64. Kendrick Lamar – Swimming Pools (Drank)
63. Savages – Husbands
62. The Tallest Man On Earth – 1904
61. CHVRCHES – The Mother We Share
60. Haim – Don't Save Me
59. Yuno – Sunlight
58. Fort Lean – Sunsick
57. Merchandise – Time
56. Wild Nothing – Shadow
55. Ty Segall – You're The Doctor
54. Theme Park – Jamaica
53. Swim Deep – King City
52. Houndmouth – Krampus
51. Passion Pit – Constant Conversations
50. Sharon Van Etten – Serpents
49. Sharpless – Greater Than
48. SPLASHH – All I Wanna Do
47. Mac DeMarco – Freaking Out the Neighborhood
46. Santigold – Disparate Youth
45. Holograms – Fever
44. Maxïmo Park – Hips And Lips
43. Father John Misty – Hollywood Forever Cemetery Sings
42. Trails And Ways – Mtn Tune
41. King Tuff – Alone & Stoned
40. Beach Fossils – Lessons
39. Bloc Party – Octopus
38. Crystal Castles – Sad Eyes
37. The Shins – Simple Song
36. The Gaslight Anthem – "45"
35. Grizzly Bear – Yet Again
34. Foals – Inhaler
33. The xx – Fiction
32. Chromatics – These Streets Will Never Look The Same
31. DIIV – How Long Have You Known?
30. The Babies – Get Lost
29. Blur – Under The Westway
28. Fiona Apple – Every Single Night
27. Childhood – Blue Velvet
26. Temples – Shelter Song
25. Alt-J – Fitzpleasure
24. Lower Dens – Brains
23. Teen Mom – I Wanna Go Out
22. Two Wounded Birds – To Be Young
21. Kodaline – All I Want
20. MØ – Pilgrim
19. TOPS – Diamond Look
18. Atoms For Peace – Default
17. Hot Chip – Flutes
16. Jessie Ware – Wildest Moments
15. Cloud Nothings – Wasted Days
14. Mean Lady – Bop Bop
13. Lotus Plaza – Monoliths
12. Peace – California Daze
11. Grimes – Oblivion
10. Dirty Projectors – About To Die
9. Arctic Monkeys – R U Mine?
8. Frank Ocean – Thinkin Bout You
7. Murals – Eyes Of Love
6. Palma Violets – Best Of Friends
5. Port St. Willow – Amawalk
4. Japandroids – The House That Heaven Built
3. Beach House – Myth
2. Tame Impala – Feels Like We Only Go Backwards
1. The Walkmen – Heaven
---
Join the conversation