All photos by Omar Kasrawi
There are some bands that you drop everything you're doing to go see. I don't care what it is, you stop watching the Olympics, you put off doing laundry, you leave the kids waiting after soccer practice in the rain…ok, maybe not that one – I'm pretty sure that the band I'm talking about wouldn't want you having to talk to child protective services. The band, that you have to see, in this case, is none other than Black Pistol Fire. A band, that for my money (and no, I'm not giving up any money if you disagree), is probably the best rock duo out there. And they proved it once again at Irving Plaza on Thursday, with yet another signature show full of leaps, dives, more leaps, whiplash moves, Delta blues-inspired riffs, and some of the most madcap drumming you'll ever see.

But before that, it was Billy Raffoul's turn to shine. His looks and scowl instantly reminded me of a young Eddie Vedder. Raffoul's got the pipes to evoke a longing and desperation in his music. And that music seemed to ramp up with each successive song (minus a solo acoustic moment in the middle). Raffoul's got a knack for that kind of music of you won't even realize you're humming after the show. His live show is night and day from his recorded tunes. His Spotify streams number in the millions, and sound like they're the kind of music that you'll see on a commercial or bump-out of a televised sporting event, but his live performances take on a more immediate feel, a more classic rock and roll vibe. After seeing him perform live, I can't wait to see what comes next.
Then it was time for the band that should always be the headlining moment (Note, both Raffoul and Black Pistol Fire were touring in support of ZZ Ward). I stumbled across them randomly at the Mercury Lounge, maybe 5 years ago, and they instantly became one of my favorite bands. I have a hard time thinking of a band that can bring that much of a filled out sound from just two performers. And I have an even harder time thinking of any band that brings that level of energy and bedlam to their live shows.
Guitarist Kevin McKeown and drummer Eric Owen may be from Canada, but their spirits were born in the Mississippi Delta Mud, struck by lighting and infused with the spirit of the blues that was supercharged by rock and roll. There's nothing that stops this band when they play live, not even when McKeown falls into the photographer pit (more accurately onto yours truly). Their timing is never off, nor is the sound ever diminished, whether it's when McKeown's defying gravity by repeatedly jumping off of Owen's kit, or being hoisted by loving arms as he surfs and shreds at the same time.
This band is pure rock and roll, in that way that your crabby old friends say, "Well no one rocks out anymore." Well, the next time you hear someone say that, drag them to next Black Pistol Fire live show and watch them eat those words all night long.\
Find photos from both Black Pistol Fire and Billy Raffoul posted in the gallery below. All taken by Omar Kasrawi
Billy Raffoul: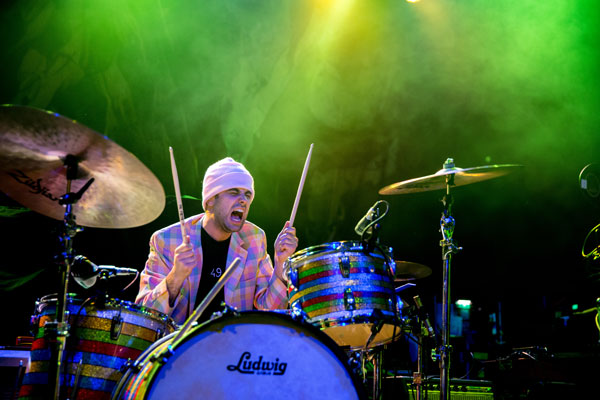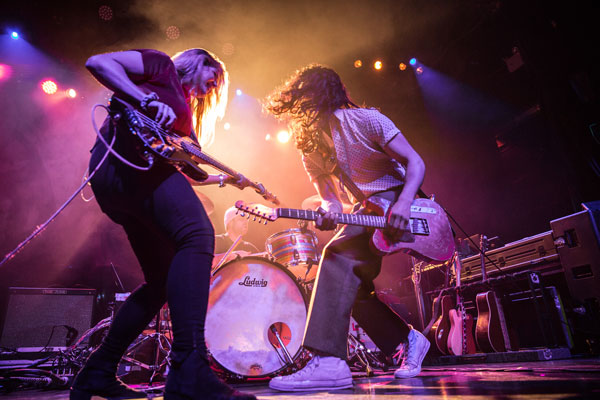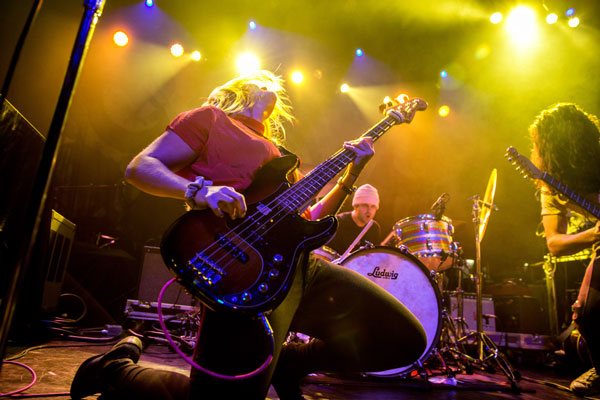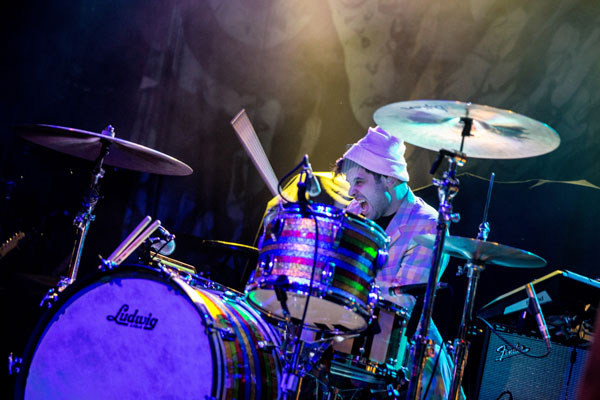 Black Pistol Fire: