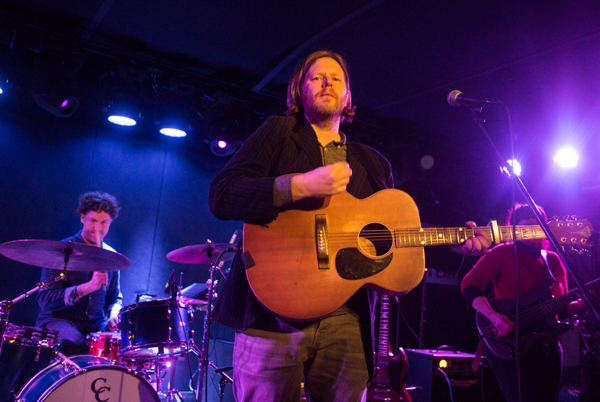 We're still waiting on a new Arcade Fire record, but that wait is a little easier when you're getting some new music from one of its members. Sam Patch is the project of Arcade Fire bassist Tim Kingsbury, who released his debut album Yeah You, and I last month via his own label, Dep Records.
On March 10 he played a late night show at Mercury Lounge, taking the stage at midnight. He played all eight of the tracks from the album, bouncy synth-led rockers that had a bit of an 80 sound mixed with a few Arcade Fire influences, especially considering that he was backed up by a band that also included Arcade Fire's Jeremy Gara on the drums. They also opened the show with a cover of Bob Nolan's "Cool Water," to help expand the setlist.

Kingsbury performed the songs with an assured confidence, assuming the role of frontman and singer with a natural grace and ease. It was cool to see him front and center, leading the charge for quite an enjoyable late night set that had the audience moving with him all the way.
Find the setlist posted below, along with a gallery of photos from his performance.
Sam Patch Setlist:
1. Cool Water (Bob Nolan Cover)
2. No No No No
3. Waiting to Wait
4. St. Sebastian
5. Must Have Been an Oversight
6. 100 Decibels
7. Up All Night
8. Listening
9. Never Meant No Harm