It's hard to think back to the initial days of Chaz Bundick and his now highly successful project Toro y Moi. The days of him taking over blogs as the one of the purveyors of chillwave are now a thing of the past (as is chillwave in general). With the release of his new album What For? (out via Carpark Records), Bundick has officially taken his project to a full band sound, a place where it seemed destined to grow from the start. And grown it has, taking his project to a nearly sold out crowd at Terminal 5 last Friday night. This was a big difference from the previous – and only – time that I saw Toro y Moi live, at the drastically smaller Mercury Lounge in 2011 (along with Indian Rebound + Cloud Nothings!). Man, where has the time gone?

Toro y Moi last played Terminal 5 in 2013, and are still just as capable of packing out the venue. With so many bands (especially of the chillwave / blog fame) coming and going, rising and falling, it speaks to the impressive career that Bundick has built for his band. Although after five critically adored albums and his successful side-project Les Sins, no one is questioning his longevity, which is clearly built to last.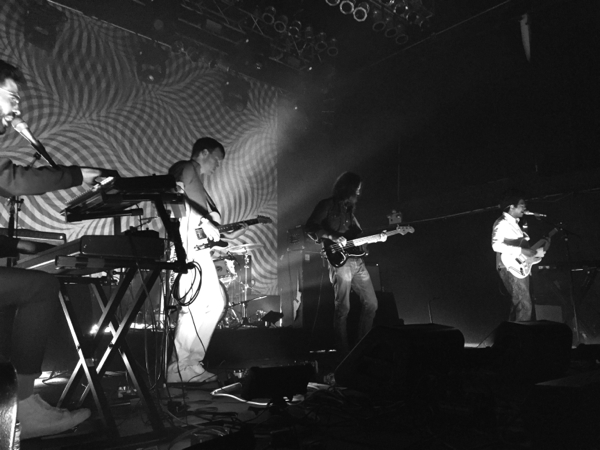 So I shouldn't have been as surprised at how well that his five-piece band filled out Terminal 5. It's not that I doubted his ability or the power of his tunes, but filling out Terminal 5 sonically is a tough task for even the biggest acts. So for him to come out and get the entirety of the large-scale Terminal 5 dancing and grooving with such ease, had me very impressed. He blended cuts from What For? like the groovy psych-rock influenced lead single "Buffalo" unsurprisingly well with his funkier older material, all with a colorful backdrop to go along with it. There was no denying that people were waiting to hear the groove of favorites like "Still Sound" and "New Beat," which were two highlights of the evening that got the crowd audibly excited.
It was evident by the slim bit of older material played that Bundick is straying from his past and has his focus set towards the future. Who can blame him? Every move and direction he's headed towards has worked, so we can only trust his vision from here on out. Although the encore performance of "Say That" reminded us that some songs are too good to ever let go of.