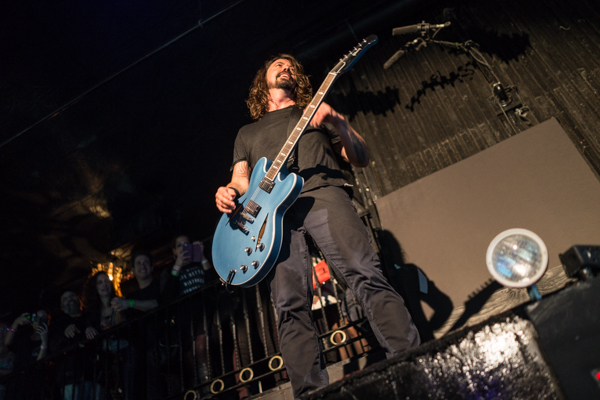 Photos by Dana Pacifico
Hours before their show at Irving Plaza on December 5, Foo Fighters nearly caused a mini riot in New York City (in a month full of drama for the city). The rare opportunity to see them in a small venue was in celebration of the New York episode of their HBO Sonic Highways documentary series. This was the final stop, as the other cities were treated to intimate shows in the weeks prior.
They announced the show a few days ahead of the show but asked fans not to line up to buy tickets until 3 p.m. the day of. Of course, that didn't work. Fans ended up camping over night, and when the fans that played by the rules came at 3, Irving Plaza became a clusterfuck of people desperate for tickets, with no clue as to what to do. The NYPD ended up taking control of it all and wristbanded those fans who ignored the rules and waited overnight, sending a lot of fans home disappointed.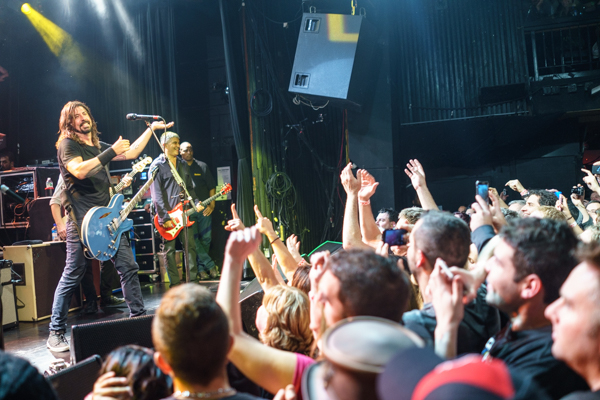 For those lucky enough to get in, they were treated to a once in a lifetime event that they will never forget. First the NYC Sonic Highways episode was played on a screen. Then immediately after, The Foo's took the stage. Getting to be a couple of feet away from one of the largest rock bands of this generation was a surreal experience. It was funny to see them packed on the tiny stage with all of their amps and gear hovering over them. It was the magical rare moment where you got to look at Dave Grohl and Chris Shiflett squarely in the eyes as they ripped through heavy-hitting versions of tracks such as "The Pretender," "Monkey Wrench," and the always potentially violent "All My Life."
The Sonic Highways episode heavily featured Steve Rosenthal, owner of the recording studio Magic Shop, which was where the Foo's recorded the NYC-based track "I Am A River" for the record (which made it's live debut at this show). It was no surprise to see Rosenthal hanging out upstairs in VIP. But it was a surprise to see Rosenthal take off his shirt during the finishing touches of "Big Me," which Grohl dedicated and sang to Rosenthal. It was one of the highlights of the show, which also included Grohl climbing the side area and running around the top during a groovy cover of The Rolling Stone's "Miss You." They also covered Tom Petty and The Heartbreakers "Breakdown," as well as Queen and Bowie's "Under Pressure," as they did at Firefly this summer.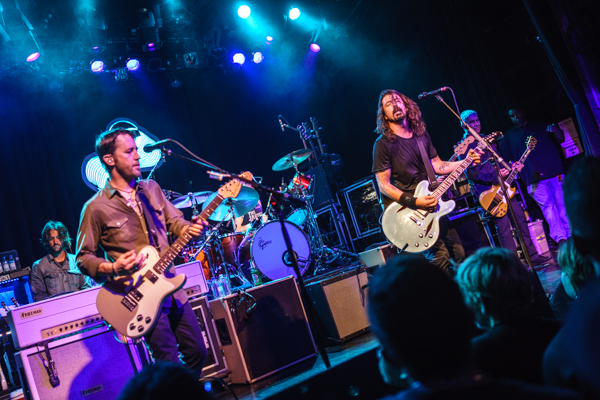 The Foo's played for two hours and 45 minutes, not taking a break of any sort during the 26-song set. They didn't waste time with an encore, but instead delivered epic performances of "Best Of You" and "Everlong," sending all 1,000 of the lucky Foo Fighters fans (and HBO employees) home very happy.
Find the setlist posted below, along with photos of the set, all taken by Dana Pacifico
Setlist:
1. Outside
2. The Pretender
3. Learn to Fly
4. White Limo
5. Arlandria
6. Rope
7. My Hero
8. Hey, Johnny Park!
9. Monkey Wrench
10. Congregation
11. Walk
12. Cold Day in the Sun
13. I'll Stick Around
14. In the Clear
15. Big Me
16. Something From Nothing
17. Times Like These
18. These Days
19. Miss You (The Rolling Stones Cover)
20. Breakdown (Tom Petty and the Heartbreakers Cover)
21. Under Pressure (Queen & David Bowie Cover)
22. All My Life
23. This Is a Call
24. I Am a River (Live Debut)
25. Best of You
26. Everlong