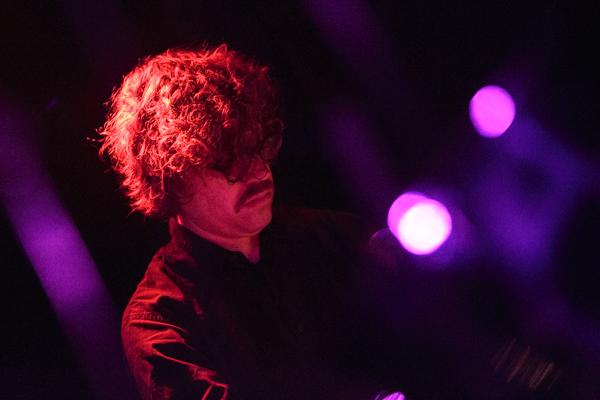 Photo by Dana Pacifico
New Build is the side-project of Hot Chip members Felix Martin and Al Doyle, as well as engineer Tom Hopkins. With the release of new album Pour It On earlier in the year, the electronic group returned to the states for a mini U.S. tour in early December.
The band rolled in to New York on December 3 to play Mercury Lounge, which we covered with a set of photos. But before the show, I met up with Felix Martin to talk about the new record, members roles within the group, and the difference of releasing their music on a label, as opposed to self-releasing.
Find the interview posted below:

Dana: I want to start out by saying how huge of an honor this is for me because I know anything that your names are on, it's gold.
Felix: Really? Oh wow!
D: To be able to talk to you on a personal level is something I have been looking forward to very much. You certainly delivered a dance hungry album with Pour It On.
F: Yeah, it's pretty dancey.
D: Your first album, Yesterday Was Lived & Lost, was released independently and you had the control to work on it at your leisure while touring with Hot Chip. With Pour It On (which was released on Oct 20th, my birthday, so that was a great birthday present) it was released under Rob da Bank's label Sunday Best Recordings. How was the transition from self-releasing to releasing with a label?
F: Well it came about because the first album we released ourselves and it was a very good experience in a lot of ways. But essentially, it costs a lot of money to release a record and we were funding it all ourselves and we just ended up spending quite a lot of money and losing quite a lot of money. This time we were determined to find a record label to help us deal with the production and actually make the CDs
D: So the more behind the scenes stuff?
F: Yeah, basically. The stuff we're not really that good at, ya know? It's better for us to focus on music ultimately because that's what we can do. We're not really good at marketing or selling records, or like particularly good business people or anything like that. We're just musicians so it's good to find people who do have those skills to compliment your own skills. And Sunday Best seems really, really, nice.
D: I can definitely see the similarities in some of the artists that they have on their label.
F: Yeah, I think there's some connection. I mean, they have quite a big roster of artists and there's quite a bit of variation. I think of it a bit like the variety of different artists that they get at the festival that they organize, Bestival. So it's a bit like a lineup for a festival with a big variety of different acts. There's the hip hop acts, and then the dance music things, as well as the more kind of pop things. So there's a real variety there.
D: Awesome! Now, I'm well aware that you and Al knew each other before Hot Chip and had been creating music together. Then there is also Tom, who was an engineer on Hot Chip's records. I'm interested in knowing the creative process of New Build as opposed to what you do in Hot Chip. You guys must have more creative control with this.
F: I mean it's quite a kind of. I don't know, there are different ways that songs work. For example, if I have time in the studio on my own, I'll often create some rhythms or keyboard sounds and then Al will come in and be inspired by that and develop some other things based on that. So usually the songs are based off me or Al improvising and reacting to the beats that each of us have made. Tom is also a part of that process as well. Often he will work quite independently on ideas and then bring them to us and then we will take them in a different direction. So I guess it's more like a "kind of," there's not really a kind of rock band thing where you're standing and jamming out ideas. It's more like electronic or even hip hop and r&b music, where there's a producer making a backing track. So Al usually writes all the lyrics and he obviously does all the singing and stuff, but yeah, we produce the music together.
D: I know that Al is classically trained and you're the electronic maestro, and then Tom helps compose it all. What elements do you each bring to the sounds that creates New Build?
F: Well as I said I think Al is the lyricist and the voice of the band. He's also the most talented instrumentalist, so he can play pretty much any instrument you put in his hands and you can get some music out of.
D: That's crazy!
F: Yeah! Where as I'm more at home with synthesizers and electronics and producing it and arranging it on the computer. So it's about finding other musicians that you can blend well with and where your skills compliment each other. I think we have that kind of chemistry, so it's quite good.
D: Does it help that you guys have known each other for so long and have been on the road together?
F: Um, yeah. We're basically like family to each other. So, yeah, we definitely spend a lot of time together.
D: In the live setting, how do you string everything together and who does what? I'm aware there is a lot of instruments being used but it's not really possible to have like thirty people on stage.
F: Haha yeah! The last time we played here in New York we actually had (I think) 7 musicians on stage. But this time there is only three of us. So we kind of stripped it back a lot and at the moment its just me, Al, and then Joy Joseph, who is a percussionist and vocalist. She's an incredible talent in her own right. It's a big honor to have her in the band. She actually plays a drum kit but she plays standing up, so that's kind of unusual.
D: That's really interesting.
F: She has a gorgeous voice. I kind of take care of the synthesizers and stuff like that and Al..
D: Is he running around the stage like usual?
F: (Laughs) Yeah, he does a bit of running around. He has to sing quite a bit, so he's kind of stuck in front of the microphone. Right now we're playing really small stages and small clubs, we haven't really graduated to that thing where you have a bigger stage and you can start to express yourself in different ways. It's quite small and quite lo-fi and that's just the level that we're at so that's what we're rocking.
D: You played at Mercury Lounge last time you were here, right?
F: Yeah, it was like two years ago.
D: How does it feel to go from having seven people on stage to three now?
F: Personally I think I quite like it. I find it quite liberating. I like minimal things. I really loved all the guys in the band before, I think we had something special as well, but I think it's more like something that if it's successful in a few years time, then you grow and add more people. It's good to start small and then build. Try to make sure there is not more people in the band than there are in the audience. (Laughs) That's always an important thing.
D: That's a good mantra! Now, you said that Joy uses a stand up drum kit. Can you give me a rundown of some of the other equipment and instruments that you use live?
F: Yeah! So Joy plays a drum kit and a lot of percussion. She also has a steel pan.
D: Ah yes!
F: Which is a beautiful sound. She is a virtuoso, brilliant player on the steel pan. It's a big instrument in London and Caribbean communities and she grew up in a steel pan band. And then I have drum machine, a keyboard, and I've got a mixing desk. I'm mixing stuff live on the stage, which is really fun. I haven't really done that before, and I don't really do that with Hot Chip, so it's kind of a new thing. Al has his guitar and loads of distortion pedals and crazy sounds that come out of that. He also has a keyboard as well, which is really nice. So he does quite a lot of heavy electronic sounds, which he enjoys doing.
D: It blows my mind the amount of instruments you guys can work with and create wonderful music with. My brain can't even fathom that.
F: Oh yeah? Are you a musician as well?
D: I'm not. I tell everyone that asks that I cannot play any instruments but I have really good ears.
F: Well you should learn the piano or something. It's very relaxing. It's kind of like meditation. If you start getting into it it's a really nice way of relaxing. It doesn't feel like hard work, it's just fun. It does take time to build the skills to do it.
D: I can only hope that I'll get there one day.
F: No its fine, you can totally do it.
D: What are some of the perks of being able to tour with DFA mates Pat Mahoney and Dennis McNanys' band Museum Of Love?
F: Well yeah, the perks are just getting to hang out with those guys. I just think they are like-minded people. Often when you do tours together with other bands that you don't necessarily know, you don't know how you'll get along if you're going to like their music or whatever. But with these guys, it feels like a family connection as it's very personal and it feels real to us and it made sense to us to go on tour together.
D: It definitely makes sense.
F: That's enough to make it worthwhile. It just totally makes sense and obviously we've only done one show together so far last night but it felt like the whole evening worked together musically, so I'm really excited for the rest of the tour.
D: I am really excited for tonight because I saw Museum Of Love for their first show at the DFA Summer Soiree.
F: Oh wicked!
D: Yeah! I am excited to see them again.
F: Yeah, Yeah they're great!
D: Speaking of Museum Of Love, this past Monday (Dec 1st) you guys released a free split remix single together in support of the US tour. Both remixes threw some really nice spins on the originals. How did the Table Man remix come about, and what were your initial reactions to the reworking and what were some standout elements?
F: He's a friend of mine. He's not really a well-known producer or anything but I think he's really talented. He's got a really cool little studio in his bedroom in London with some really nice equipment in it and he just came to one of our shows in London and he really like the music. He seemed to be inspired by it, so we just said, "here's the parts to the song, see what you can do." And I think that he has come up with something really cool. It uses a lot of elements from the original track, but it just takes it somewhere slightly different. I really like what he has done with the vocal and percussion and yeah, I really love it.
D: With the international tour in support of New Build, the success of Hot Chip, and the insane amount of DJ'ing you do on a regular basis, how do you have the time to consistently create great music for all these different projects, and still lead a manageable life?
F: Haha, well you just have to make it work. You don't really think about it in a negative way at all. So blessed and so charmed to be able to do what we do. If you're a musician and make a living out of music, to have the opportunity to travel and to play your music is such an amazing honor. It really is a really exciting, cool thing to do. I don't feel sad about missing other stuff, you do kind of miss the routine of home but, a lot of bills go unpaid and ya know, get behind on doing stuff (laughs) but it's all fine and you enjoy it while its going on.
D: My favorite song off the new album is "Luminous Freedom."
F: Oh, cool!
D: Can you give me a quick rundown of the process in creating that?
F: That was one that Tom actually started. On this album that is really the only one that he had a big part of, so that was one of his productions. We listened to it in our studio and really got into it and just developed it into a song. Al added the lyrics and some guitar parts, and we added more of a structure to it. Often what he's created would just be a four bar loop or a 16 bar loop, so it's a matter of expanding that out and making a whole track out of it. Yeah, that's kind of how that one came about.
D: Since I asked you about my favorite song I am interested to know which song on the album left a lasting impression upon you.
F: Well, I think "Pour It On" is a real favorite for me, just because the actually melody and parts of the song are really quite old. It references a piece of music that I wrote probably about 10 years ago. It was never released or used for anything. Al had the inspiration to dig up the old melody and use it in a new song. So for me it has a personal resonance and a lot of associations that I really like. That's the favorite of mine.
D: That's what's so great about creating music or creating art, you never really finish something. You can put it on the back burner but it can still grow.
F: Yeah, exactly! And then ten years later you find something and you think, "oh this is actually quite nice!"
D: I could only imagine what your hard drives look like.
F: Haha, yeah!
D: Okay, one more question. Now that we're about to head into 2015, will we be seeing New Build on any American festival bills?
F: That's a really good question! I would love too. That would be so fun. I don't know, which could we play?
D: I mean, some of the ones I know I am going to are Coachella and Governors Ball.
F: Ah, Governors Ball. I think we'll just have to see. We'll probably be doing quite a lot of stuff with Hot Chip so yeah. You've got your tickets already for those?
D: Oh yeah!
F: You know, if we get the offers and people ask us to come then we'd do our best to come.
D: I know you have to get back. Thank you so much for your time, I appreciate it.
F: Its cool, it's a pleasure. It's good to meet you!