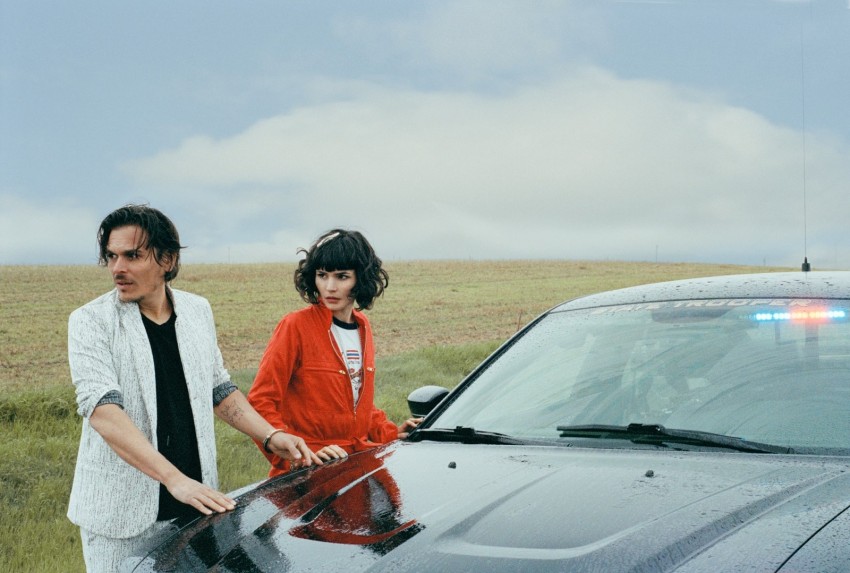 Last week French- Finnish duo The Dø finally released their new album Shake Shook Shaken here in the states (it was released in Europe last fall and was #1 on the Album Chart on iTunes in France). On top of that, they were just awarded the honor of rock album of the year at Les Victoires de la Musique (the French equivalent to The Grammy's). So they have plenty to celebrate at the moment, but now have their sights set on capturing audiences stateside.
Back in December I had a chance to chat with The Dø's Olivia Merilahti about the new album, their new approach to recording music, as well as tackling the U.S.
Find our interview posted below, and be sure to buy the album on iTunes or stream it on Spotify.

——————————
Will: Hey Olivia, thanks for taking some time to speak with me today. You guys are on tour in Europe at the moment right?
Olivia: Yeah we're in Paris, about to go on the road again.

W: For those who are new to you, can you tell us about how you and Dan met, and how the band formed?
O: We meet in 2004 while working on a soundtrack for a film in France. We got to work together on a few tracks and that's how we started making music. At first it was just projects for contemporary dance, cinema, and theater, and then we started writing our own songs, which was our way to get away from the restrictions we had for those other projects. And here we are now, three albums later.
W: You both come from a different set of cultures and backgrounds. How do they shape your identity as a band, as well as your sound?
O: We're really a typical complimentary band. I think the differences are more important than the similarities, we're able to share the big differences with our different backgrounds. All in all, we're after the same thing, the same emotion and music, and we're also connected with an international perspective on what music is about. The universality of it, it's not just talking to one spirit.

W: You're new album Shake Shook Shaken comes out in the States in February. Are you excited to finally get it out here?
O: Yes, definitely! We've been waiting for that date. We haven't been able to answer the people who were asking about the release from America, so it's great to finally let them know. We're excited to come back and tour there as well.

W: Oh awesome, that was one of my questions actually. Do you guys have plans for an American tour at the moment?
O: At the moment we don't, we can't really mention them, but there will be. We will be around at some point definitely.

W: So on the album you abandoned acoustic instruments and worked with just a laptop and keyboard. Yet it yields to some pretty massive sounding results. Was that a decision that you went in to the studio with ahead of time, or did you figure it out and decide that was what you were going to do along the way?
O: It's not like we set up with acoustic instruments. I think it's the touring that made it so difficult to have all these traditional instruments that we love, like harp or a real piano, and all these things you can't really get properly on an international tour. We were on the road so much that we had to find solutions. That's why at some point we had to tour without our drummer and start playing the 2nd album with a drum machine.
We wanted to be more flexible and mobile. So these restrictions ended up working together and matched our music well. All the new songs we started with a tiny keyboard and just in the box possibilities of software, of pro tools, and just tackling these residual instruments was a challenge that we definitely embraced and found it to be a lot of fun and pleasurable. We were the first ones to be surprised by it, but I guess it became our thing for this one. We definitely wanted something massive. We were after a certain energy and something very straight to the point, as opposed to the more narrative intros and outros that we had, as well as complex structures from previous albums. On this album we really wanted to focus on the basic energy and emotion.

W: I read that your studio is in a 19th Century water tower. Can you tell us about the studio, which sounds very cool. Did recording there that affect the process and sound of the record?
O: It's a house in Normandy that we bought with a friend of ours, a couple of hours from Paris. It was just a way for us to get away from Paris, and civilization. Many artists need that after two years of touring and crazy schedules. It's like an old water towel, a brick tower, something out of a fairy tale like Rapunzel. We built our studio next to that tower, and it's a pretty nice setting.

W: Who were some of your inspirations for this record? I can hear a bit of The Knife at times.
O: Well The Knife has become a kind of reference for a lot of musicians today, we have the same management so we feel kind of close. But it's just something inside of us now, they're a band we really love. We digested a lot of new modern music and hip hop as well. Die Antword also definitely inspired us. Their music is very liberating, they go full speed into a certain direction, but it's very smart and very personal. We're really inspired by that.

W: They're now movies stars, have you seen the trailer for their movie Chappie?
O: Oh no, I completely forgot. I'll have to check that out!
W: I love the energy that the video for "Despair, Hangover & Ecstasy" has. Where did the idea for that come from?
O: It's in the lyrics of the song, "We live in airports like we don't have a plan," and we found this amazing location and said "ok lets go there and mess around the planes." There wasn't any story behind it, it was really a way to get out of the studio and go and get that fantastic energy that we want.

W: Where was the location?
O: It was an hour south from London.

W: Did the album art come from that session as well?
O: The album art was for another video we actually shot in Montana, but that hasn't been released yet, but will be around February. But that was another project we did with a French production company, and that is a totally different project, like a 12-minute video with different excerpts of the album. That was the first thing that we wanted for the album, to have a visual tool to introduce the album as it's a story that was inspired by it. So that will be released later on..

W: You guys have seen some great success in Europe. I have a feeling that this album will capture audiences in the States better than ever before. Is achieving even more success with American audiences something that you guys are conscious about?
O: We're not really conscious. The most important thing was that the release of the album comes quite early as opposed to our first two albums, where there was a gap in between the European release and the US release. So this time we're catching up on that and that feels good. We definitely love to play in the U.S., I can't wait to be back.

W: How has it been playing the new songs live? Has it been difficult to bring these songs to life live?
O: It's definitely something we had to work on all summer. It took a few months to find out exactly how we wanted to play this. Again, this album was really different. We have a laptop now, and we never really worked with a computer on stage before, so these things took a while to find out, and Dan plays the electronic drums at the moment. So it's exciting to change roles all the time, well, I still sing. But yeah it's really great. We are really looking forward to sharing this album with the audience more than ever.

W: I saw you did a Take Away Show live session. What was that like for you guys? That's a big deal, not everyone gets asked to do that.
O: It was different from what we do on stage of course, but it's good. A lot of the melodies were worked with a wurlitzer and we were happy to see that the songs were playable in that very stripped down version. That's something we're really obsessed with. We can have all the arrangements we want, if you don't have the chords in the song, then somethings not right.

W: Yeah the comments of that version of the song seemed to be overwhelmingly positive towards these new versions.
O: That's nice, that's nice to hear. These are the kind of things that come in the end. You build the whole live show and suddenly you have to play acoustic and you're worried about what you're going to do so then it's great when people like it.
For more on The Dø head to their Website, Facebook and Twitter.
---
Join the conversation