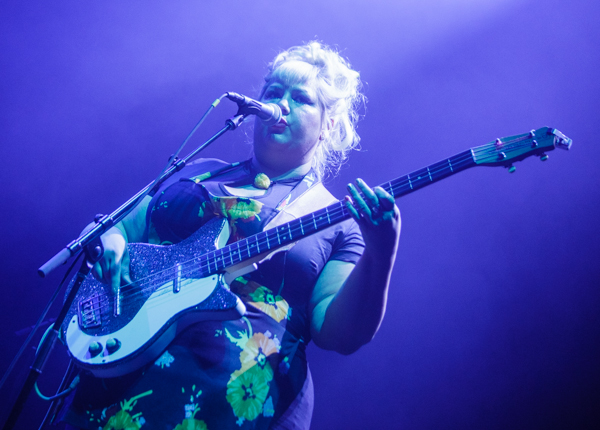 Tonight Shannon and The Clams kick off their two-night run at Music Hall of Williamsburg in support of their great new record Onion, which was produced by Dan Auerbach and released on his own Easy Eye Sound.
We had some time to chat over the phone with Shannon Shaw from the band and discussed their new record, what it was like working with Auerbach, who also produced her debut solo offering, also released this year.
Find our full chat posted below and if you're in town, there are still some tickets left for their show at MHOW tonight and tomorrow.

—————–
Will: Hey Shannon, thanks for taking some time to speak with me. You guys are currently in Massachusetts right?
Shannon: That's right, good old Cambridge
W: You're coming to us tomorrow to kick off a two-night run at Music Hall of Williamsburg (where we saw them back in 2015). You guys play all over the place but is there something special about playing in New York City?
S: I think so. New York is a very special unique place, it's such a huge melting pot and very alive. I think there's something about how hard people have to work to survive in New York. How constantly you have to be chasing your dreams and burning the candle at both ends to make things happen. I think it makes people extra celebratory and spicy, zesty and full of life and it shows. I can't think of a bad show that we have ever had in New York.
W: I remember being so impressed at that show at how the crowd wouldn't stop moving from start to finish. I know what it's like being in the crowd but what's the perspective as the band when you see a crowd reacting that way.
S: A lot of places, it depends on what city you're in but maybe culturally you just have a more lively crowd where people just dance more in a certain city. But we're lucky we have people dancing and singing along at all our shows and getting excited and interacting. That is something that I love about our specific fans.
W: So congratulations on your album Onion. It's a great record and you found a nice balance of making your sound bigger but also keeping your identity as well – which is tough to do. How did you find a balance between the two and was it something you were conscious of during recording?
S: That makes me feel very good thank you for saying that. Well, I think it's very natural for us when recording, we don't go in thinking that way, it's a natural thing for us. I don't think that we could not be ourselves at any time.
W: I know I am not the first to ask this but can you talk about how your relationship began with Dan Auerbach and what it was like working with him as a producer.
S: We were lucky enough to find out that he was a fan of the Clams. Apparently, he heard us playing at a record store in Memphis and he bought all our records on the spot, which was insanely flattering to hear. Then he started following me on Instagram and invited me to come to see his show with The Arcs in San Francisco and we started working together after that. And we just got along really well off the bat and he invited me to come work on a solo record but I was feeling too shy to really push it but luckily he was like, "No, come on. Stop wasting time. Can you come next week? Can you come in two weeks?" He made it clear that he wanted to make it happen and I think that we are a good Yin and Yang together. He's really good at cutting to the chase and not wasting time.
I had so much self-doubt when I was recording and was feeling so shy and nervous and scared and was literally wasting time with this beautiful experience. Something I really came to appreciate was him being like "What are you doing? No, just play, it's fine. Come on let's do it, it's great. What are you worried about?" So I think those two opposites worked well together and made a really beautiful record because that same relationship in a microwave would come forth in the middle of a song. I'd be chasing down "like maybe we could do it like, this way?" And then he was really good at being like "Yeah, just try it. Just try it now." Whereas I would hem and haw forever over these little delicate ideas and he wants me to just wrestle one of the ideas. I think that it made just beautiful stuff happen.
W: I saw you guys open for him for his show at The Capitol Theatre earlier this year. What was it like going on tour with him and playing during his set solo for a few songs?
S: Yeah the first few times I was on stage with Dan and the boys – I always call them "The boys," (laughs) – I was totally nervous, but man, once you're up there and I could let myself let go, they have so much fun together on stage every night. The excitement and joy that they are all sharing on stage every night that we played with them was inspiring. Luckily I love my band so much too and we also have so much fun together, so it was just really nice to see these upper echelon people still loving what they do and still having so much fun and having this natural joy-filled relationship, it just made me feel so good. And eventually, I got in on it!
W: So was a solo record something that you had in the cards or did it just happen on its own naturally?
S: Maybe in the back of mind, you know? I always had other songs that I knew weren't a good fit for The Clams and they weren't a good fit for Hunx (and His Punx), but I knew they were good. So I always did have a couple things in the pocket that I figured I'd like to bust out in some way. But when the opportunity actually arose, I was so chicken shit about it for whatever reason, so I was really glad that Dan pushed me again to go for it and see what happens and not overthink things. So I was glad that I got to apply a couple of those songs in there.
W: You guys have a lot of old school influences that you make sound fresh again. What is it about these influences that attracted you to them?
S: I don't know. I get asked that a lot and…
W: I'm sorry (laughs)
S: Oh no, no problem. I mean it makes sense, that's the question to ask. And I don't know that I ever give it a satisfying answer because I'm not sure, other than that was the music I grew up on. And when I say "that," I'm talking old country, girl groups from the 60s, Frankie Valli, Roger Miller. Just this swath of music where like country meets soul, meets motown, meets pop radio oldies of the 50s, 60s and into the 70s. The harmonies are strange, the simplicity of something like "Spanish Harlem," where it's hardly any music instruments but they're capturing something. They're using their voices to capture a feeling and I've always felt so attached to that and felt that was such an art and so important.
W: You guys were always a big part of the DIY in Oakland where you started and Brooklyn. How different is it here now in New York say, compared to when you started out? You know, there's no more Death By Audio, No Glasslands etc.
S: Yeah it's honestly heartbreaking. When the scenes were in full swing I never thought of a possibility of it literally dying out. And I'm sure that there are other things going on that you and I won't know about, but I think that people that live in that world, they'll always find a way to keep doing something along those lines and it will just have to change its form. But it is heartbreaking. But we relate as this has happened in Oakland and San Francisco as well. Young people with no money are so desperate to be in control of something rad happening that they're taking on big risks and trying something new.
You know, a friend of mine opened a venue in Oakland, a real cool divey but still nice bar that has been a blues bar in disrepair since the 40s or 50s, like Muddy Waters used to play there. But it has had a hard time staying open, so he took a risk and decided that he wanted to put what Oakland needing into this bar, and it's working. And I've seen things like that with that place Alphaville in Brooklyn. You know, these are just regular people who are musicians and who were a huge part of the scene and really saw value in wanting to do something. They're like their own little phoenix's.
W: Touching back on Oakland, can you talk to me how Oakland has helped shape your band and sound and does it still hold the same influence on you today?
S: It will always have a real special place in my heart. I think that it was really important because everyone was so supportive when I first started. I didn't know what I was doing, I didn't even know how to tune a bass, I don't think I even had an idea how to use it. People just supported me, I think because they could tell I was coming from a genuine place and not a normal typical person to play music and that I was putting myself out there and I think that's a big part of Oaklands spirit, embracing people who are different. Just people supporting one another and really just trying to help each other out. I think that's a big part of the Oakland spirit.
W: With all of your successful over the years, looking back at when you first started, could you have envisioned all this success, for example, getting to work with Dan from The Black Keys?
S: No, never. I think that I have a unique journey in that I didn't ever look down the road or look at a big picture. I was always like "oh what am I doing here?" I just assumed that this wouldn't last. Like there's no way that when I played my first house party that I was like "someday I'll have a CD and vinyl record and go on tour and come home with money and quit my millions of other weird soul-draining jobs and get to be an artist for a living." Never would I ever expected that. So I think that has kept me humble and I am really genuinely appreciative that I get to do this.
W: Finally, what comes next for you guys, aside from more touring?
S: Well, I think that we are supposedly going to have some time off soon. We have been working so hard and so non-stop since the album came out and of course before the album came out. I have like torn feelings about it. I am now for the first time in my life starting to appreciate down time and self care and breaks and alone time. I had never given a crap about that before but now I am getting into it and when I do take care of myself more and give myself free time, then it makes me enjoy and work even harder and appreciate what I am doing even more the next time I go back (to touring). But I have a feeling that we are going to start writing when we do get that downtime.