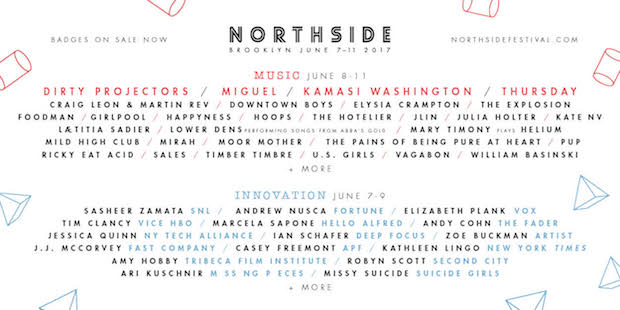 Summer is just around the corner, which can only mean one thing in Brooklyn: the Northside Festival is coming up. Over the year the Brooklyn festival has gotten bigger and better, putting on some major paid and free performances of both established acts as well as new up and comers at more intimate showcases.
This year the festival is sporting an impressive lineup featuring headlining spots from Dirty Projectors, Miguel, Kamasi Washinton, Thursday, Aldous Haring, Big Thief, Girlpool, Hoops, Jay Som, Lower Dens and many more.
The kind team at Northside has graciously given us a badge to giveaway to one luck reader. To enter to win, simply send us an email at [email protected] with NORTHSIDE as the subject, and let us know who you're most excited excited to see at Northside this year.
If you're not our lucky winner (apologies in advance) we can still hook you up with a 15% discount off a badge by using the code WEALLWANTSOMEONE17 at checkout for 15% off your badge. Good luck to everyone who enters!