Last night Death Cab For Cutie played their first show of 2014 at the beautiful Capitol Theatre in Port Chester. It was a quick stop before a summer consisting mainly of festival stops.
The show began with a lovely opening set from Hamilton Leithauser, who got things started in as good of a fashion as you could ask.

I had no idea what to expect from the show, as it's been three years since the release of their last album, Codes and Keys (and since I've last seen them live). I was hoping to hear a few new songs sprinkled in here and there, with the rest of the night dedicated to all the classics. It turned out to be the latter, and I was perfectly fine with that.
They started off with the epic draw of the nearly 9-minute "I Will Possess Your Heart" and then hit the reset button with the always calming delight that is "The New Year." From there they weaved in and out of time, reaching as far back into their catalog as they needed before reaching right back into their more recent days. They warmed hearts with The Photos Album's "Why You'd Want to Live Here", Transatlanticism's "Title and Registration" and and We Have The Facts and We're Voting Yes' "For What Reason." They also were able to turn the page and rock out with more recent material such as "Long Division", "You Are A Tourist", "Cath…" and of course, "Soul Meets Body." Getting to hear "A Movie Script Ending", one of the very first Death Cab songs I heard as a more fragile teenager, was a very cool moment personally.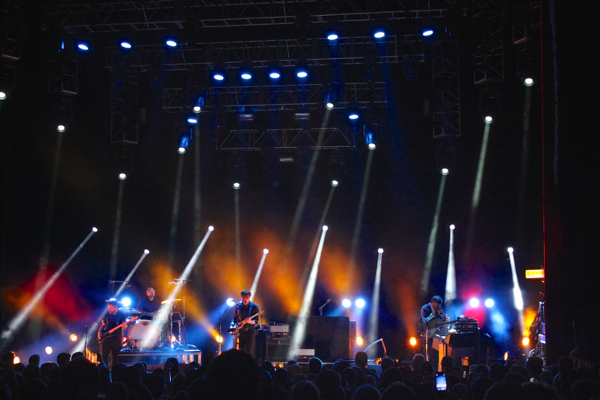 No new material was shared, which was somewhat disappointing, but not all that surprising. If anything, it left more room for the band to reach back in their catalog (such as their cover of Bjork's "All Is Full Of Love"), which is always appreciated. Frontman Ben Gibbard was apologetic about not releasing the new album yet, but promised that it's well on its way to being done. So that's promising.
It was their first show of the year, so naturally there was a bit of rush to shake off. But they're seasoned veterans and were able to give the crowd everything that we wanted. Sure, I would have loved to hear a few personal choice cuts such as "We Looked Like Giants" or "Transatlanticism", but when you see the set that they gave us, there's no way you can complain.
Find the set posted below, along with some more photos.
Setlist:
1. I Will Possess Your Heart
2. The New Year
3. Why You'd Want to Live Here
4. Title and Registration
5. Codes and Keys
6. For What Reason
7. Long Division
8. Grapevine Fires
9. Lightness
10. Doors Unlocked and Open
11. A Movie Script Ending
12. Cath…
13. Crooked Teeth
14. Company Calls
15. You Are a Tourist
16. Soul Meets Body
Encore:
17. I Will Follow You into the Dark
18. All Is Full of Love
19. Your Heart Is an Empty Room
20. The Sound of Settling
Death Cab For Cutie: