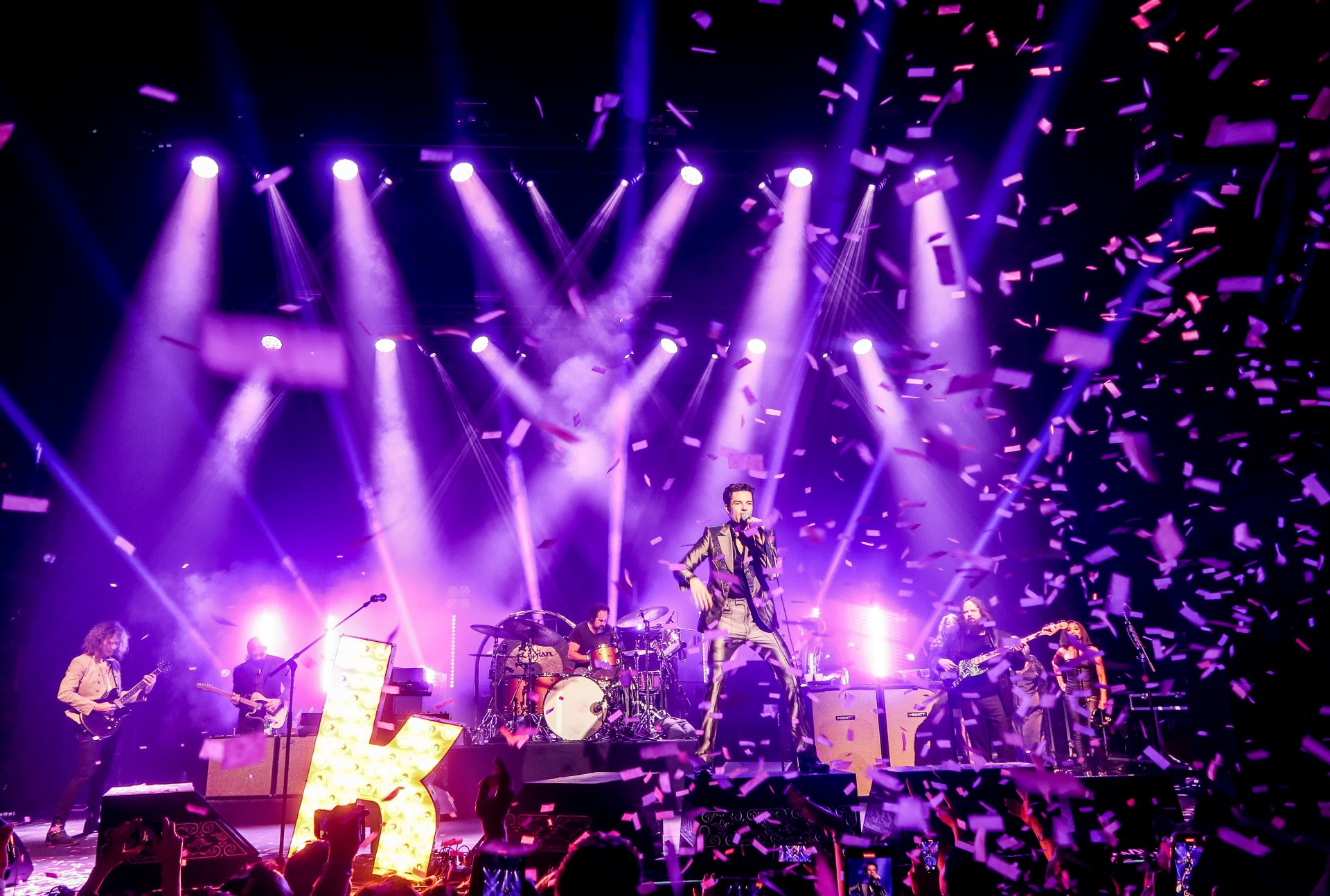 It's been a long time since so many of us have taken in proper live music. At least in the sort of way that felt larger than life in the sort of way that a packed room full of people sharing the same passion and love for a singular act could bring. This was exactly what The Killers brought to their sold out show at Terminal 5 on August 19th, their first show since December 2019 (and our first time seeing them since 2018).
With the uncertainty and concern caused by the Delta variant, The Killers asked that all those who attended this comeback performance would show not only the now standard proof of vaccination but also a negative test taken within 48 hours. Some deemed this overkill but speaking personally, this made me much more at ease about being packed with a capacity crowd of 3,000 people, all singing together in unison.
Doors opened two hours (7 p.m.) ahead of the scheduled showtime (9 p.m.) to allow for plenty of time for the check of all the documents, but even still the venue lagged behind, so much so that the band had to send out a tweet when it became clear there were a ton of fans still trying to get in, minutes before they took the stage.
As the lights dimmed out came not The Killers, but a man dressed in a doctors costume who told us he had some bad news, that the band "had tested positive." Just as fans started to groan in fear of the worst, the man soon finished his sentence with "tested positive….for rock 'n roll" resulting in a thunderous cheer as the Las Vegas boys took the stage for real this time.
They kicked things off with "Dying Breed" off of last year's Imploding the Mirage, and album that they obviously didn't even get to tour in support of, making it not one but two albums full of songs that they have not gotten to share with a live studio audience. Frontman Brandon Flowers was all smiles, as was the rest of the band, featuring him and drummer Ronnie Vannucci Jr. finally reunited with guitarist Dave Keuning, who had taken a long hiatus from performing live on tour.
Flowers remarked how it was strange it was to be performing in front of a live audience again but the band didn't miss a beat as they showcased many of these new songs but actually kept the setlist balanced with songs both old and new, enough of a look at their new material as a celebration of the past. New songs such as "Caution" and In The Car Outside" got a good reception, but it was nothing like the stone-cold classics like "Read My Mind," "All These Things That I've Done" and of course, "Mr. Brightside" received.
The three-song encore of now live staple "The Man" new song "Sleepwalker" and the appropriate set closer "When You Were Young" sent fans home reeling, missing the live thrill of live music, as well as the sort of extravaganza only a band like The Killers could provide (not 1, but 2 confetti blasts). While I did hear remarks of fans wishing the show was a little longer than the 90-minutes they performed, and maybe a few more off the beaten track cuts performed, it was really hard to complain about anything at all when you remember where we were this time last year.
Find the Terminal 5 setlist posted below.
The Killers setlist:
Dying Breed
Spaceman
Human
Blowback
Smile Like You Mean It
Run for Cover
A Dustland Fairytale
Runaways
Read My Mind
In the Car Outside
All These Things That I've Done
Caution
Mr. Brightside
Encore:
14. The Man
15. Sleepwalker
16. When You Were Young
---
Join the conversation