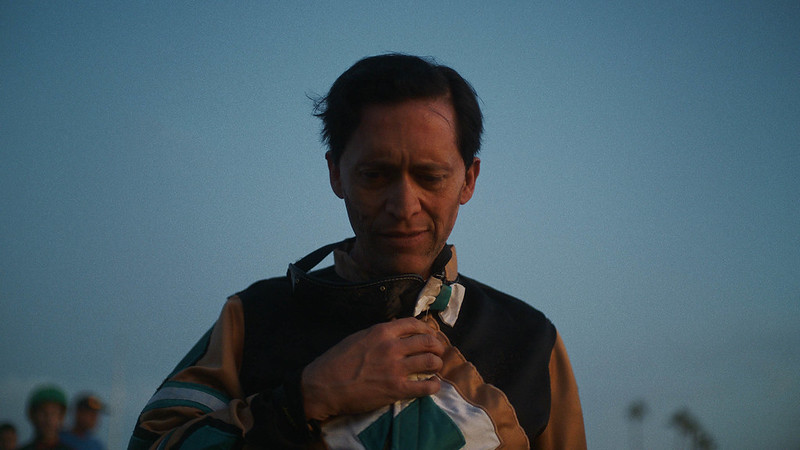 In Clint Bentley's mesmerizing directional debut Jockey, Jackson Silva (Clifton Collins Jr.) is the titular character. He was once the titan of his industry as a horse jockey, one of the best in the sports. He still garners the respect of his peers but isn't exactly living the life he probably once imagined. He lives in a small trailer and is forced to have a horse doctor check his spine due to some nerve damage that he has been going through. He has a good thing going with Ruth (Molly Paker) the horse trainer who he's been working with for many years but they both seem to be stuck in a standstill career-wise.
He's noticed a young jockey named Gabriel (Moises Arias) has been also racing at all the circuits he has. When he inquires about these coincidences he gets a bit more than he's ready for when Gabriel proclaims to be his son. At first, he is cold and denies that that is even remotely possible but like a horse gathering its familiarity on a racetrack he soon takes the kid under his wing and helps train him and give him pointers.
Jackson soon finds some solace in the fact that he may have a son now as he gets to pass the torch, knowing his time riding may be up. To add insult to literal injury, fate is cruel enough to have Ruth finally discover the winning horse of a lifetime just as he is on the way out. Timing is everything.
Like a mix of The Rider and The Wrestler, Bentley's story is about the decline of a once-great athlete who sees his life and passion slipping by the wayside. Bentley grew up on these racetracks as a kid with his father who was a jockey and it shows on the screen. His screenplay, co-written with Greg Kwedar, captures the beating heart and soul of what it means to be a jockey and the lengths that these men go for the love of their profession.
The lavish cinematography from Adolpho Veloso captures the feeling of someone who knows what it's like to be on this land. The beautiful cinematography, combined with the score from Aaron and Bryce Dessner of The National, plays a big role in the understated yet compelling nature of the film that will warrant plenty of well-deserved comparisons to The Rider – and not just because of the subject of horses. Similarly, the downward arc for a once-great competitor, the parent-child relationship, and the fantastic lead performance is hard not to think back to Darren Aronofsky's The Wrestler. With that said, Jockey finds a worldview completely of its own, that looks at the minute everyday details that go on to make the exciting races happen that are so often the only focus of most Hollywood pictures about jockeys.
Even to the most casual of filmgoers, Clifton Collins Jr. is a face that you have seen in plenty of your favorite films as a memorable scene-stealing character. But with playing Jackson, he gets the role of a lifetime and the film rests its beating heart on soul on his performance. From the very first scene, you form an intimate bond with Jackson and the character sells you on his characters' life story as if it's his own. Like the rest of the film, it's one of deliberate restraint and understated but full of unbridled passion that does bubble to the surface. Equally great are Parker and Arias, who all get their moment to shine and carry the film as three of the only major players. But this is clearly Collins Jr.'s show and if there's any justice left in this world (or a "better" one), he will be nominated aplenty during next year's award season.
There's a poetic and spiritual journey to Jockey that may come off as slight or too slow for some. What a shame, as for those who hop on the saddle and go for the ride, you'll be moved by one of the first truly great performance of 2021 but a story that will stick with you long after that last sunset.
---
Join the conversation