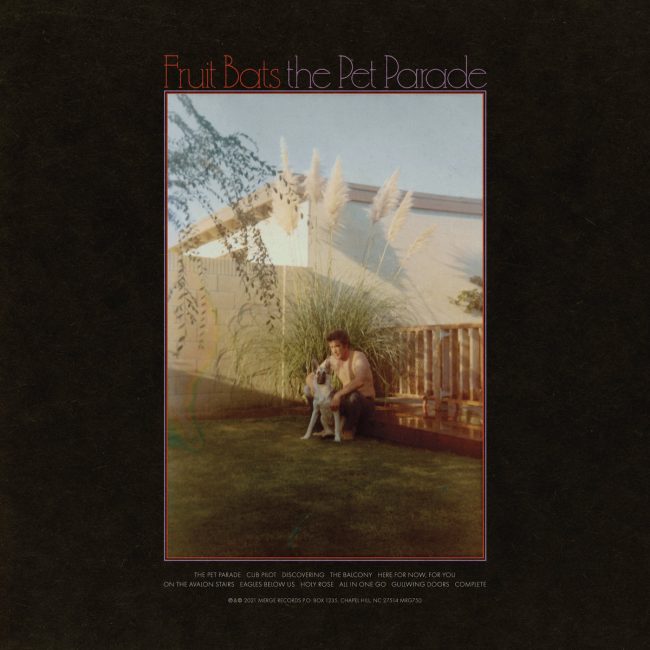 To celebrate 20 years as Fruits Bats, Eric D. Johnson is releasing The Pet Parade on March 5th via Merge Records. Today he released the first track from the record "Holy Rose."
Johnson said of his new song:
"Holy Rose" is possibly the most "direct" song on The Pet Parade. I wrote this about the 2017 Tubbs Fire in Sonoma County and was finishing it up right when fire season was raging in California. My wife grew up in Sonoma County and just had to sit there and watch her childhood burn down. This is a love song to the native West Coasters.
The album was produced by his Bonny Light Horseman bandmate Josh Kaufman. The musicians who contributed to this album include drummers Joe Russo and Matt Barrick (The Walkmen, Fleet Foxes, Muzz), singer-songwriter Johanna Samuels, pianist Thomas Bartlett (Nico Muhly, Sufjan Stevens), and fiddler Jim Becker (Califone, Iron & Wine). Since this was recorded over the past year, everyone was forced to self-record their parts in bedrooms and home studios across America.
"Holy Rose" makes you think its a lullaby before the first chorus where the musical spectrum explodes as fuzzy guitar power chords come in and the rest of the song soars. The wrenching guitar solo starting at the three-minute mark just makes you picture the fire that was taking over the land. Watch the video below. Preorders for the album are currently live here.
---
Join the conversation