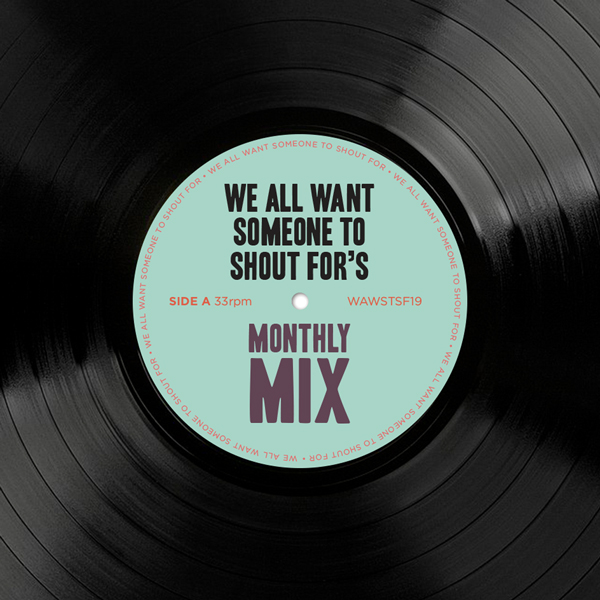 Artwork by Anthony Bauer
Now that some of the chaos of this election week (that feels like a year in itself) is simmering down (for now), we are happy to present to you our October 2020 monthly mix.

These were the songs that we had on constant rotation throughout the spooky month that is October, trying to keep our head somewhat calm during this anxiety-driven time. As usual, the best tracks off of new albums, as well as single releases and tracks from emerging artists that may serve as your introduction.
Here is my monthly mix for October 2020. You can find the Spotify mix here or find it embedded below. Follow the playlist if you dig what you hear and tell a friend.
1. Maybe Babs – "Doorstep"
2. Flyte – "I've Got A Girl"
3. Nisa – "Common Denominator"
4. Black Country, New Road – "Science Fair"
5. Parlour Magic – "Phantom West"
6. Matt Berninger – "Take Me Out of Town"
7. Bobsled Team – "Drive"
8. SAULT – "Free"
9. Helena Deland – "Smoking at the Gas Station"
10. Future Islands – "Waking"
11. Adrianne Lenker – "zombie girl"
12. Gorillaz – "Aries" (feat. Peter Hook and Georgia)
13. Dawes – "Didn't Fix Me"
14. Magdalena Bay – "Hideaway"
15. Juni Habel – "Surrendering"
16. N. Kerbin – "A Boy and a Man and a Satellite"
17. Gustaf – "Mine"
18. Ethan Tasch – "Zombies"
19. Yola – "Hold On"
20. The Weather Station – "Robber"
21. Blanketman – "Beach Body"
22. Hoorsees – "Overdry"
23. Kindsight – "Terminal Daze"
24. Swiss Portrait – "Find My Way"
25. Sal Dulu – "Alien Boy 96"
26. Julien Baker – "Faith Healer"
27. Cailey Norris – "Devil Boy"
28. The Antlers – "Wheels Roll Home"
29. Pashy – "The Coast"
30. Kevin Morby – "A Night At The Little Los Angeles"
31. Alex Bleeker – "D Plus"
32. tanner. – "Peace of Mind"
33. Benny The Butcher – "One Way Flight" (feat. Freddie Gibbs)
34. Still Corners – "Crying"
35. King Gizzard & The Lizard Wizard – "Automation"
36. Kidi Band – "Mary (Merry)"
37. Jeff Tweedy – "Bad Day Lately"
38. The Nude Party – "What's The Deal?"
39. Jónsi – "Sumarið sem aldrei kom"
40. Cut Worms – "The Heat Is On"
41. Metz – "No Ceiling"
42. This Is The Kit – "Found Out"
43. Fuzz – "Mirror"
44. Annie – "The Streets Where I Belong"
---
Join the conversation