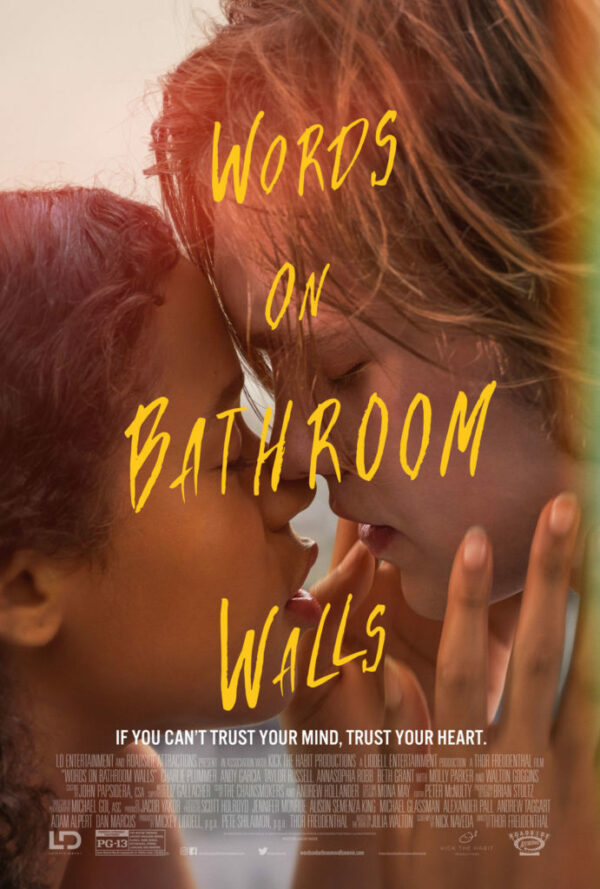 Words on Bathroom Walls | Thor Freudenthal | August 21, 2020
[Before we dive into Will's thoughts on Words on Bathroom Walls, a quick note from Will: The other night I drove to the Warwick Drive-In Theater in Warwick, New York to catch a screening of Words on Bathroom Walls from the safety of my car. We just want to urge people to please only attend a drive-in screening if you are able to safely do so, as movie theaters are not fully reopened nationwide (nor would we recommend stepping foot in a movie theater of any capacity for several hours in the midst of a global airborne pandemic). No movie is worth risking your health and safety. Be safe and well everyone!]
Words on Bathroom Walls features two things early on that could have been early dealbreakers in the wrong hands: heavy use of voiceover monologue and fourth wall breaks. This is likely put to use by director Thor Freudenthal to bring the words off the page from author Julia Walton's novel of the same name (working off an adapted screenplay from Nick Naveda). In many ways, these familiar sort of cliches are plenty to be found throughout the narrative, but it still manages to come across every bit as heartfelt and touching as intended.
Adam (Charlie Plummer) is a high school student who isn't having the best of luck. It started long ago when his father disappeared, leaving him and his mother (Molly Parker) to fend for themselves. That is, until Paul (Walton Goggins) comes along as his new stepfather of sorts. This is made any easier with Adam's recent diagnoses of schizophrenia, which is obviously not ideal at any age, but especially not as a teenager. He starts to have schizophrenic episodes in the form of hallucinations of three different unique characters (AnnaSophia Robb, Devon Bostick, Lobo Sebastian) acting as invisible friends of sorts, as well as a dark menacing voice that continues to threaten his wellbeing.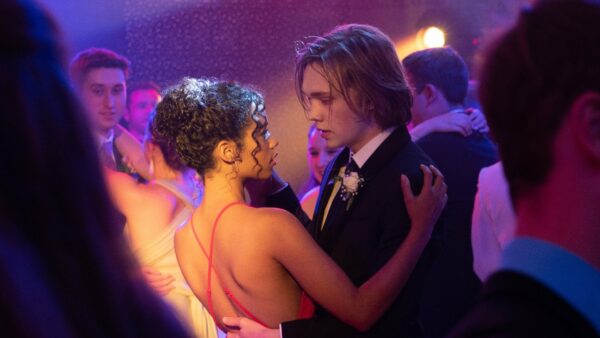 An incident at high school gets him expelled and forced him to get one final shot at a Catholic High School. As a part of the deal for him to attend, he has to take medicine as a part of a medical trial. He struggles in school which finds him getting tutored by the school's valedictorian Maya (Taylor Russell), who he starts to get close to, although he still manages to keep a bit of a distance, fearful of what she would think of him if she were to discover the real reason he changed schools.
It's a coming of age story from the unfortunate circumstance of a teenager robbed of some of the best years of his life due to a condition that is completely out of his control. Under lesser guidance, this could've been an overly sappy saccharine affair, mixing the worst of the sick kid young adult and coming of age genre. But it works thanks to the honest source material and a thoughtful on-screen translation. Although not all of the aspects of the novel work as well here – mainly the cheesy portrayal of the visions that Adam sees when dealing with his episodes. I have a feeling this aspect worked better on the page, but on screen, it feels forced, overused, and a bit childish. Which is a shame considering the mature adult treatment that the rest of the aspects of the condition get.
In a short amount of time, the young actor has proven to be one to keep an eye out, with Lean on Pete and All the Money in the World putting him on the map, and this only adds to his impressive early resume. He shares great chemistry with Taylor Russell, who shows a lot of compassion in her role, equally as convincing. There is also fine work from Molly Parker and Walton Goggins, who gets to play with the expectations that you have from his role based on the roles that he typically gets to play. The film's secret weapon is Andy García as the caring Father Patrick, one of the only welcoming presences at the school for Adam.
Sure, Words on Bathroom Walls may not provide the most unique cinematic experience out there. But it takes tough topics such as teenage mental illness, casts an insightful light on them, while never being preachy or talking down to its audience. It treats us with the respect that it shows its characters and although it is often a predictable and safe experience, it's one that I was still moved by nonetheless.
Rating: 7.0/10