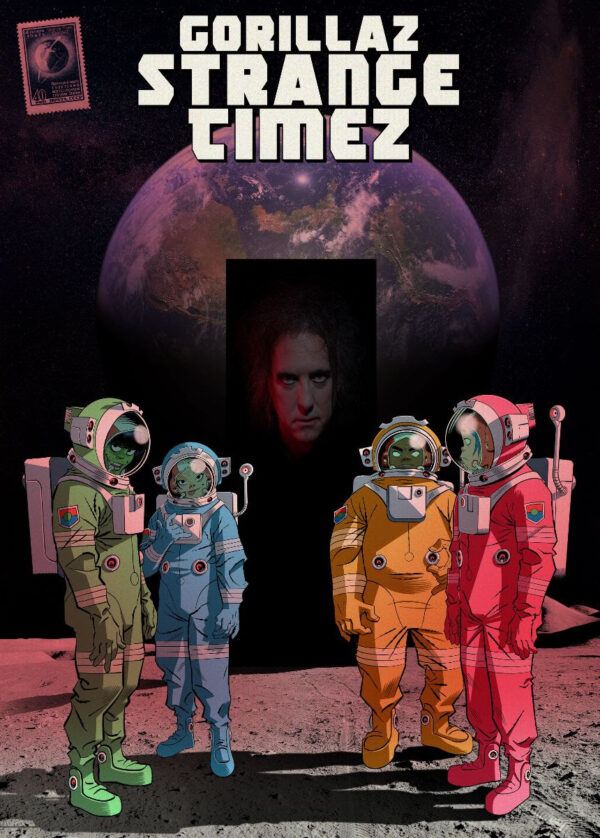 Gorillaz have shared the latest new song in their Sound Machine song project, "Strange Timez," which features vocals from Robert Smith of The Cure.
The track makes perfect use of Smith's vocals, channeling an electronic and synth-driven groove that perfectly combines both their sound and Smith's ever-familiar vocals, along with Damon Albarn's.

Along with the release of the song comes the announcement that all of the songs released so far (and some still yet to be released) will be officially released on October 23rd as a collection entitled Song Machine: Season One.
The full collection of guests is quite ridiculous and star-studded. You can find the entire list below:
Beck, Elton John, Fatoumata Diawara, Georgia, Kano, Leee John, Octavian, Peter Hook, Robert Smith, Roxani Arias, ScHoolboy Q, Slaves, Slowthai, St Vincent and 6LACK, as well as CHAI, EARTHGANG, Goldlink, Joan As Police Woman, JPEGMAFIA, Moonchild Sanelly, Unknown Mortal Orchestra, Skepta, and of course, Tony Allen.
Wow.
Enjoy the music video for the new track below, along with the tracklisting for both the regular and deluxe editions of the album, both of which can be pre-ordered here.
Song Machine: Season One – Strange Timez tracklisting:
1. Strange Timez (ft. Robert Smith)
2. The Valley of The Pagans (ft. Beck)
3. The Lost Chord (ft. Leee John)
4. Pac-Man (ft. ScHoolboy Q)
5. Chalk Tablet Towers (ft. St Vincent)
6. The Pink Phantom (ft. Elton John and 6LACK)
7. Aries (ft. Peter Hook and Georgia)
8. Friday 13 th (ft. Octavian)
9. Dead Butterflies (ft. Kano and Roxani Arias)
10. Désolé (ft. Fatoumata Diawara) (Extended Version)
11. Momentary Bliss (ft. slowthai and Slaves)
Song Machine: Season One – Strange Timez Deluxe tracklisting:
1. Strange Timez (ft. Robert Smith)
2. The Valley of The Pagans (ft. Beck)
3. The Lost Chord (ft. Leee John)
4. Pac-Man (ft. ScHoolboy Q)
5. Chalk Tablet Towers (ft. St Vincent)
6. The Pink Phantom (ft. Elton John and 6LACK)
7. Aries (feat. Peter Hook and Georgia)
8. Friday 13 th (ft. Octavian)
9. Dead Butterflies (ft. Kano and Roxani Arias)
10. Désolé (ft. Fatoumata Diawara) (Extended Version)
11. Momentary Bliss (ft. slowthai and Slaves)
12. Opium (ft. EARTHGANG)
13. Simplicity (ft. Joan As Police Woman)
14. Severed Head (ft. Goldlink and Unknown Mortal Orchestra)
15. With Love To An Ex (ft. Moonchild Sanelly)
16. MLS (feat. JPEGMAFIA and CHAI)
17. How Far? (ft. Tony Allen and Skepta)