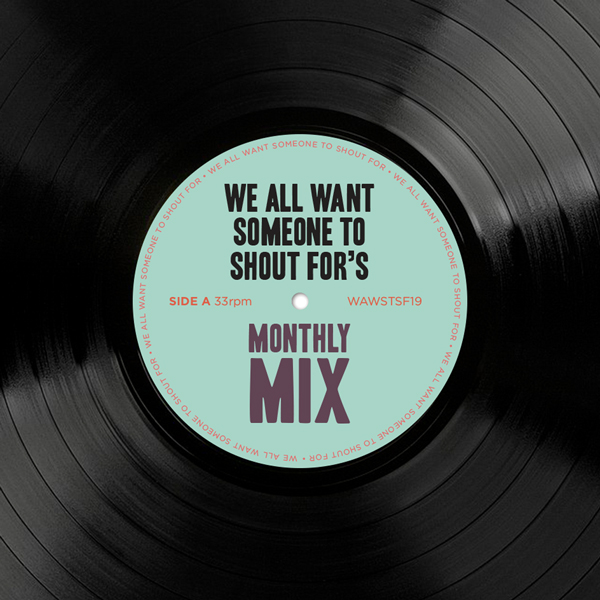 Artwork by Anthony Bauer
Hey. We made it another month. I'm not sure if it moved slow or fast anymore, it somehow felt like both at the same time. That's just how it goes these days.
But there was some good music to help pass the time. Here's a playlist of a handful of those songs that helped make it a little more tolerable – from both the biggest bands and emerging new artists that you should be paying attention to. We got you covered.

Here is my monthly mix for August 2020. You can find the Spotify mix here or find it embedded below. Follow the playlist if you dig what you hear and tell a friend.
1. Empress Carnelian – "The Only Human in the Room"
2. Nature TV – "Hometown"
3. Sufjan Stevens – "Video Game"
4. Nisa – "Colossus"
5. denson camp – "Hello, Time!"
6. Helena Deland – "Someone New"
7. Willie J Healey – "Fashun"
8. Future Islands – "Thrill"
9. Hollyy – "Wondering Why"
10. Hallan – "Modern England"
11. The Magic Gang – "Take Back The Track"
12. Bubble Tea and Cigarettes – "Go Downstairs to the Blue Moon, Buy Some Fried Chicken"
13. Mumble Tide – "Orbit"
14. vern matz – "Mall of America"
15. Samia – "Triptch"
16. Kelly Lee Owens – "Re-Wild"
17. IDLES – "Model Village"
18. Hovvdy – "I'm Sorry"
19. jorba – "Rocket
20. Phoenix – "Identical"
21. King Gizzard & The Lizard Wizard – "Some Of Us"
22. Dog Day – "Hell on Earth"
23. Brass Phantoms – "Hurricane"
24. Dog Park – "Act As If"
25. The Killers – "Running Towards A Place"
26. Men's Apparel – "Two-Tone Lover"
27. Bright Eyes – "Pan and Broom"
28. Secret Machines – "Dreaming Is Alright"
29. Kuro Deko – "Skies Apart"
30. The Lemon Twigs – "Fight"
31. Dawes – "Still Feel Like A Kid"
32. GRAE – "Permanent Maniac"
33. Whitney – "Strange Overtones"
34. Pupscotch – "Last Call"
35. Bully – "Add It On"
36. Glass Animals – "Space Ghost Coast To Coast"
37. LANNDS – "O.O.W."
38. Another Sky – "Fell In Love With The City"
---
Join the conversation