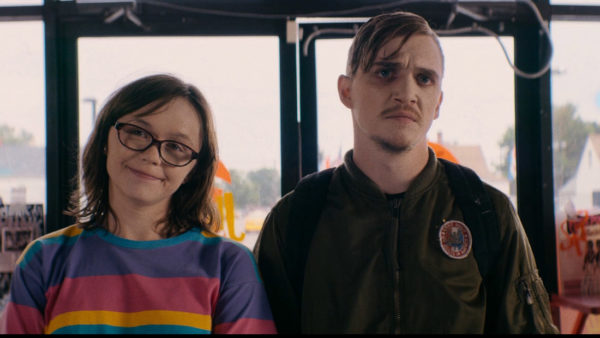 Dinner In America | Adam Rehmeier | Fantasia Festival 2020
Punk rock runs deep within the veins of Dinner In America, the new film from writer-director-editor Adam Rehmeier, so much so that, at first, you're not quite sure what hits you when you meet Simon (Kyle Gallner), an off-putting punk rocker who has a bone to pick with the entire world. When he's not donating blood or participating in a sketchy drug trial for a few extra bucks, he's on the run from the law for a slew of bad choices. Among other things, he's wanted for arson after ruining things with his ex-flame Beth (Hannah Marks, who also serves as a producer, along with Ben Stiller) after an incident involving her mother (Lea Thompson).
It's during a close call with the fuzz that he has a chance encounter with the quirky Patty (Emily Skeggs) who decides to help him out and bring him home to his almost painfully suburban family (Pat Healy, Mary Lynn Rajskub, and Griffin Gluck). She is out of college but still finds herself bullied by high school jocks and doesn't have many friends. She spends her time at home fawning over John Q, the lead singer of the punk rock band Psyops whose identity is a secret. Little does she know that Simon is actually the mysterious John Q and it seems that fate has brought them together to change each other's lives.
What starts off as a slightly uneven quirky punk rock Napoleon Dynamite of sorts shifts gears into something of a coming of age Bonnie and Clyde or, maybe more accurately, Sid and Nancy. These are two people that seem like they're from different spectrums but they realize they have a lot more in common and soon form a bond that neither sees coming.
At first, there's an abrasive quality to Rehmeier's film that is intentionally in your face and off-putting. It becomes tough to find reasons to like or root for Simon and the chaotic energy that is put on screen. Just as it's about to go a bit too far to the point of no return, it turns around and morphs into something else that you may not anticipate. Although it may ironically stray a bit too far into a safer mainstream indie territory, it still does so earnestly and finds a way to win you over.
The relationship between Simon and Patty is endearing and what seems like the strangest pairing on Earth soon gels to the point that you can't imagine one without the other, like punk peanut butter and jelly. This is thanks to the dynamic performances from Gallner and Skeggs, who both sell the hell out of the roles.
Gallner is able to shift from a firey foul-mouthed (literal) punk and then show a tender and emotional side during a standout scene where Patty lends vocals to a new song that he writes with her. The song that they write – "Watermelon" – is a real ear-worm that in a just world would be nominated for Best Original Song at the Oscars but, hey, awards aren't punk. Skeggs is able to so deftly play a doe-eyed character who finds a tremendous amount of growth in a short period of time.
The foul-mouthed aggro tone that Rehmeier sets early on might be too much for certain viewers. But those who stick with it will find a surprising amount of heart and wit to go along with its punk rock nature and spirit that runs from start to finish. While it initially may be off-putting it finds a way to grow on you without ever sacrificing its morals or identity, which is a tough feat to pull off.
Rating: 7.5/10
Dinner In America is screening as part of the virtual 2020 Fantasia Film Festival and doesn't currently have US distribution.
---
Join the conversation