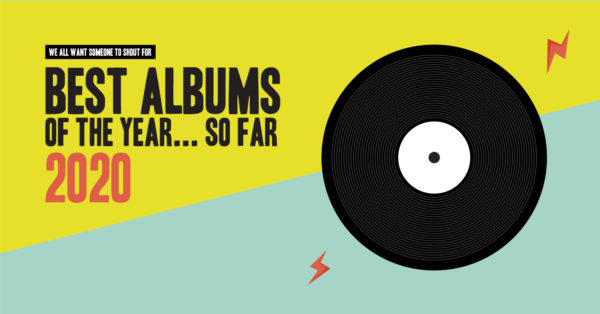 Artwork by Anthony Bauer
Editor's Note: Our very own Bryan Lasky is giving us a rundown of albums and EPs that caught his attention. Some which you probably equally adore. Others which may be new.
Here is part two of the albums and EPs you may have missed – Find Part 1 available here. Again like the first part nothing is in any order at all, just things I've enjoyed and I hope you do too.

Caroline Rose – Superstar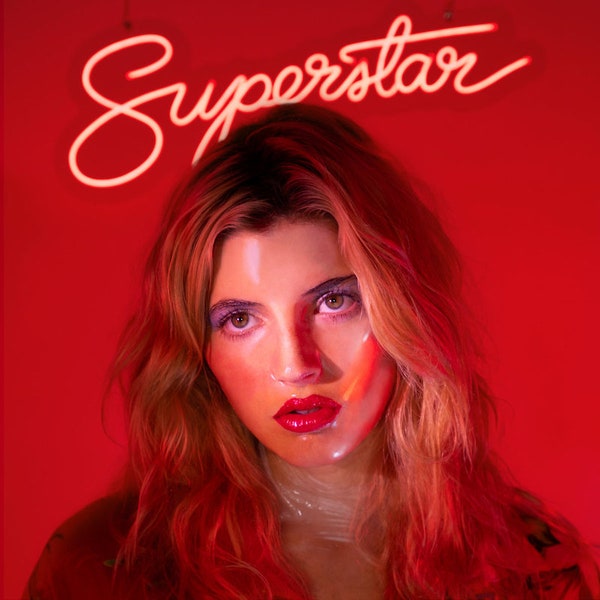 Literally released on the eve of the end of the world, what was going to be a coming out as a rock star album, I think soon was sadly forgotten by the general public. I love the use of synths and keys all over the record, which makes it sound like it was beamed to us from the future. I really love her songwriting – there's a wit to it that most folks don't have. The entire first verse of the record on "Nothing's Impossible" feels like a set up to a joke the way the character tells us where we are.
"Feel the Way I Want" feels like a new take on "Stayin Alive" with knowing you're going out to strut your stuff without caring what others think. "Pipe Dreams" goes literal with ideas that the character wants to achieve this late into the album knowing they most likely won't happen. The line "If I could do this life again, I'd come back as a lamb And let you rip me open" in "Back at the Beginning" is such a visually strong, it's hard to shake it. I do truly feel this record was going to push Caroline to the next tier of performers that she was on track for after touring Loner so hard and getting so many opportunities. I hope after this is all over she gets her time to put a shine on this record live because the canceled tour that was going to accompany it was truly going to be special. | Listen on Bandcmap
Bonny Light Horseman – Bonny Light Horseman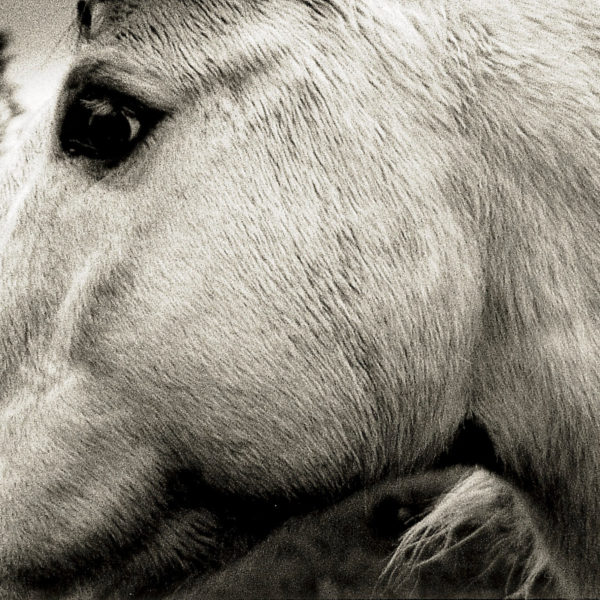 Josh Kaufman with his second showing on this list but this time alongside Eric D. Johnson (aka Fruitbats) and Anaïs Mitchell (of Hadestown fame). I feel very privileged and thankful I was able to witness them play Newport Folk Fest as well as their last show for now in Boston. This album is full of lush harmonies, perfect instrumentation, and some of the best song-crafting of the year. The "don't you break my heart" line in "Deep In Love" makes me tear up every time. It's just stunning and in the trio's hands, the song just feels effortless.
The record is steeped in gospel and folk, while not outright covering any one song, you can hear both filter in and out of many of the ten tracks. "Jane Jane" is a fun romp between the trio with their voices and guitars crisscrossing over one another for the three minutes the song goes on. The stories that are sung range from verbally taking down powerful leaders to worker's rights to ideal love, all tropes found in traditional music but they feel like new and exciting ideas here. The instrumentation on the record stays fairly calm, letting the voices of Eric and Anaïs steer the ship, but you have to pay attention to what Josh is doing under them. It's truly stunning work and if there's anything you get out of reading these lists, it's Josh is a tier-one musician. I do hope this wasn't a one-off album or tour because music fans could really use the bright shining light of Bonny Light Horseman to keep going in these dark times. | Listen on Bandcamp
Hotel Lux – Barstool Preaching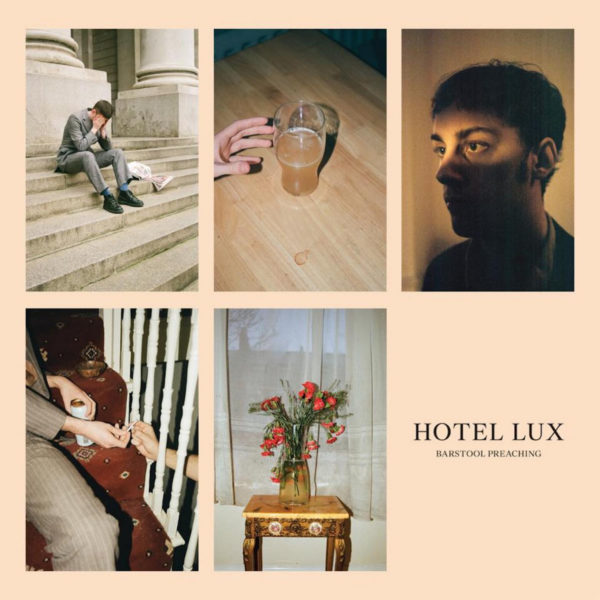 A quick five song EP from the London quintet hits hard and doesn't stop. This new wave of rock music coming from across the ocean has had this air of "hey we are doing it better than you, take notice and shut up." "Tabloid Newspaper" has the snarl of punk rock mixed with some of the wit of LCD Soundsystem's James Murphy. "Eddie's Gaff" feels like a nonchalant stroll through town and that feeling of being young and being able to waste a day here or there. There is this very silky beautiful guitar riff that moves "Charades" along and just gets trapped in your head playing over and over all day in your head.
"Loneliness of the Stage Performer" feels like you're listening to a preacher on stage giving his last sermon, trying to coax every last bit of faith out of the listener. "Ballad of You & I" closes it out in a departure from the rest of the record with horns and what I believe to be a Hammond B3. It doesn't sound like anything else yet fits perfectly as the closer with a preview of maybe what is to come from these guys. The hooks all over these songs are so good and I think there's a bright future here. | Listen on Bandcamp
Syd Silvair – Reverie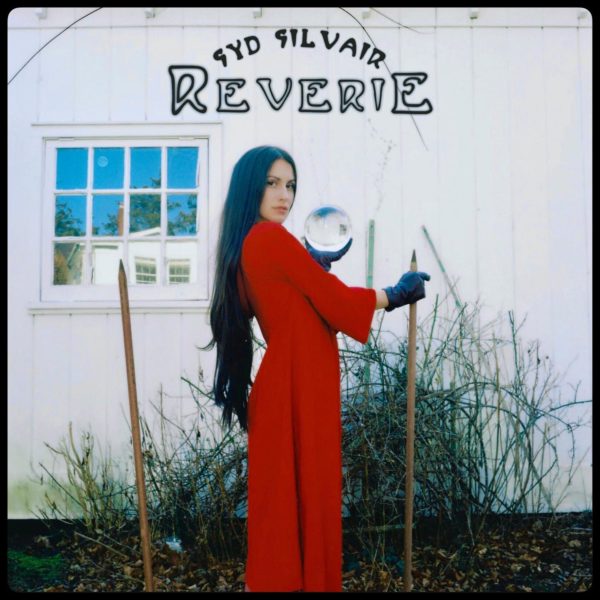 I happened upon Syd Silvair and was absolutely floored by the 17 minutes that followed on this release. Syd is a skilled Tarot reader and turned this skill into crafting fantastic songs. "The Moth" is a dance-pop track that is absolutely infectious. The song though is about when something attractive is out in the world and draws in the darkness and doesn't take it anymore. She has stated in an interview that she wrote this as an empowerment track for women to know that they have a fierceness in them if they are in need of it.
"Obsidian" drips in 70's glamour and draws from the Moon card and wonders aloud if the person is either the curse or the cure. "Maraschino" is a pure disco single that would have been played loudly in Studio 54. Sometimes you need to escape all the terrible things happening in the world and this song is that escape. Closing track "Heroine" takes on the figure from the Temperance card and winds up pushing away all those who idolize in order to get moderation in their life. Syd truly made something special here and I'm very excited to see what's next. | Listen on Spotify
Field Music – Making a New World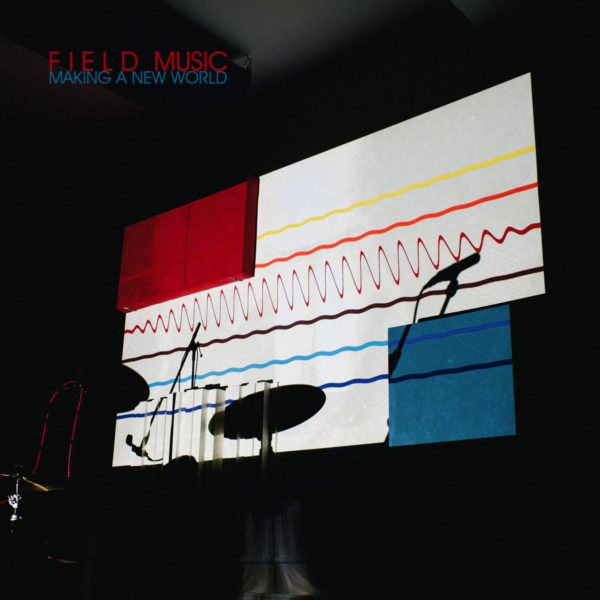 This was one of my many Bandcamp finds of 2020. This is one of the most interesting records of the year that started as a project for the Imperial War Museum with an image from November 11th, 1918 at 11 AM of a graph that showed vibrations of gunfire from a technique called "sound ranging". From there a truly remarkable record with hints of jazz, funk, and rock all mixed and mashed together in exciting ways takes place. There is no one set genre and I love that everything does fit on the record.
I don't think Field Music was going for everything but the kitchen sink album, but they did and did it well. It goes through the entire 20th Century and into the 21st of what took place post World War I. One of my favorite things are all of the quick interludes on the record that really tie the concept together as it feels like years pass before the next event takes place, whether that's the pioneering of skin grafts or the rise of the Dada movement or how artists reacted to a changing world. Yes, at 19 songs you may think this is long just looking at it but with most songs under three minutes it's a breeze and I bet you'll go right back to the top when it's over. | Listen on Bandcamp
Faux Real – Faux Real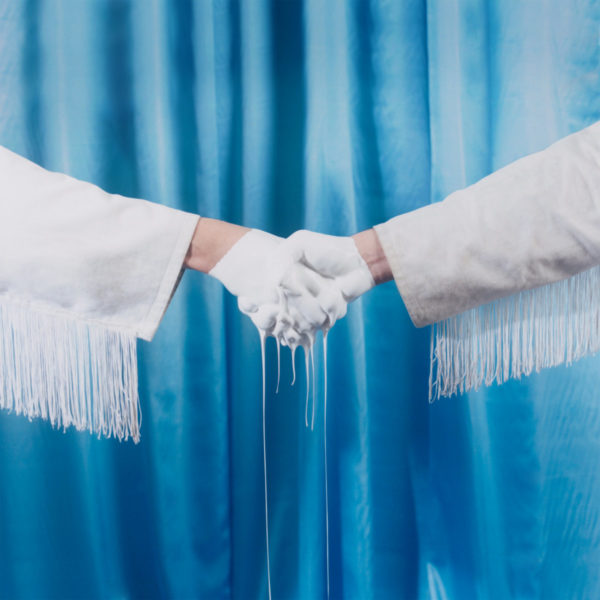 Another riveting EP from across the Atlantic. It's weird and quirky pop that works best on the dancefloor late at night. "Kindred Spirit" feels like a whimsical dream and is about embracing our inner selves. "Boss Sweet" is a slowed down ode to music that mixes the sounds of R&B and multiple synths to create a texture that you can just get completely lost in. Faux Real is Franco-American brothers Elliot and Virgile Arndt and not only do they make great music, but their videos are humorous and show that they are clearly having fun with what they do. The whole video of "Second Sweat" is a choreographed routine that is just so out there that you know they are just taking the piss out of themselves and videos in general. These guys really have that "IT" factor that you love to see from a young new band. If you want to just go and have a fun little timeout in these times, turn on this EP and lose yourself for about 20 minutes to forget about the world for a while. | Listen to Bandcamp
Kanaan – Odense Sessions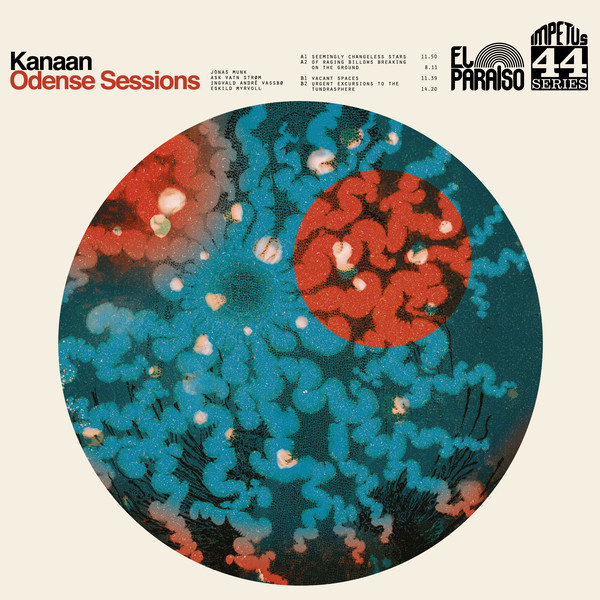 Four songs and 46 minutes later I think you'll thank me for this one. Found this on twitter from @neddyo (go follow for SO many music recommendations). Kannan are a Norwegian psychedelic power trio who leans towards pre-fusion jazz rock and just lets it all hang out. These songs go very deep in terms of the playing that takes place. It helps that a second guitar is added for the whole record, Causa Sai's Jonas Munk. "Seemingly Changeless Stars" builds slowly to such a wild apex that if you're a music fan you cannot help but smile.
"Urgent Excursions to the Tundrasphere" ends the record with an all out blitz attack that might make you feel like you are right there in the room with them if you're listening in on headphones. If you're listening on a powerful speaker or surround sound system you might feel like the world is actually ending, the jam gets that intense. You can just feel that each musician was so relaxed for these recordings as everything seems effortless. This record is definitely one for the headier readers on here but if you want some prog rock jazz feels, this is where to get them. | Listen on Spotify
Mosses – T.V. Sun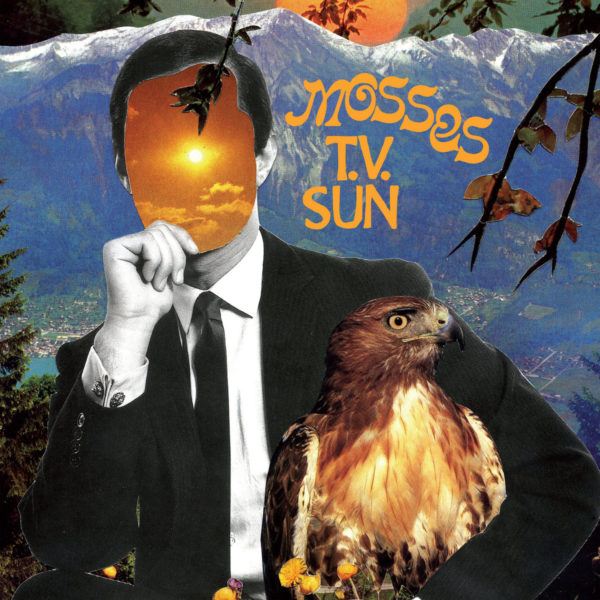 Put together by drummer, and every other instrument, extraordinaire Ryan Jewell, who has played with some many fantastic musicians, Mosses mixes pretty much everything you can think of (rock, jazz, folk, psychedelia, punk, classical, and more) into this tremendous record. Ryan is joined on the record by Danette Bordenkircher and a few other guests who drop in for a couple of songs here and there. "Tall Bearded Iris Speckled" is weird from the get go with flutes, an organ, and a fuzzy bass and really sets the mood of the ten-track trip you're about to go on.
As you can tell I do love an album that doesn't limit itself by genre and this record really has no limits. When an artist decides that they really want to go all out and just make music for the sake of it you have to give it up for them. I don't care who the artist is. The fact that the following instruments were used all over this record just makes me smile: oscillator, gong, tabla, mellotron, sitar, vibraphone, banjo dulcimer, echoplex, and various synths. It's just so cool to let loose and I really appreciate this record for doing that. This is definitely a tune in and drop out kind of album and I hope you enjoy it. | Listen on Bandcamp
High Waisted – Sick of Saying Sorry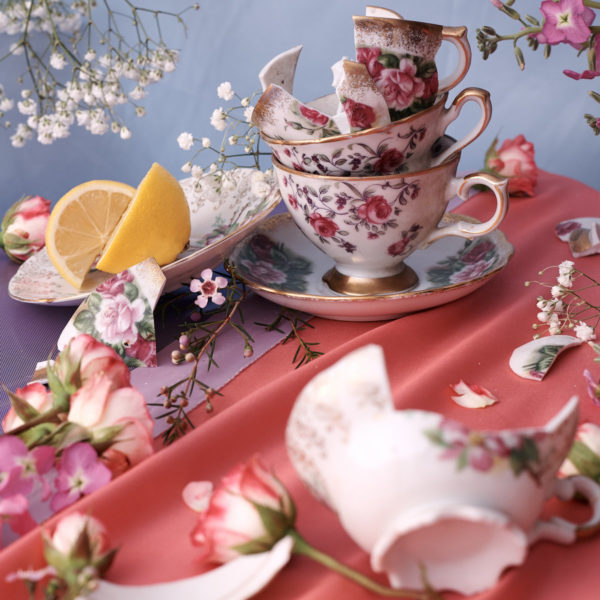 A record that absolutely rocks from beginning to end. "Boys Can't Dance" is so catchy with it's "ooo's" and guitar chords that it will one hundred percent get stuck randomly playing in your head after hearing it. The LP just doesn't take it's foot off the gas or get any less catchy. One thing High Waisted is really fucking good at is writing songs that are catchy as all hell. Tell me you don't find yourself humming or singing along during "Modern Love" or "8th Amendment" during your initial listen to the album. "Drive" evokes long summers on the road with it's 60's flare. The horns on "Burden" come out of nowhere and if it doesn't put a smile on your face, I don't know what to tell you.
Another thing High Waisted is great at is humor. The song "Cereal" is definitely about a serious subject, having to deal with everything life throws at you in adulthood, but doing it with a sense of humor of just sitting around having cereal is inherently funny. This album ends in an absolute fury with "I'm Fine", an anthem that is so desperately needed now by so many people. When all this is over I hope you blast this song in your speakers however high they go. I also hope the band is able to blast these songs at high volumes in concert because these songs were meant to be played loud in a room full of people. | Listen on Bandcamp
Heart Bones – Hot Dish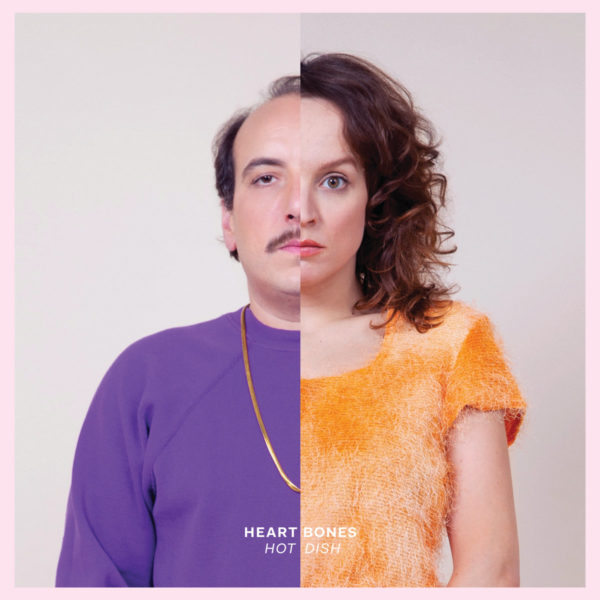 Put on your brightest clothes and travel back to the 80's and dance yourself silly. The group and album is the result of the musical union of Sabrina Ellis (A Giant Dog, Sweet Spirit) and Sean Tillman (Har Mar Superstar). "This Time It's Different" truly sounds like an anthem that could fill an arena. From there we go from watching the person you like dripping so much sweat it makes you light a cigarette ("I Like Your Way") to not letting the bastards get you down ("Don't Read the Comments") to navigating through not wanting to be exclusive with one person ("Open Relationships").
The album has a therapeutic message to it with wanting to work through a lot of things that might be going on in your life and mind. On top of that, it also makes you want to shake your ass and If you can sit still at all while listening to this record, more power to you. Sabrina and Sean's voices mesh together so well you'd think they have a whole discography under this moniker, but as of now, this is all we have. The duo had joked about just touring the Dirty Dancing soundtrack, but wound up writing an album's worth of music, but couldn't help giving their own take of "Hungry Eyes" on this record. If you like any of their other bands' material, don't sleep on this collaboration. | Listen on Bandcamp
For all of these albums and even more, I've been keeping a Spotify list going all year with my favorites. I actually don't use them much because of so many reasons, but if you want to see what I've tucked away this year on this Spotify playlist. For those interested in the singles I've thought are pretty grand, here's another.
---
Join the conversation