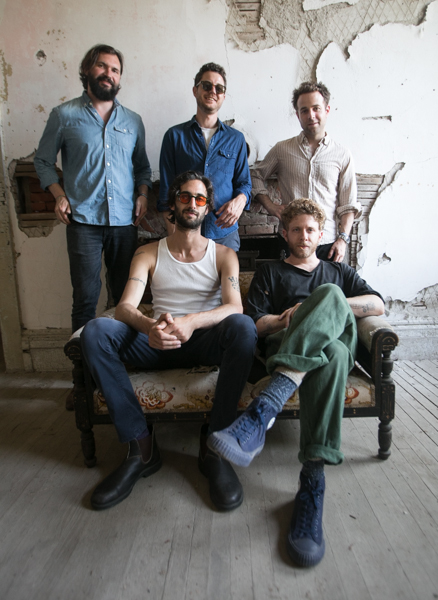 Dawes have been teasing something on their socials for a while and as it looks their new album is entitled Good Luck With Whatever and will be released on October 2nd via their HUB Records (with Concord handling distribution). The album was recorded at the historic RCA studios in Nashville Tennessee, with producer Dave "Corn On The" Cobb.
Fans who signed up for a phone number that the band suggested on their socials seemed to be the first to get a chance to pre-order limited signed varients of the album (of which there are still some remaining as of this posting).

The album's first single "Who Do You Think You're Talking To?" is out on streaming services now and has that trademark Dawes sound down pat with an uplifting spirit, the sort of song that our broken hearts can surely use right about now.
Find the description of the album that was shared with the store listing below:
Far from apathetic, Good Luck With Whatever is Dawes at their most unapologetic. It's sympathetic and magnetic, 50% genetic and highly kinetic. Songs like "Didn't Fix Me" and "Me Especially" showcase Goldsmith's poetic prowess perfectly; a historian of the human condition, transforming turmoil into motor oil. Drop the tone arm down, turn the volume up, unplug the phone and if you still feel nothing… call a doctor.

Good Luck With Whatever is an unfiltered photograph of a band doing what they do best. A moment in the timeline of a 10 year old band who still possess the wonderment and fearlessness of a 10 year old man. These guys learned to rock before they could crawl and now it's time to let em' run. Ask any scientist and they'll tell you one thing… you can't fake chemistry.
Along with some commentary on the album from Dawes' Taylor Goldsmith:
As a songwriter, this album is a relinquishing of my codependence…Not concerning myself with things that I shouldn't…witnessing life around me but trying to hold back judgement. It's also about stepping more firmly into adulthood, even if a few years later than expected.

As a band, this album is a celebration of each other and our closeness as a group. It's the 4 of us live in a room not hiding behind any sort of studio magic. This band has made us stronger and brought us closer through the years and we're recognizing that and are more proud of that than ever.
Stay tuned as the music video for "Who Do You Think You're Talking To?" will premiere today at 2 p.m. In the meantime, find the Spotify stream of the new single below, where you can also find the artwork and tracklist below.
Good Luck With Whatever tracklist:
1. Still Feel Like a Kid
2. Good Luck With Whatever
3. Between the Zero and the One
4. None of My Business
5. St. Augustine at Night
6. Who Do You Think You're Talking To?
7. Didn't Fix Me
8. Free as We Want to Be
9. Me Especially