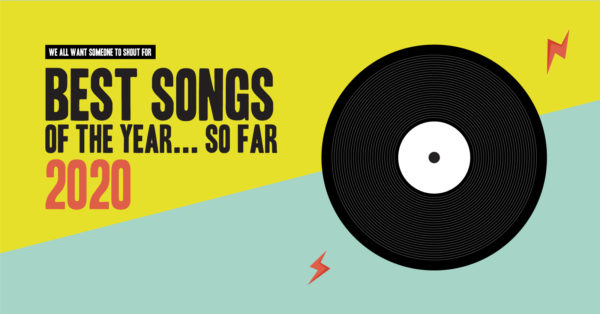 Artwork by Anthony Bauer
Yesterday we shared our best albums of the year(…so far) and today we return, this time with our best songs of the year(…so far).
I'll save you another "this year sucks" general summary. Instead, let's look at how good the music has been during the past 6 months. These are the songs that connected with me the most during the first half of 2020. Please note once again that once again, this list contains only songs that were officially released between January and June of 2020. Who knows what this list will look like at the end of the year but for now this is what we're going with.

You can find the full list posted below and find a giant Spotify playlist for your enjoyment both embedded and able to find right here. Please share with your friends, family, loved ones and enemies. Thanks for listening and please stay safe and remember to wear a mask!
I present We All Want Someone To Shout For's Best Songs of 2020 (…so far):
100. Freyr – "Neighbour Boy"
99. Nicole Atkins – "Domino"
98. Kiwi Jr. – "Murder in the Cathedral"
97. Jessie Ware – "What's Your Pleasure?"
96. Squirrel Flower – "Red Shoulder"
95. Thundercat – "Dragonball Durag"
94. Blake Mills – "Money Is The One True God"
93. Samia – "Is There Something in the Movies?"
92. Sorry – "Perfect"
91. Trace Mountains – "Lost in the Country"
90. The Killers – "Caution"
89. Purity Ring – "pink lightning"
88. Jason Isbell and the 400 Unit – "Only Children"
87. Ratboys – "I Go Out at Night
86. Bright Eyes – "Forced Convalescence"
85. Grimes – "You'll Miss me When I'm Not Around
84. Disq – "Daily Routine"
83. Bambara – "Heat Lightning"
82. Pottery – "Texas Drums Pt I & II"
81. Faye Webster – "In A Good Way"
80. Sufjan Stevens & Lowell Brams – "The Runaround"
79. Hoops – "Fall Back"
78. Westerman – "Blue Comanche"
77. Jamie xx – "Idontknow"
76. Destroyer – "It Just Doesn't Happen"
75. U.S. Girls – "4 American Dollars"
74. Nat Vazer – "Higher Places"
73. Bob Dylan – I've Made Up My Mind to Give Myself To You"
72. Talk Show – "Stress"
71. Yves Tumor – "Gospel For A New Century"
70. Braids – "Young Buck"
69. Sports Team – "Going Soft"
68. TOPS – "Witching Hour"
67. Tame Impala – "Lost In Yesterday"
66. MAITA – "Someone's Lost Their Godddamn Wallet"
65. The Districts – "Sidecar"
64. Cut Worms – "Castle In The Clouds"
63. Caribou – "Ravi"
62. Beach Bunny – "Ms. California"
61. Hazel English – "Off My Mind"
60. IDLES – "Grounds"
59. Laura Marling – "For You"
58. Cut Copy – "Cold Water"
57. Tempesst – "On The Run"
56. Pure X – "Middle America"
55. Leah Senior – "Evergreen"
54. Muzz – Red Western Sky"
53. Woods – "Just to Fall Asleep"
52. Matt Berninger – "Serpentine Prison"
51. EOB – Olympik"
50. Real Estate – "You"
49. Frances Quinlan – "Your Reply"
48. Flyte – "Easy Tiger"
47. Pearl Jam – "Seven O'Clock"
46. Glass Animals – "Dreamland"
45. Katy J Pearson – "Take Back The Radio"
44. Kelly Lee Ownes – "Night"
43. The Beths – "Dying to Believe"
42. Chromatics – "Teacher"
41. Pinegrove – "Moment"
40. Annie – "American Cars"
39. Khruangbin – "So We Won't Forget"
38. Mandrake Handshake – "Hypersonic Super-Asterid"
37. Hotel Lux – "Tabloid Newspaper"
36. Bombay Bicycle Club – "Is It Real"
35. Caroline Rose – "Do You Think We'll Last Forever?"
34. Hamilton Leithauser – "Here They Come"
33. DC – "Neighbourhood"
32. Mystery Jets – "Screwdriver"
31. Alexandra Savior – "Can't Help Myself"
30. FEZ – "Repetition"
29. Yumi Zouma – "Cool For A Second"
28. Childish Gambino – "53.49"
27. Rolling Blackouts Coastal Fever – "Cars In Space"
26. Phoebe Bridgers – "Garden Song"
25. Moses Sumney – "Me in 20 Years"
24. Perfume Genius – "Whole Life"
23. Jay Electronica – "A.P.I.D.T.A."
22. Christian Lee Hutson – "Unforgivable"
21. Fontaines D.C. – "A Hero's Death"
20. The Strokes – "The Adults Are Talking"
19. Freddie Gibbs & The Alchemist – "1985"
18. Nadia Reid – "Oh Canada"
17. Soccer Mommy – "circle the drain"
16. Porridge Radio – "lilac"
15. Car Seat Headrest – "Deadlines (Hostile)
14. Waxahatchee – "Can't Do Much"
13. Fiona Apple – Cosmonauts"
12. The Wants – "The Motor"
11. Andy Shauf – "Changer"
10. Fontaines D.C. – "Televised Mind"
9. Hum – "Step Into You"
8. Wolf Parade – "Julia Take Your Man Home"
7. The Strokes – "Ode To The Mets"
6. Rolling Blackouts Coastal Fever – "Cameo"
5. Run The Jewels – "walking in the snow"
4. SAULT – "Wildfires"
3. Doves – "Carousels"
2. Phoebe Bridgers – "I Know The End"
1. Courting – "David Byrne's Badside"
---
Join the conversation