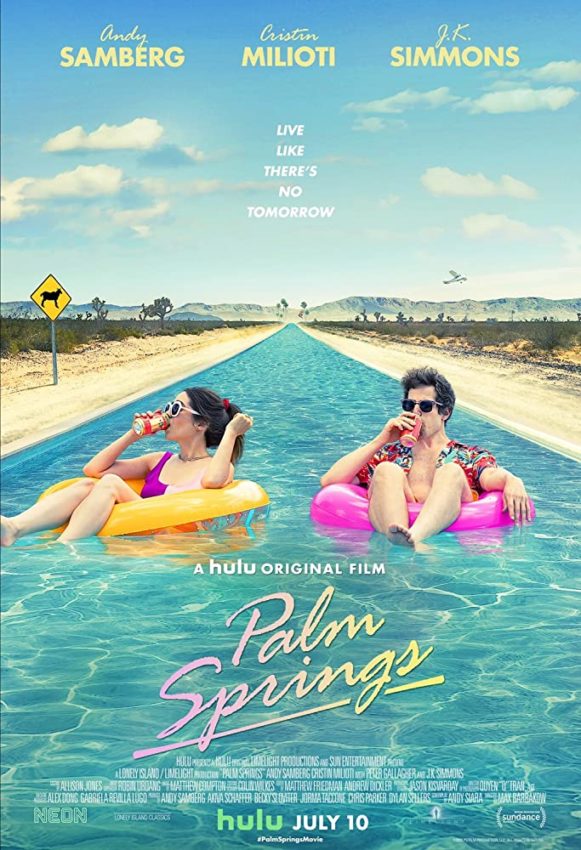 Palm Springs | Max Barbakow | July 10, 2020
If you have no idea about the premise about Palm Springs, please just stop reading this and go watch it over on Hulu right now. That's right. I am actively telling you to please leave my site and go watch the movie I am about to discuss. This may seem excessive, but just trust when I say that it's the sort of movie that you will be happy to dive into without the slightest clue of what is about to unfold.
I knew nothing going into it except that it was starring Andy Samberg and got some good buzz at Sundance where Hulu and Neon scooped it up paying a record-setting price tag. I had no reason to go in completely cold and don't know why I did; maybe it was because I knew I had the chance to watch it from the comfort of my own home. Little did I know that I would be doing so when I wasn't really able to leave the house.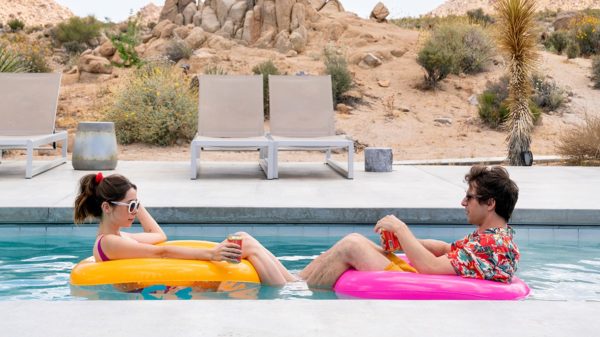 Nyles (Andy Samberg) is stuck at a wedding with his girlfriend (Meredith Hagner), and they both seem checked out of their relationship. It's at the wedding that he has an encounter with the maid of honor Sarah (Cristin Milioti), who is he is immediately drawn to. As the night goes on they forge the sort of connection that doesn't come around often and before they know it, they're about to grow a lot closer together. It's just that things don't go as they or us the audience are expecting.
If you're still reading you either already watched it or just don't give a good god damn. So from here on out, I will speak more freely.
You're going to hear many people say that Palm Springs is just another Groundhog Day and they're not necessarily wrong. The thing is, director Max Barbakow (his narrative feature debut) and writer Andy Siara take this familiar idea and still manage to deliver it in a way that feels fresh, sincere, funny, and charming all at once. It's Groundhog Day for a modern generation, for the new age of where giant Sundance buys premiere in your living room rather than in theaters.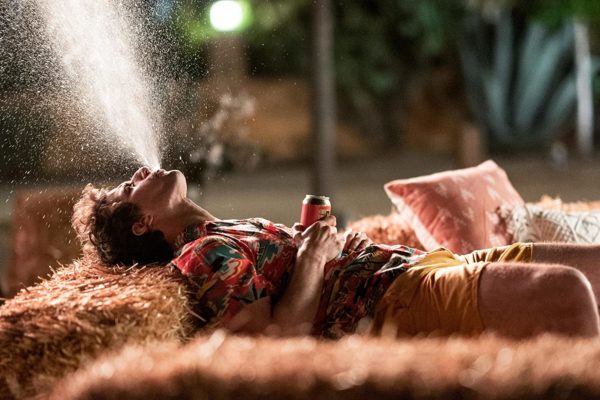 Barbakow expertly tells Siara's clever screenplay, turning out a mean lean product that barely clocks in at 90 minutes and benefits handsomely as a result (other movies, take note). There's not a dull moment to be found. Not only is it consistently funny in the way that the characters find creative ways to "handle" their newfound conundrum, but it also has plenty of heart and emotion woven in with the chuckles, mostly avoiding being too forced or saccharine.
Along with the screenplay, Palm Springs only manages to pull this off because of the undeniable chemistry shared between Samberg and Milioti. The duo is a delight together and manages to lean into both the comedic and dramatic elements that are required of them.
Sanberg, known more for his comedy than dramatic acting chops, is at his very best here. And this is the sort of game-changing performance for Milioti who deserves much more leading work after this. There's also a fun supporting performance from J.K. Simmons, whose character manages to find development despite his rather minimal time on screen. There's also fun turns from the likes of Peter Gallagher, Tyler Hoechlin, Chris Pang, June Squibb, Dale Dickey, and Connor O'Malley (who old Vine users may recognize).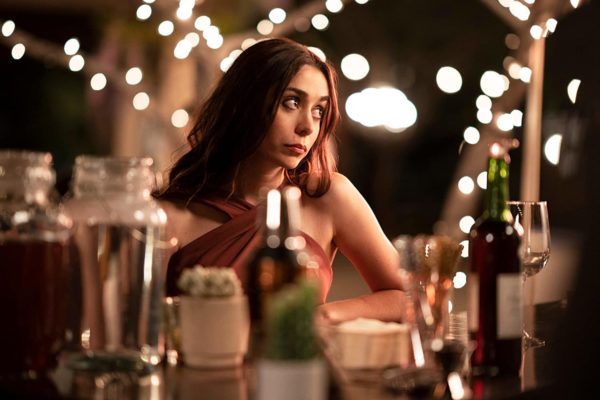 The fact that you've ultimately seen this sort of story told before but it still manages to sweep you off your feet speaks to the success at hand here. From the direction, the screenplay, the performances, and the well-curated soundtrack paired with the winning synth-led score from Matthew Compton, Palm Springs caught me off-guard and is one of the real pleasant surprises of this dumpster fire of a year.
Who could've predicted how essential it was that Hulu scooped it up back in January? But I am glad that we all have the chance to watch this endlessly during what ironically feels like an infinite loop of our own. Palm Springs is bound to be a cult classic that actually has a chance to be seen by the world.
Review: 8.5/10