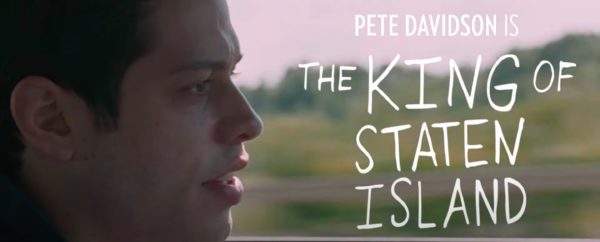 While Pete Davidson has been making a name for himself through his SNL work, stand-up, and supporting roles (including a brief appearance in What Men Want), the upcoming King of Staten Island may be his breakout role.
From director Judd Apatow, The King of Staten Island stars Davidson as Scott, a 20-something underachieving tattoo artist stuck at home with his mom (Spider-Man's Marisa Tomei) and still mourning his firefighter father. When his mom starts dating a new man (Bill Burr) who also happens to be a firefighter, it sets off a series of events that force Scott to grow up a bit.
This first trailer showcases the trademark Apatow balance of humor and heart, giving Davidson a chance to flex a bit of a dramatic muscle that we haven't seen before. It also gives Davidson a chance to flex his writing skills, as he co-wrote the autobiographical script with Apatow and Dave Sirus.
Being an Apatow film, the cast is stacked and eclectic, also starring Steve Buscemi, Bel Powley, Pamela Adlon, Moises Arias, Maude Apatow, Domenick Lombardozzi, Machine Gun Kelly, and Kevin Corrigan.
Also supposed to premiere at Tribeca (like Shirley), The King of Staten Island is set to be released on VOD by Universal Pictures on June 12th due to COVID-19.