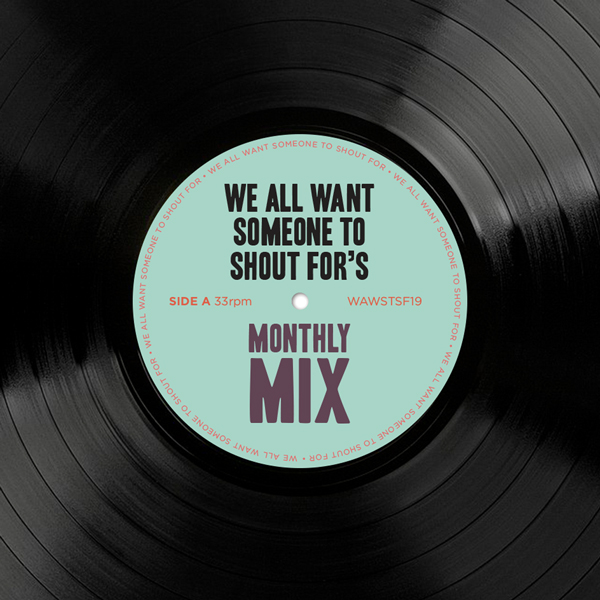 Artwork by Anthony Bauer
What is time anymore? Apparently its May. It doesn't feel like that. Somehow time is moving at a snails pace but also extremely fast at the same time. It's a weird time, man.
New music is one of the only steady constants these days. One of the only reliable forces in our lives at this time (as per usual).
Like the rest of our monthly mixes, this is a mix of our favorite songs from new "big" releases, as well as some hidden gems from new artists across the globe.

You can stream the Spotify playlist below or head right here. If you like what you hear, please give the playlist a follow for more monthly mixes every month. I've also included the full tracklisting full the playlist at the bottom of the post as well. Thanks for checking it out and enjoy!
1. Mystery Jets – Screwdriver"
2. The Strokes – "The Adults Are Talking"
3. Phoebe Bridgers – "Kyoto"
4. Khruangbin – "Time (You and I)"
5. Fiona Apple – "Cosmonauts"
6. Noah Chenfeld – "Stop The Bus"
7. Faye Webster – "In A Good Way"
8. Chromatics – "Teacher"
9. High Waisted – "Drive"
10. Purity Ring – "pink lightning"
11. John King Cave – "Gethsemane"
12. Becca Mancari – "Hunter"
13. The Beths – "Dying to Believe"
14. EOB – "Olympik"
15. Laura Marling – "For You"
16. Hamilton Leithauser – "The Garbage Man"
17. Hazel English – "Shaking"
18. Hamabe – "窓"
19. Mounika. – "Intro (i'm sorry)"
20. Muzz – "Red Western Sky"
21. Missing Image – "Killer"
22. Washed Out – "Too Late"
23. Jamie xx – "idontknow"
24. The Streets – "Call My Phone Thinking I'm Doing Nothing Better" (feat. Tame Impala)
25. Tara – "Oceans"
26. The Jaded Hearts Club – "Nobody but Me"
27. Das Kope – "Fascination"
28. Melasól – "Week or Two"
29. Junipero – "New Beginnings"
30. Desire – "Escape"
31. Run The Jewels – "ooh la la" (feat. DJ Premir & Greg Nice)
32. Summer With Monica – "The Art of Losing"
33. Steven Wright-Mark – "Underground"
34. Yves Tumor – "Gospel For A New Century"
35. Destroy Boys – "Honey I'm Home"
36. MAITA – "Someone's Lost Their Goddamn Wallet"
37. Foreign/National – "Diamond Mine"
38. Oasis – "Don't Stop…" (Demo)
39. Born Ruffians – "I'm Fine"
40. Empress Of – "Give Me Another Chance"
41. M. Ward – "Heaven's Nail and Hammer"
42. Thundercat – "Dragonball Durag"
43. Thai Food – "We Know"
44. Shabazz Palacces – "Chocolate Souffle"
45. Harkin – "Mist on Glass"
46. Brendan Benson – "Richest Man"
47. Riun Garner – "Trouble"
---
Join the conversation