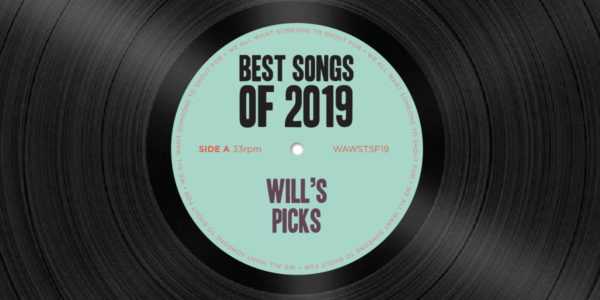 Artwork by Anthony Bauer
2019 is now technically hours away from wrapping up, and with it, a whole decade. We have had some time to sit and think about our favorite albums of the year and now we present our 100 favorite songs of the year. It's always hard to put this together, a lot more thought goes into it than you think. How many tracks do I include from an album I listed in my top 5, what if those songs work better as a complementary piece than an individual track? How do you rank a bunch of songs that you love?
But in the end, these are 100 songs that soundtracked my year. While compiling this list, I went through a journey of my literal year of moments, good hangouts, lonely drives, good times, bad times, and everything in-between. That's the beauty of this sort of thing and music in general.
Stay tuned as in the new year we will be doing the best of the decade in both albums and songs as well as something else that we are eager to share with you guys. But for now, find my top 100 songs of 2019 posted below listed in reverse order. You can also find a Spotify playlist right here, as well as embedded at the end of the list.
Let me know your thoughts in the comments and anything you wished I included.

100. Adam Melchor – "I CHOOSE YOU"
99. Winona Oak – "Let Me Know"
98. Cigarettes After Sex – "Heavenly"
97. Goon – "Northern Saturn"
96. FKA twigs – "sad day"
95. Coldplay – "Arabesque"
94. Denzel Curry – "RICKY"
93. Whitney – "Giving Up"
92. The Black Keys – "Walk Across The Water"
91. The Menzingers – "Strangers Forever"
90. Bedouine – "Sunshine Sometimes"
89. Spoon – "No Bullets Spent"
88. Deerhunter – "What Happens to People?"
87. Kevin Morby – "No Halo"
86. Hand Habits – "can't calm down"
85. Sports Team – "Fishing"
84. Cass McCombs – "Sleeping Volcanoes"
83. Tyler, The Creator – "GONE, GONE / THANK YOU"
82. Rolling Blackouts Coastal Fever – "In the Capital"
81. Pottery – "Hank Williams"
80. Stef Chura – "Sweet Sweet Midnight"
79. King Gizzard & the Lizard Wizard – "PLANET B"
78. Liam Gallagher – "Once"
77. Wolf Parade – "Forest Green"
76. Jenny Lewis – "Red Bull & Hennessy"
75. The Raconteurs – "What's Yours Is Mine"
74. Jessie Buckley – "Glasgow (No Place Like Home)"
73. Stella Donnelly – "Tricks"
72. Yola – "Lonely The Night"
71. Julia Jacklin – "Pressure To Party"
70. Local Natives – "Café Amarillo"
69. Wilco – "Everyone Hides"
68. Karen O & Danger Mouse – "Woman"
67. Hot Chip – "Hungry Child"
66. Middle Kids – "Salt Eyes"
65. Little Simz – "101 FM"
64. Pure Bathing Culture – "Devotion"
63. Nilufer Yanya – "In Your Head"
62. Operators – "Terminal Beach"
61. White Reaper – "Might Be Right"
60. Broken Social Scene – "Can't Find My Heart"
59. Foals – "Wash Off"
58. Girl Band – "Going Norway"
57. Clairo – "Sofia"
56. Freddie Gibbs & Madlib – "Flat Tummy Tea"
55. Flyte – "Sometimes"
54. Kishi Bashi – "Summer of '42"
53. Faye Webster – "Right Side of My Neck"
52. The Dawdler – "Around Eve"
51. Danny Brown – "Dirty Laundry"
50. Charly Bliss – "Capacity"
49. Matt Berninger – "Walking On a String" (feat. Phoebe Bridgers)
48. Hayden Thorpe – "Love Crimes"
47. Sons – "Naughty"
46. Brittany Howard – "Stay High"
45. TOOL – "Descending"
44. black midi – "953"
43. Angel Olsen – "Lark"
42. Lana Del Rey – "The Greatest"
41. Fontaines D.C. – "Roy's Tune"
40. Nick Cave & The Bad Seeds – "Bright Horses"
39. Dave – "Streatham"
38. Twin Peaks – "Dance Through It"
37. The Murder Capital – "More Is Less"
36. Bon Iver – "Hey, Ma"
35. The Japanese House – "You Seemed so Happy"
34. Thom Yorke – "Dawn Chorus"
33. Better Oblivion Community Center – "Sleepwalkin'"
32. Orville Peck – "Turn to Hate"
31. Jenny Hval – "Ashes to Ashes"
30. PUP – "Kids"
29. Jay Som – "Nighttime Drive"
28. Soccer Mommy – "yellow is the color of her eyes"
27. (Sandy) Alex G – "Hope"
26. Temples – "Hot Motion"
25. Pip Blom – "Daddy Issues"
24. Julia Jacklin – "Don't Know How To Keep Loving You"
23. Fontaines D.C. – "Big"
22. Foals – "White Onions"
21. The Twilight Sad – "VTr"
20. Weyes Blood – "Movies"
19. Purple Mountains – "All My Happiness Is Gone"
18. Jessica Pratt – "This Time Around"
17. Big Thief – "Orange"
16. Vampire Weekend – "Bambina"
15. Hatchie – "Keep"
14. Diiv – "Blankenship"
13. black midi – "Of Schlagenheim"
12. Sharon Van Etten – "Seventeen"
11. (Sandy) Alex G – "Gretel"
10. Angel Olsen – "All Mirrors"
9. Andy Shauf – "Try Again"
8. Chromatics – "Twist the Knife"
7. Bombay Bicycle Club – "Eat, Sleep, Wake (Nothing But You)"
6. The National – "Rylan"
5. Fontaines D.C. – "Boys in the Better Land"
4. Aldous Harding – "The Barrel"
3. Weyes Blood – "Andromeda"
2. Big Thief – "Not"
1. The National – "Oblivions"