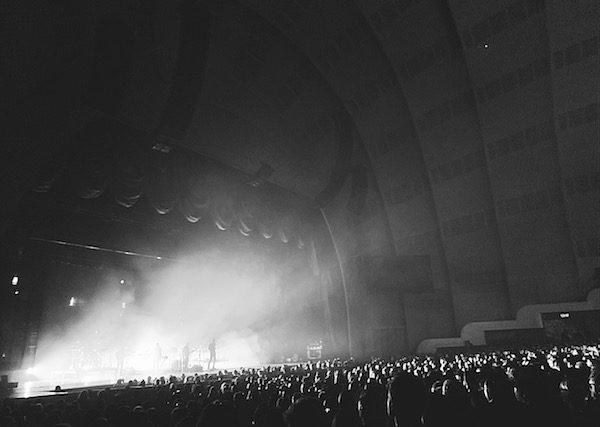 Photos by Will Oliver
Britain's Massive Attack made their long-awaited return to New York to play two sold out shows at Radio City Music Hall that were originally supposed to take place back in March. This tour – which began last year – has seen them celebrate the 20th anniversary of their classic album Mezzanine. Not only that, but the tour has seen the band joined by Cocteau Twins singer Liz Fraser as well as reggae singer Horace Andy to help bring the songs of Mezzanine back to life in glorious fashion, as they did on September 26th during night one of the two-night run.

In addition to heavenly versions of classics like "Angel," "Inertia Creeps," and of course, "Teardrop," the band ran through covers such as The Velvet Underground's "I Found a Reason," Bauhaus' "Bela Lugosi's Dead" and The Cure's "10:15." There was also an unexpected quick rendition of Avicii's "Levels," and a ton of timely political visuals that played behind the band, including a clip of Trump that was met with some rapturous boos.
Find the full setlist from the performance posted below.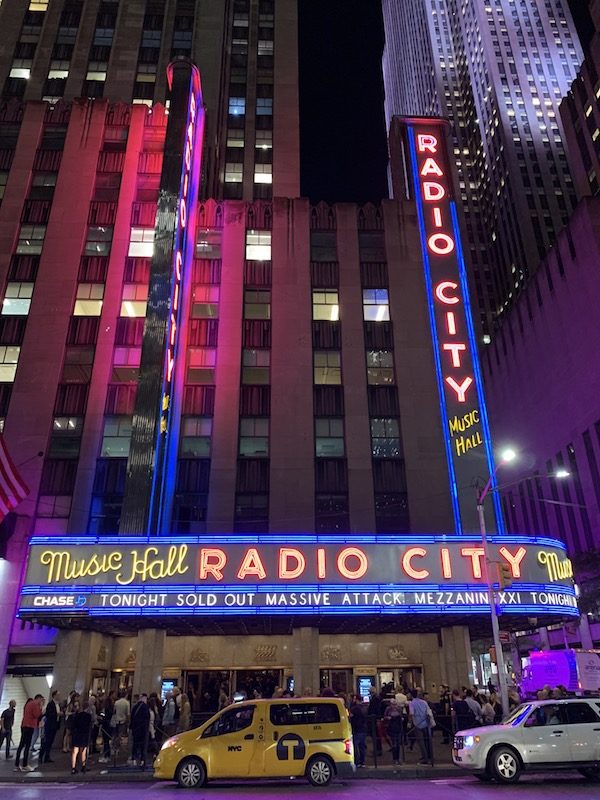 Massive Attack setlist:
1. I Found a Reason (The Velvet Underground cover)
2. Risingson
3. 10:15 (The Cure cover)
4. Man Next Door (with Horace Andy)
5. Black Milk (with Elizabeth Fraser)
6. Mezzanine
7. Bela Lugosi's Dead (Bauhaus cover)
8. Exchange
9. See a Man's Face (with Horace Andy)
10. Dissolved Girl
11. Where Have All the Flowers Gone? (Pete Seeger cover)
12. Inertia Creeps
13. Rockwrok (Ultravox cover)
14. Angel
15. Teardrop (with Elizabeth Fraser)
16. Levels (Avicii cover)
17. Group Four
---
Join the conversation