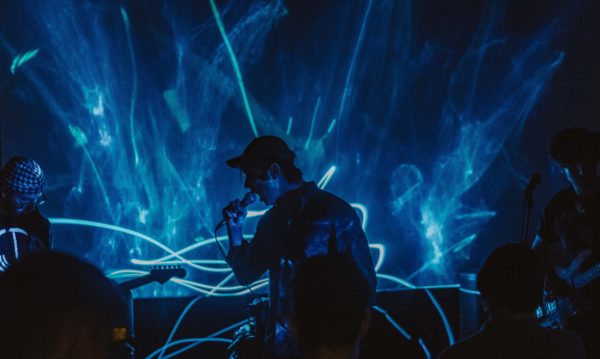 Photo by Kevin Chambers
Baltimore natives SWOLL began as a collaboration between Matt Dowling and Ben Schurr and last year they released their first bit of music before they even began playing shows.
Their self-titled debut album came not long after and the band toured in support of the album, becoming more of a band and less of a bedroom recording project, recruiting synth player Erik Sleight and lighting artist Zak Forrest to give their live shows a new direction.

They're now ready to release their sophomore record Unwound and today we have the honor of premiering the brand new music video for the album's single and title track, "Unwound." The vibrant and colorful offering gets an equally lush video treatment from director Drew Hagelin.
Here's what the band's Matthew Dowling had to say about the process of making the video with Hagelin:
"I brought in my friend Drew Hagelin for this one. Drew's done a bunch of great video work over the last few years for several DC/Baltimore bands and I felt like his aesthetic would create something exciting for "Unwound." We originally shot some footage in my rehearsal space for what we thought was going to a demo to expand into a more grandiose production. However, Drew worked his magic on that shoot and spliced in some open-source footage from NASA. To me, the NASA scenes fit with the theme of the song which is the complexity and power of the human psyche, particularly within a relational context (i.e. friendships, relationships, large groups, etc). At first, I felt uncomfortable with that science-y element of it, but the way it all came together at the end felt really right."
Get your exclusive first viewing of the music video below and find the album available to pre-order right now at their Bandcamp. We've also included their upcoming tour dates.
SWOLL Tour Dates:
09.26 – Brooklyn, NY @ Gold Sounds
09.29 – Raleigh, NC @ Slim's
10.01 – Asheville, NC @ Static Age Records
10.02 – Baltimore, MD @ The Crown Baltimore
11.14 – Washington, DC @ Comet Ping Pong
11.17 – Durham, NC @ The Pinhook
11.18 – Atlanta, GA @ 529
11.22 – New Orleans, LA @ Saturn Bar
11.24 – Austin, TX @ Mohawk
---
Join the conversation