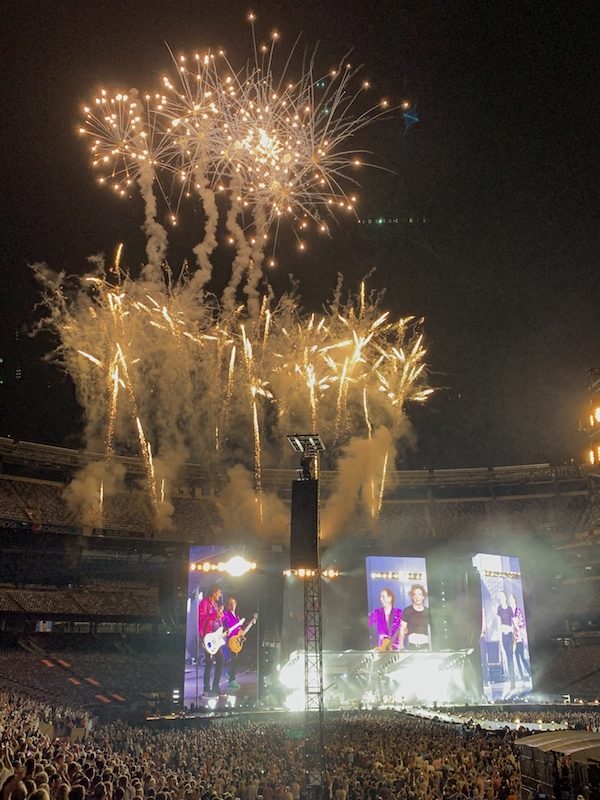 Following their Night 1 performance, The Rolling Stones returned for the second night of their MetLife run four days later on August 5th for the show that was originally supposed to take place on June 17 but was postponed following Mick Jagger's heart valve surgery.
While the band took a few songs to find their groove during Night 1, they immediately came out of the gate swinging with a strong opening performance of "Jumpin' Jack Flash" and kept the momentum going forward all throughout the night. While the first night was a good one this was an entirely different level, both with the band's performance and the crowd's reaction. Both were firing on all cylinders and showing that sometimes the best of both worlds can merge and meet one another even in the cavernous atmosphere that is a stadium show.

Along with all the expected hits "Paint It Black," "Gimme Shelter," "(I Can't Get No) Satisfaction," and "Sympathy for the Devil," there were a few old treats such as "Monkey Man" (the song fans voted upon out of four songs online for them to play) as well as "Harlem Shuffle," which was played for the first time since August 1990. To put that into perspective, I wasn't even born yet.
These MetLife shows were sadly my first time seeing The Stones perform and who knows if or when they'll be back soon. But I got to say, while some classic rock acts feel more like they're going through the motions and ultiamtely collecting a paycheck, The Rolling Stones put on a genuinely powerful rock and roll performance that I can only imagine was as vital as you will find from any band that is rocking out at their age. I hope that we get to see them again soon, but if this is it, I am more than happy I got to witness their act in person.
Find the full setlist from Night 2 posted below.
The Rolling Stones setlist:
1. Jumpin' Jack Flash
2. You Got Me Rocking
3. Tumbling Dice
4.Harlem Shuffle (Bob & Earl cover)
5. Monkey Man
6. You Can't Always Get What You Want
7. 2120 South Michigan Avenue @Tape
8. Let It Bleed
9. Dead Flowers
10. Sympathy for the Devil
11. Honky Tonk Women
12. You Got the Silver
13. Before They Make Me Run
14. Miss You
15. Midnight Rambler
16. Paint It Black
17. Start Me Up
18. Brown Sugar
Encore:
19. Gimme Shelter
20. (I Can't Get No) Satisfaction
---
Join the conversation