Photos by Richard Agudelo
On August 1, The Rolling Stones made their long-awaited return to New Jersey/New York for the first of a two-night run at MetLife Stadium. The show was originally set to take place on June 13 but was understandably pushed back to give frontman Mick Jagger time to heal from his recent heart valve surgery.
Although the band took a few songs to find their groove, they soon kicked into high gear and wasted no time resting any fans concerns about their ability to perform at a high level. Even at their age, they put most bands half their age to shame, still rocking out with all the bravado and confidence that you've come to expect for one of the best rock and roll bands to ever grace this earth.


They really found their groove in-between "She's a Rainbow" (the song voted on to be played by fans online out of a choice of 4) and "You Can't Always Get What You Want," and then kept it going on the b-stage where they ran through some tender version of "Sweet Virginia" and "Dead Flowers." From there they ran away with it with their powerhouse renditions of "Sympathy for the Devil" and "Honky Tonk Women," and never looked back from there. As you'd expect, all of their greatest hits were played and the capacity crowd that turned out to see the British rock legends play got to enjoy their performance which they knocked out of the park.
This was embarrassingly my first time seeing the band perform and they went above and beyond my expectations. You never quite know how your favorite classic rock legends will sound during the later day periods of their esteemed careers but I was surprised at just how well the band performed at MetLife and it made me even more eager to see what would be waiting for me during Night 2, which would come a few days later.
Below, find some shots from Night 1 taken by Richard Agudelo, who was kind enough to share some photos from their performance. You can also find the full setlist posted after the gallery as well.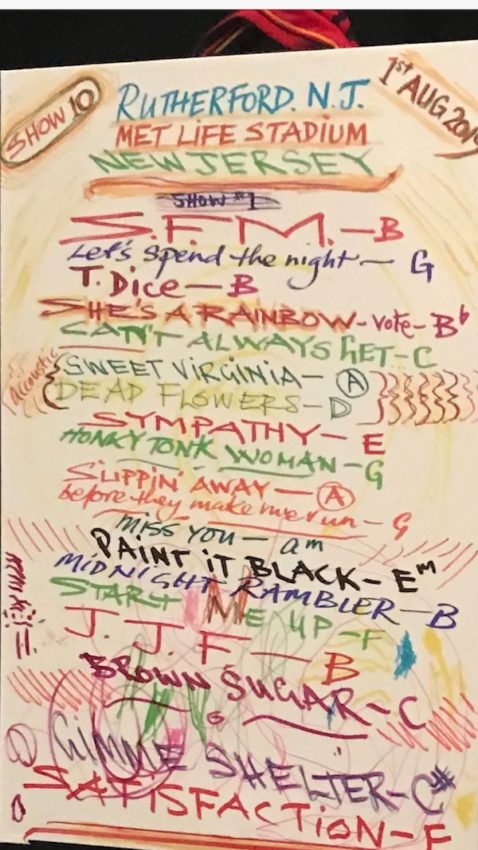 The Rolling Stones setlist:
1. Street Fighting Man
2. Let's Spend the Night Together
3. Tumbling Dice
4. She's a Rainbow @Info[by request]
5. You Can't Always Get What You Want
6. Sweet Virginia
7. Dead Flowers
8. Sympathy for the Devil
9. Honky Tonk Women @Info[followed by band introductions]
10. Slipping Away @Info[Keith Richards on lead vocals]
11. Before They Make Me Run @Info[Keith Richards on lead vocals]
12. Miss You
13. Paint It Black
14. Midnight Rambler
15. Start Me Up
16. Jumpin' Jack Flash
17. Brown Sugar
Encore:
18. Gimme Shelter
19. (I Can't Get No) Satisfaction
---
Join the conversation