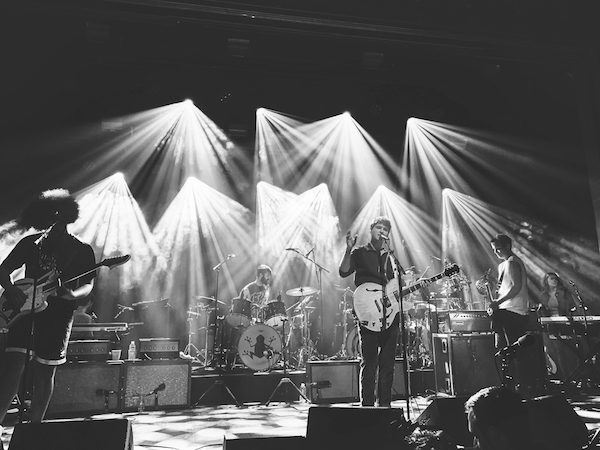 Vampire Weekend has finally returned to us with new album Father Of The Bride, their first for Columbia Records and without founding member Rostam Batmanglij. It has been a long six years since the release of their previous album Modern Vampires of the City and the band have not disappointed with their newest effort, one that seemingly grows with every new listen.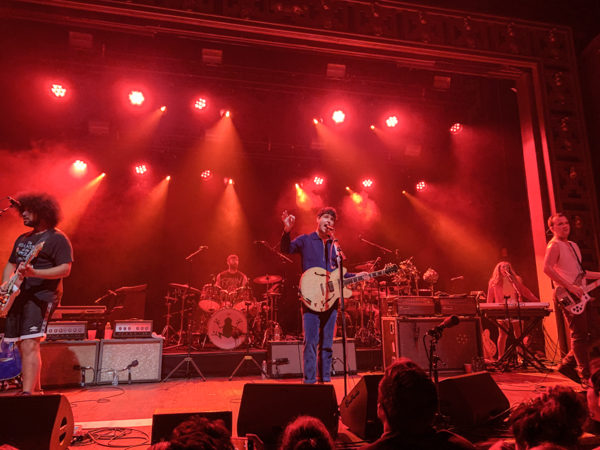 Since last summer the band has been playing a variety of smaller shows to break-in their new lineup consisting of guitarist Brian Robert Jones, keyboardist/guitarist Greta Morgan (aka Springtime Carnivore), keyboardist Will Canzoneri and second drummer Garrett Ray, in addition to core members singer/guitarist Ezra Koenig, bassist Chris Baio and drummer Chris Tomson. But prior to earlier this month, the band had yet to perform live in their hometown of New York during this newfound era, which changed on Sunday, May 5th with a unique performance at Webster Hall.
Kicking off with doors at 10 am, the show began with a pre-show breakfast of bagels and featured not one, not two, but three different sets throughout the day, with a pizza lunch in-between all the music. Now that's how you throw a homecoming show.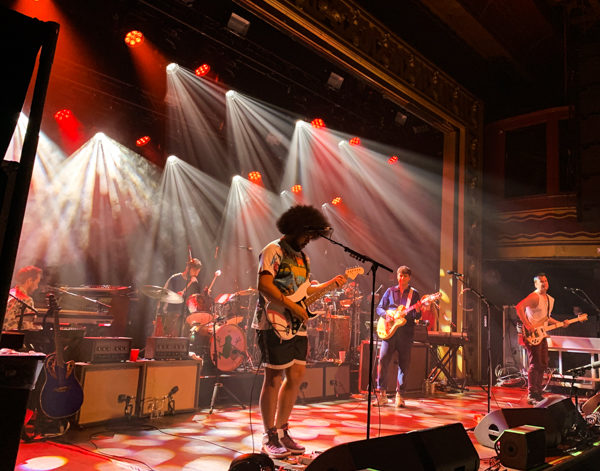 The band gracefully kicked off the show in a chill relaxed manner, with an ever appropriate cover of The Velvet Underground's "Sunday Morning." This first set primarily featured some of the band's more spacious and refrained songs such as "Obvious Bicycle," "Step," and "The Kids Don't Stand A Chance" as well as longstanding covers such as Bruce Springsteen's "I'm Goin' Down," and Fleetwood Mac's "Everywhere." Koenig joked that there were really only two songs of theirs that sounded like Paul Simon before covering Simon's "Late In The Evening." The first set closed with a cover of Bob Dylan's "Jokerman," and set us up for the second set, which would feature the entire album played in full sequence.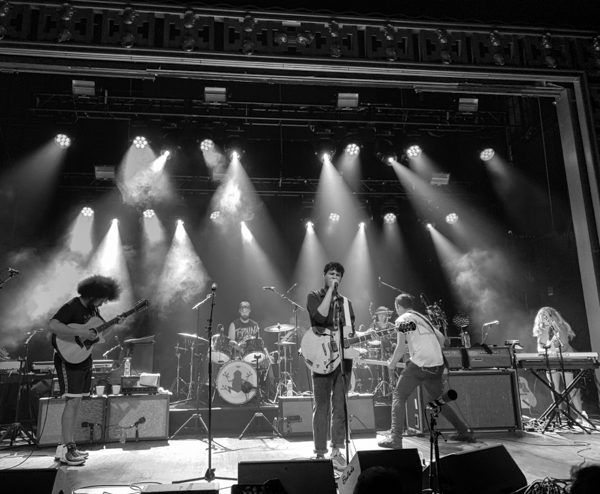 The band brought out all the stops to recreate the album, including not only Danielle Haim to reprise her guest vocals on the album's opening track "Hold You Now," "Married in a Gold Rush" and "We Belong Together," but all of Haim joined the band for "This Life." It's only been out since earlier this year but based on the response that lead single "Harmony Hall" got from this very sold out crowd, it's clear that the song can already be considered an essential part of their catalog. But like the album, some particular highlights for this writer were the odder, more erratic offerings off the album such as "Bambina," and "Sympathy." But what really struck me on songs such as "Sunflower" was the live impact of new guitarist Robert Jones who definitely is a good fit for the jammy Grateful Dead moments of the album and live explorations, such as the hard jam that the band added to the end of "Sunflower." In fact, while it was still strange to see so many people on stage with the band, it's hard to deny how well all the new members help flesh out their sound to something much fuller and richer than ever before, which is saying something.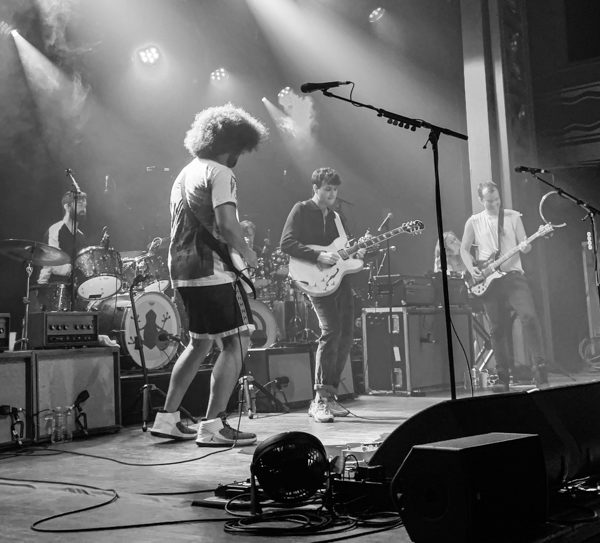 As great as these first two sets were, the best was yet to come. After an hour-long break to catch our collective breathes and enjoy some pizza, the band returned with a final set that we could only assume would be a total crowd pleaser. Prior to the set, fans around me were speculating what they would come out with, and all our guesses were so far off the mark, but we were all glad to be wrong as the surprise of hearing "Walcott," a song that used to end their shows back in the days of their debut album, was a real surprise and set the tone for the rest of the set. They seemingly played every single song you could think off from their catalog, including all of their debut album minus "Bryn," as well as rarities such as "Giant," "Ottoman," and the first-ever performance of "Jonathan Low." Then there was a performance of SBTRKT's "New Dorp. New York" and Baio's solo offering "Sister of Pearl." There wasn't a moment that fans weren't smiling while belting out lyrics to favorites such as "Ladies of Cambridge," "A-Punk" or "Cousins," all while bouncing on the questionably bouncy floor of Webster Hall. Quite frankly, this was the best set of live music that we would hear all year and this fact wasn't lost on anyone as their bodies smashed into one another.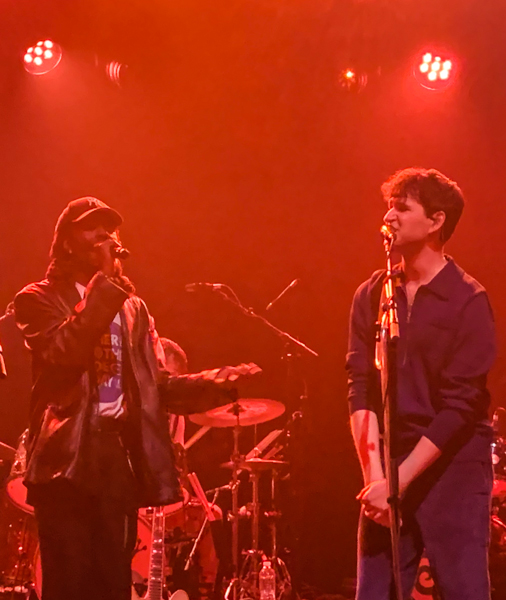 As if that wasn't enough, the band returned for a three-song encore that began with a cover of Thin Lizzy's "The Boys Are Back in Town," and ended with Dev Hynes (aka Blood Orange) joining the band for a show-closing performance of "Ya Hey," that sounded as triumphant as I have ever heard it played.
In total, the band played 56 songs throughout the 4 1/2 hour long performance (about 7 hour with intermissions) that will go down as a legendary performance that will be a show that those lucky enough to be in attendance will be able to proudly say "I was there," someday when people reflect upon the band's career. It's hard to imagine another show topping this one this year, but hey, see you at Madison Square Garden in September.
Vampire Weekend setlist:
Set 1:
1. Sunday Morning (The Velvet Underground cover)
2. Obvious Bicycle
3. Unbelievers
4. Everlasting Arms
5. M79
6. Step
7. I'm Goin' Down (Bruce Springsteen cover)
8. Everywhere (Fleetwood Mac cover)
9. Late In The Evening (Paul Simon cover)
10. Giving Up the Gun
11. Diplomat's Son
12. The Kids Don't Stand a Chance
13. Jokerman (Bob Dylan cover)
Set 2:
14. Hold You Now (with Danielle Haim)
15. Harmony Hall
16. Bambina
17. This Life (with HAIM)
18. Big Blue
19. How Long?
20. Unbearably White
21. Rich Man
22. Married In a Gold Rush (with Danielle Haim)
23. My Mistake
24. Sympathy
25. Sunflower
26. Flower Moon
27. 2021
28. We Belong Together (with Danielle Haim)
29. Stranger (with Danielle Haim)
30. Spring Snow
31. Jerusalem, New York, Berlin
Set 3:
32. Walcott
33. Mansard Roof
34. Holiday
35. Ladies of Cambridge
36. White Sky
37. Cape Cod Kwassa Kwassa
38. Giant
39. Run
40. Horchata
41. New Dorp. New York (SBTRKT cover)
42. I Stand Corrected
43. Ottoman
44. Sister of Pearl (Baio cover)
45. Hannah Hunt
46. Jonathan Low
47. One (Blake's Got a New Face)
48. Diane Young
49. Cousins
50. A-Punk
51. Campus
52. Oxford Comma
53. I Think Ur a Contra
Encore:
54. The Boys Are Back in Town (Thin Lizzy cover)
55. Worship You
56. Ya Hey (with Dev Hynes)
---
Join the conversation