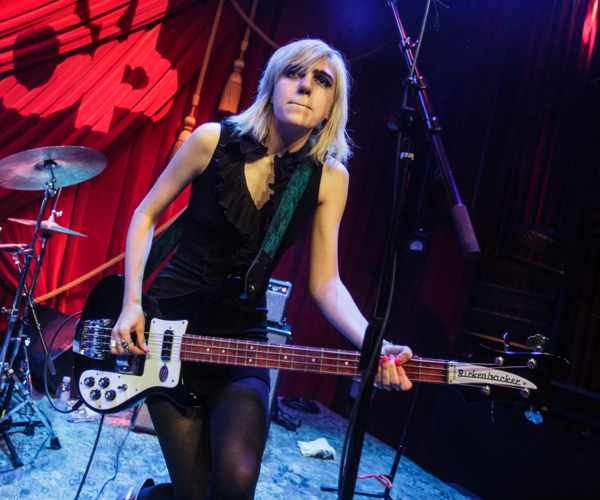 Sunflower Bean have had an eventful 2018, releasing their critically acclaimed new album Twentytwo in Blue back in March via Mom + Pop Music. They have been touring hard in support of it ever since, including a performance at Bowery Ballroom in April and a free show at East River Park in August.
This Friday they play their largest hometown show to date with a headlining performance at Warsaw (that is presented by Governors Ball). There are still some tickets available for the show that you can buy right here.
We had the chance to interview the band's Julia Cumming and ask her about touring in support of the record in 2018, some of the best acts they've opened for, and what fans can come to expect from their show on Friday.
Find our conversation below and stay tuned for coverage from the show coming very soon.

——-
Will: How are you guys doing? You just came back from the UK. Can you talk about any differences that you experience playing shows overseas compared to back home?
Julia: Yes! We are good. The U.K. is like an incredible second home for us. It was pretty special to wrap up the Twentytwo in Blue touring that way. Rock music has a place in the U.K's heart which is always fun to experience, but there's nothing like being back in NYC. It's where we belong.
W: You guys have come a long way since I saw you at Baby's All Right during CMJ four years ago. Do you guys remember that time period and how does everything you've experienced compare to whatever expectations you had during that time?
That was a really crazy time. We were so young and excited, and CMJ was always the coolest time of the year cause you could hear so many new bands and get really inspired. I (Julia) was still in high school, and working on performance art stuff… I remember us struggling to find the hours in the day to hold all of our passion for the band.

We were lucky to play in NYC a lot (the most out of any bands in NYC between 2014-2015) and when CMJ existed. I hope it comes back. We've now played all around the world, supported and been supported by incredible acts, and there's no going back. NY made us who we are, and traveling is what we get to do.
W: It seems like you guys are always touring, not even just year, but for the past few years. How do you keep this relentless pace and how grueling is it to always be on the road?
We have our ways, and know what works for us. I think you also have to love it. If it feels like a chore it's never going to work long term. Obviously, we need some time now to figure out what we will make next, but we did write a pretty tight EP this summer in the midst of all the touring.

It's a weird schedule, but if you want to make magic, you have to carve it out for yourself.
W: Along with your own shows you've opened up for some pretty big acts on tour. Who have been some of the best to open for and why?
Obviously Wolf Alice! They are incredible friends and people. Seeing them every night is a joy and inspires us to be the best band possible.

The Pixies were insane too. I mean!! THE PIXIES!!!!!!! They played for like an hour and a half each night and it was just so bold and amazing.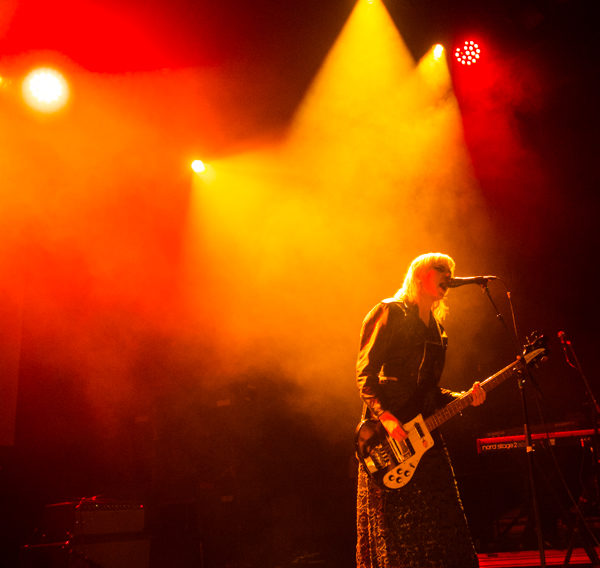 W: I think it's remarkable how big and polished Twentytwo in Blue is but how it also seems like a natural transition for you guys. Was this a goal that you had when going into the studio?
We wanted to connect with more people on this record by getting deeper in ourselves and our experiences. On our first record we were thinking about space and time and existentialism outside of ourselves, and for Twentytwo in Blue we needed to reach something closer to our hearts.

Musically, it all came very naturally. We were listening to a lot of "Tusk" by Fleetwood Mac and it inspired us a lot.
W: You have obviously played a ton of shows in New York City over the last few years. Any shows that really stand out in your mind?
J: Our last show at Bowery Ballroom was my favorite show we did in NYC ever. We had a 7 person band with singers and a percussionist. We played our whole second record in full to the city we wrote it in.
W: You guys work hard and fast – have you begun writing or thinking about album #3 at all yet?
J: Well we have the new EP, King Of The Dudes, coming out on January 25th. I'm SO excited for it to be out. It's a nice, tight 12 minutes, like a Ramones record.

It's even deeper than the record in some ways. We cover some stuff we never have before.

It's going to take some time to center ourselves before album 3, which I think is needed. It's going to be great.
W: Favorite NYC venue and why?
Bowery Ballroom, because it's iconic. But we've never played Warsaw, so that might be our new favorite.
W: Finally, what can fans expect from your show at Warsaw next week?
J: We have our friend Danny Ayala (of the Lemon Twigs and Dr. Danny) playing keys and he's been with us on the U.K. tour. We've been expanding on the songs with him and they are more powerful and special than ever. It's not a show to be missed!
---
Join the conversation