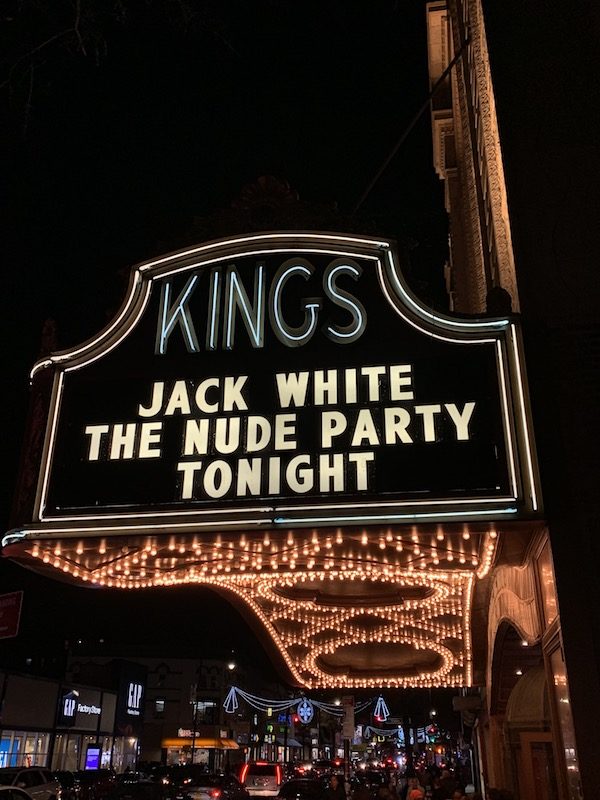 Jack White has been touring all year in support of his new album Boarding House Reach (released via his own Third Man Records) including an intimate performance at Warsaw prior to a headlining performance during Day 1 of Governors Ball. We thought that was it for White in New York this year, that is until he announced a two-night run at Kings Theatre in November.

We caught his night 1 performance on November 16, which featured an opening performance from The Nude Party (who we caught opening for Cold War Kids back in August). Their brand of old school scuzzy psych-rock was a nice fit for the evening and had all those who arrived early for their set with them the entirety of the way.
When you really step back and observe, one could argue that Jack White may be one of our last remaining rock stars. There's not many left but it doesn't take very long into his show to realize how White has earned this reputation. The man never stops navigating the stage, amping up the crowd and having them in the palm of his hand as he tore through songs from the new record, his earlier solo records, and plenty of The White Stripes' classics.
I'm sure not having a phone wasn't anyone in the crowds first choice, but it's hard to argue that it doesn't have an effect on the performance and the way the crowd interacts with White, an artist who relies on the vibe and mood of the crowd to help him determine the setlist, as he never writes one down. One of the best parts of seeing White perform is seeing him go to his band and rely to them what they will play next.
Like many artists who have that "one song," I have actually only heard White play the infamous "Seven Nation Army" a couple times when I have seen him play. It's no given that he will play it, which made it's arrival as the encore-closing song that much more appreciated and based on the absolutely unforgettable reaction that the crowd gave it, I wasn't alone. For about 5-minutes Kings Theatre felt like the biggest arena of earth, with the crowd treating the performance as the true show-stopper that it is.
Find a full setlist from White's Night 1 performance at Kings Theatre posted below.
Jack White setlist:
1. Over and Over and Over
2. Dead Leaves and the Dirty Ground (The White Stripes song)
3. Corporation
4. Hotel Yorba (The White Stripes song)
5. Love Interruption
6. Cannon (The White Stripes song)
7. Why Walk a Dog?
8. I Cut Like a Buffalo (The Dead Weather song)
9. The Rose With the Broken Neck @Cover[cf7d97e9-04ef-46a2-bb74-05039d7097ea]
10. Catch Hell Blues (The White Stripes song)
11. The Same Boy You've Always Known @Song[11ae9fbb-f3d7-4a47-936f-4c0a04d3b3b5]
12. Respect Commander
Encore:
13. Icky Thump (The White Stripes song)
14. Freedom at 21
15. My Doorbell (The White Stripes song)
16. Connected by Love
17. Ice Station Zebra
18. Seven Nation Army (The White Stripes song)
---
Join the conversation