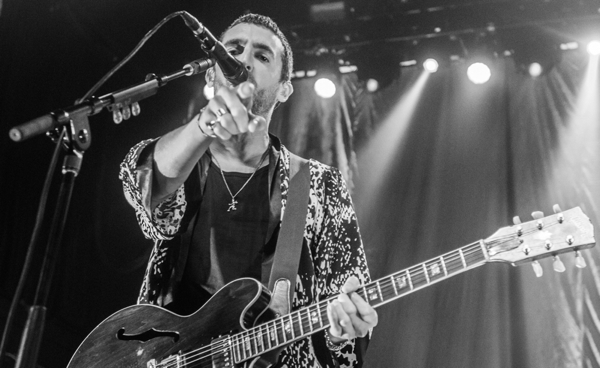 English rocker Miles Kane is back with his new album Coup de Grace, out today via Virgin EMI. Last week I had the pleasure of chatting with Kane over the phone. We touched upon the new album, his collaboration with both Jamie T and Lana Del Rey, and his batshit new music video with WWE Superstar Finn Bálor.
Find our conversation transcribed below and note that it has been lightly edited and condensed for clarity.

W: Hey Miles, how are you? Where are you located at the moment?
M: I'm great man, I'm in London current and I'm excited for the new record to finally come out!
W: Awesome, let's kick it off then. So it's been five years since your last solo record, so how does it feel to finally get Coup De Grace out into the world?
M: Yeah man, it feels like the best thing ever, to be playing the new tunes live and to be busy working again, it makes you feel good, you know? And people seem to be connecting with it and that's what makes me happy. If people can get a feeling from it of what the song are about, and they can connect to it on that level, that's what my job is and that makes me happy.
W: You started writing the new record years ago but put it on pause to make the second The Last Shadow Puppets album and picked up after that. How had things changed in the time in-between, was it difficult to put it on pause and pick it back up all those years later?
M: Yeah, I think it was, two years is quite a long time and especially when you're being creative. Also, as you are sort of growing up and changing, things are changing in my life as well. After the Puppets album, I went back to look at previous songs and thought oh right ok, "time to get back to the day job," but they just didn't really feel right as a bit of time had passed.
So I just sort of started from scratch again. I got off to a good little start but then I then entered a bit of a writer's block. But then one of my good friends Jamie T came to Los Angeles and we planned to do a week working together. We had never worked together but we had always talked about it. I played him a lot of the demos that I had done in New York a few months before. He was really excited by the song "Silverscreen," which ended up making the album and is a real sort of punky, aggressive tune. And from there he told me that this is what we should be writing, this is the blueprint of what your album should be. Now I was feeling that too but I wasn't sure with some of these songs and half-written things, I was a bit bamboozled with it. But once me and him got into the groove, we were off then. The songs themselves are exciting but I felt that the quality was really strong.
I honestly felt that this was the best stuff I was doing, even when we were just making demos. It just felt really cool and different.
W: You also worked a bit with Lana Del Rey out there, how did that come about?
M: That was another thing. He did a gig in Los Angeles and the next day we had planned a week writing together. And at his gig, I just bumped into Lana.
W: As you do…(laughs)
M: (laughs) It was weird man! Then she asked what we were doing next week and we told her that we were trying to write – not even at a studio just at this little apartment – and she said she'd love to hear that. The next thing you know we are starting to write "Loaded" and she came over and we played her what we were doing and the next thing you know, she asked to try something on the chorus and she puts down that great melody and it blew us away and we finished the tune exactly like that.
W: So any chances of a new supergroup forming between the three of you?
M: (laughs) Me and her had written some songs together as well that are sort of sitting on the shelf, so who knows!
W: Did any of the songs from that early session pre-The Last Shadow Puppets 2 make the album, or was it all scrapped?
M: No, the earliest song that was written was straight after TLSP was "Silverscreen," out of the 10 that were on the album. But you know, I haven't gone back to those tunes. Maybe if I went back to them now with a different mindset maybe I could resurrect a few.
W: Even as a solo artist you've always been very collaborative. How do you stay so open minded?
M: I don't want to be in a bracket and I'm open to trying new things. And of course, I've tried new things and it doesn't work. If something's right, and if I'm working with a friend, like with doing what I did with Jamie, we didn't really plan it but once we started it we couldn't stop. It was nice to just be hanging with your mate and your chatting about your feelings and what you're going through. And we just put all that down into tunes. My favorite songs are when they do come from the heart. I like simple songs, you know?
W: How has your time with The Shadow Puppets helped shape you as a writer on this album? When writing, do you ever write song for one project but later realize it would be better suited for one or another?
M: I mean, maybe pre me and Al doing the 2nd Shadow Puppets album there was maybe moments of that. But now it's been such a long time from that. You know before me and Al sat down and start talking about doing a new record or gig together, it was pretty clear that once that conversation started and we started to sort of mess around with the tunes then that was that. I guess my mind is totally on this solo record right now. And I'm sure he'd say the same right now with the new Arctic Monkeys one, you know?
W: It seems on this album there are still many of the rocking moments we've come to expect from you but there's also a more personable side and emotional undercurrent. Was this something you were conscious of or did it happen organically?
M: It was just at that moment and place last year when most of this was written, it was just how I was feeling. I wanted the contrast of writing personal emotional tunes that were real, but I didn't want to make an album full of ballads, that just didn't feel right. I wanted to make a rock n' roll, glammy, punky record, with a couple of slower moments. But I wanted something that would sock you in the face and give you a spring to your step. So I think combining that with the honesty of words and lyrics, I think its a powerful combination.
W: The title of Coup De Grace means "The Final Bow," also the finishing move of WWE Superstar Finn Bálor. Now, this clearly can't be the end of your solo career, but is that possibly referring to the end of a first phase or chapter?
M: Hmm, sort of, maybe. It just felt right to me. It stemmed from me knowing Finn and me freestyling that lyric on the song also called "Coup De Grace." But during that time I never knew what it actually meant. But as time went by and the album started to take shape, everything that I felt with the album nearing release and all that, I could see a correlation between a fanatic relationship to wrestling and at the same time as all the shit that I had gone through and kind of putting all to bed right now.
W: The music video for "Cry On My Guitar" is one of my favorite of the year as it just goes all in on its concept of you vs Finn Balor. What was it like to be an action star and can you talk about your relationship with Finn? How did this happen?
M: It's got to be video of the year! What a fucking video that is man! (laughs). It was about four years ago, and I'm a big fan of wrestling, and Finn just got signed to NXT, which is another brand within the WWE where a lot of the younger wrestlers go there to learn their craft. So I started to follow him on twitter and noticed he was already following me and thought "oh, that's weird!" I told him I was a big fan and wanted to come to his next NXT show and he responded and sent me a picture of screenshot of my song "Inhalor" on his iPhone and said he always listened to Colour of the Trap when he would work out in the gym and told me "Inhalor" is a banging workout tune. So we were texting for a while and when we finally met we really hit it of and became mates. There's a mutual love there, he's a nice geezer and we just got on and then we came up with this idea to create some sort of art together and it seemed fitting to try something in a video. Brook Linder, the director of the video, who also did the video for "Loaded" as well, he wanted to make it like a Bond or Tarantino film where you're on the run and he's after you and I'll shoot it really cool. So yeah, it happened really organically like that.
W: You've come a long way since your days with The Little Flames and The Rascals. Can you talk about your journey as an artist to get to the 2018 version of Miles Kane whose making music videos with WWE Superstars?
M: (laughs) I mean when I was 16 and if I was looking at myself now, there's no fucking way. That would be a dream, if you told me that, you'd say you're taking the piss mate. I don't know, I don't really stop to think about it. You sort of doing it, you've created stuff and things happen. But I love the stuff on this record, the way it was written, down to the artwork, the videos, the new band, to writing. It's all come from me and the situation I was in or whatever and it feels really good right now to be making music and to be doing what I'm doing. It feels good, that's all I can say really.
W: So you have played some shows as a Beatles cover band (Dr Pepper's Jaded Hearts Club) with Matt Bellamy (of Muse), how did that come about?
M: So all those lads live in Los Angeles and it was Jamie Davis' birthday. I met a few of them briefly over time but Jamie was closer with them and he told me they were putting a little band together for his birthday to do some covers and asked if I was up to singing Beatles tunes, and you don't have to ask me twice to do Beatles song. So I remember I got there and in rehearsal it's really surreal as there are so many great musicians in this room. We're singing "She Loves You," and am just thinking to myself, this is mental. We did Jamie's birthday, had a great time and everyone really got along and we all had a mutual love for The Beatles. It was sorta like a geek convention for The Beatles (laughs). We all just enjoyed playing those tunes. Then we did Dom from Muse's birthday and then we did a proper gig out at SXSW and it's just a bit of fun and we all got a kick out of it.
W: So one last question, when can we expect to see you here playing for us solo in the U.S.?
M: I've never toured the U.S. solo and that's something I want to do with this album. I'm desperately quite eager to do so really. I want to come over there so much and do some little gigs and I think we could get it going. I think with this new record in a club it would be great and the plan is to come over there for sure. We just need to make it happen and have the kids shout out you know?
---
Join the conversation