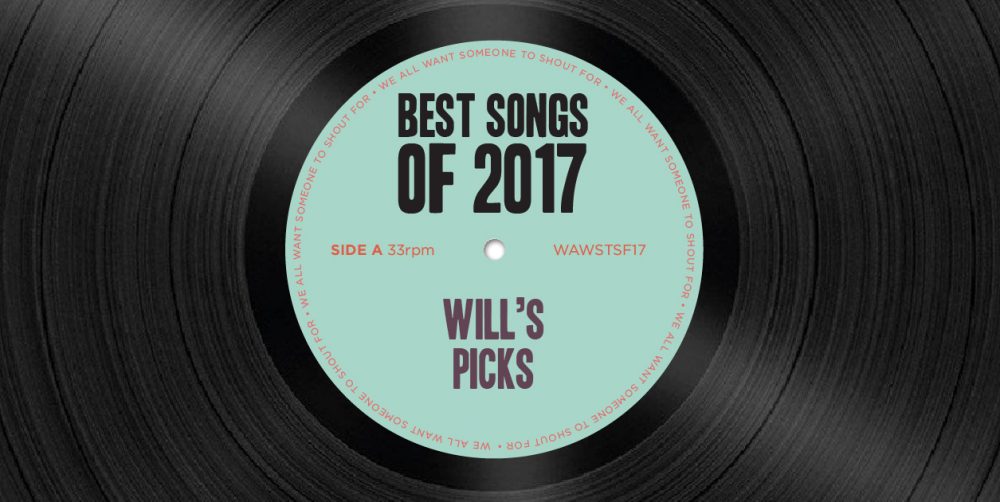 [artwork by Anthony Bauer]
And the time has come for the one post that all my friends actually read on these here pages, my best (or favorite) songs of 2017. These are the songs that I obsessed over throughout all of last year and many are still getting heavy rotation into the new one.
You'll find select highlights from many of the albums that appeared on my best albums list but also a few new acts who blossomed or select songs that stood out on albums that didn't quite shine as bright. Either way, I hope that you find at least one new song or artist that you didn't know beforehand and that they make your day that much brighter. Thanks again for sticking around with us for another year and here's to a bigger and better year in 2018.
As usual, the list is posted in a countdown format from 100-1 and I have made a Spotify playlist which you can find here or embedded at the very end of the post. All the songs are in there except for Ty Segall's "Orange Color Queen," as the album is not on Spotify.
Without further ado, here are my favorite songs from 2017:

100. Anti Pony – "Love Can't Make You Stay (Can't Fuck My Heart Away)"
99. Postiljonen – "Crazy"
98. Francis – "Swing"
97. Hater – "Cry Later"
96. Angel Olsen – "Special"
95. MGMT – "Little Dark Age"
94. Linn Koch-Emmery – "Forever Sounds"
93. Priests – "Suck"
92. Yaeji – "drink i'm sippin on"
91. Bedouine – "Dusty Eyes"
90. Dan Auerbach "King of a One Horse Town"
89. John Maus – "The Combine"
88. Faith Healer – "Try ;-)"
87. Everything Everything – "Desire"
86. Haim – "You Never Knew"
85. Oh Sees – "The Static God"
84. Delicate Steve – "Winners"
83. Day Wave & Hazel English – "PDA"
82. Cut Copy – "Black Rainbows"
81. Hundred Waters – "Particle"
80. Molly Burch – "Downhearted"
79. Strand of Oaks – "Rest of It"
78. Rolling Blackouts Coastal Fever – "French Press"
77. Sunflower Bean – "I Was A Fool"
76. Torres – "Helen in the Woods"
75. Vagabon – "Fear & Force"
74. Arcade Fire – "Put Your Money On Me"
73. Yumi Zouma – "Depths (Pt. I)"
72. TOPS – "Petals"
71. King Gizzard & The Lizard Wizard – "Sleep Drifter"
70. The xx – "Replica"
69. Grizzly Bear – "Cut-Out"
68. Dude York – "Tonight"
67. Beach Fossils – "This Year"
66. Protomartyr – "Here Is The Thing"
65. The Districts – "Violet"
64. Ty Segall – "Orange Color Queen"
63. Franz Ferdinand – "Always Ascending"
62. Hand Habits – "Sun Beholds Me"
61. Middle Kids – "Fire In Your Eyes"
60. Hamilton Leithauser- "Heartstruck (Wild Hunger) [feat. Angel Olsen]"
59. Perfume Genius – "Die 4 You"
58. Ryan Adams – "Prisoner"
57. Mac DeMarco – "Still Beating"
56. Courtney Barnett & Kurt Vile – "Over Everything"
55. The Menzingers – "After the Party"
54. Noel Gallagher's High Flying Birds – "Dead In The Water (Live At RTE 2FM Studios, Dublin)"
53. Craig Finn – "God in Chicago"
52. Jason Isbell and the 400 Unit – "If We Were Vampires"
51. Men I Trust – "Tailwhip"
50. Cigarettes After Sex – "K"
49. Jen Cloher – "Analysis Paralysis"
48. Greta Van Fleet – "Highway Tune"
47. Jay Som – "The Bus Song"
46. The Hold Steady – "Entitlement Crew"
45. boy pablo – "Everytime"
44. Dark Rooms – "I Get Overwhelmed"
43. Sheer Mag – "Need To Feel Your Love"
42. Stormzy – "Big For Your Boots"
41. Aldous Harding – "Horizon"
40. Julie Byrne – "I Live Now as a Singer"
39. Real Estate – "Two Arrows"
38. St. Vincent – "Sugarboy"
37. Big Thief – "Shark Smile"
36. Japanese Breakfast – "Diving Woman"
35. Future Islands – "Cave"
34. Gorillaz – "Busted and Blue"
33. Flyte – "Faithless"
32. King Krule – "Dum Surfer"
31. Alex Lahey – "Every Day's The Weekend"
30. Alvvays – "In Undertow"
29. Jens Lekman – "Evening Prayer"
28. Foo Fighters – "Run"
27. Vince Staples – "BagBak"
26. Wolf Parade – "You're Dreaming"
25. Sufjan Stevens – "Visions of Gideon"
24. Charly Bliss – "Glitter"
23. Julien Baker – "Turn Out the Lights"
22. Spoon – "Do I Have to Talk You Into It"
21. (Sandy) Alex G – "Proud'
20. Queens Of The Stone Age – "Feet Don't Fail Me"
19. Kendrick Lamar – "FEAR."
18. LCD Soundsystem – "How Do You Sleep?"
17. Phoebe Bridgers – "Motion Sickness"
16. The Horrors – "Something To Remember Me By"
15. Portugal. The Man – "Feel It Still"
14. Kevin Morby – "Aboard My Train"
13. Wolf Alice – "Don't Delete The Kisses"
12. Slowdive – "No Longer Making Time"
11. Fleet Foxes – "Third of May / Ōdaigahara"
10. The National – "Day I Die"
9. Flyte – "Victoria Falls"
8. The War On Drugs – "Holding On"
7. Big Thief – "Mary"
6. Superorganism – "Something for Your M.I.N.D."
5. White Reaper – "Judy French"
4. Alvvays – "Not My Baby"
3. Sufjan Stevens – "Mystery of Love"
2. Father John Misty – "So I'm Growing Old On Magic Mountain"
1. The National – "Dark Side of the Gym"